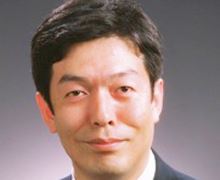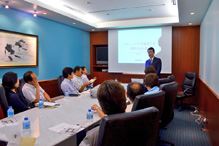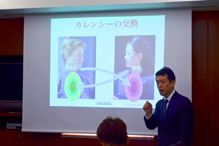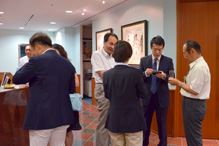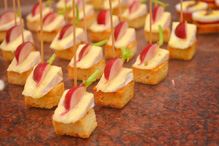 Afterword
We were pleased to have 16 participants from a wide variety of industries from IT to legal attend our Business Shorts. Participants felt the event was a great opportunity to network and they have also enjoyed the great view from the reception area. We were very pleased to have many people attend the event this time as well.
Upcoming: Servcorp Business Shorts at Ariake Frontier Building Tower B on Tuesday, August 21st.
Servcorp Business Shorts is a monthly event in which we invite a guest speaker and professionals who are willing to share their experience with like-minded business professionals. This seminar also gives you the opportunity to see a Servcorp floor. If you know people who are interested in this event as well as serviced office/virtual office, please extend our invitation to them!
Presentation Title
Influence without Authority – How to Speed Up Your Project
Presentation Details
We are all involved in some type of project, and as we try to get these projects done, a lot of times, stakeholders (clients, management, etc.) could be the setback from completion. In a situation like this, it is essential to influence your key stakeholders to move the project forward. How? The process is called "Currency Exchange." You identify the relevant "currencies" that a person values the most and make "exchange" with your offer. Driven from social/psychological studies, this concept is the principle of relationships between people. Through this seminar, I would like to show how you can influence your stakeholders by introducing this "Currency Exchange" concept and its potential pitfalls
Speaker Profile
Mr. Naruhide Takashima is a consultant who specializes in training people to develop Influence skills. He has trained new generation of leaders on how to become strategically influential on others, as well as career and team development in both Japanese and foreign companies. Other major roles include human resource development at large corporations such as General Motors Japan Limited and Johnson & Johnson K.K. He has translated acclaimed books into Japanese such as "Influence without Authority,"and "Power Up: Transforming Organizations Through Shared Leadership" written by Professor David L. Bradford (Standford University) and Professor Allan R. Cohen (Babson College). Mr. Takashima is also the Master trainer of a leadership development program named "LFG (Leading for Growth)" created by Wilson Learning Worldwide and a member of The Japanese Psychological Association. He has a post graduate degree in Master's Program in Education from University of Tsukuba and a Master's degree in Counseling.

Website:
http://www.influence.co.jp

Date
Tuesday, August 21st
18:30 Reception open
19:00 Presentation starts
19:45 Networking
20:30 Close
Venue
Level 9 Ariake Frontier Building Tower B
3-7-26 Ariake Koto-ku

2 min walk from directly connected Kokusai-Tenjijo-Seimon Station on Yurikamome Line.
5 min from Kokusai-Tenjijo Station on Rinkai Line.
We look forward to seeing you there! RSVP to Servcorp Ariake Frontier Building Tower B team by Thursday, August 16th.

Telephone: 03-5530-9100
Email: ariake@servcorp.co.jp
Website: www.servcorp.co.jp/en

Notes
No Participation fee.
The presentations will be delivered in Japanese.
Prior registration required to attend this event. Persons without prior registration will not be allowed entrance.
If we reach our capacity before the registration deadline, we may not accept any more participants.
Please bring your business card to the event.
Please be advised that photos and videos may be taken during this event for marketing/promotional purposes.
Depending on the number of attendees, the presentation may have to be viewed standing up.