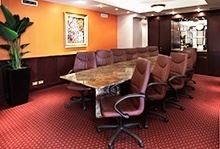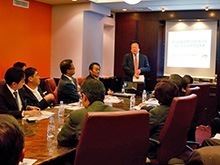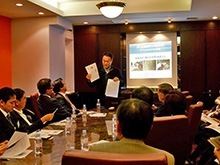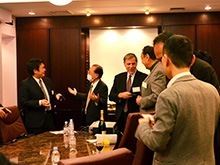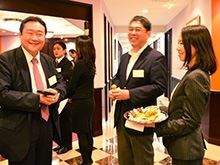 Afterword
We had a total of 25 participants from a wide variety of industries - from finance to logistics and even consulting - attend our Business Shorts. Once again, we were pleased to have several people attend our monthly event.
Upcoming: Servcorp Business Shorts at Nihonbashi Wakamatsu Building on Tuesday, December 11th.
Servcorp Business Shorts is a monthly event in which we invite a guest speaker and professionals who are willing to share their experience with like-minded business professionals. This seminar also gives you the opportunity to see a Servcorp floor. If you know people who are interested in this event as well as serviced office/virtual office, please extend our invitation to them!
There will be 2 presenters for this Business Shorts.
Speaker Profile

President, General Incorporated Association, Institute of Global Leaders
Mr. Nobuyuki Saito

Mr. Nobuyuki Saito is the President of the Institute of Global Leaders and a part-time Professor for The University of Electro-Communications, providing career education. Mr. Saito is also a member of The Japan Academic Society for Ventures and Entrepreneurs and upon working at SanJose IBM Research Laboratory, he has become the President of Quantum Japan, followed the position of Director at Plumeria Japan. Later on he has become independent upon earning his license for small and medium enterprise management consultant. Since then Mr. Saito has been engaged in supporting Japanese companies expand overseas, acquiring/merging foreign companies, also having experience as a board member of a foreign company. He has developed a process named "Value Selling" – a method that strengthens sales, which has been highly regarded by the Small and Medium Enterprise Management Consultant Association.

Website:
http://www.globalleader.jp/association.html

Presentation Title
Human resources development for globalization brought to you by a small and medium enterprise management consultant
Presentation Details
Strong yen, deflation and greying society/decreasing population has made business environment in Japan harsher than ever, making global expansion an essential aspect for a company's growth regardless of its size. What is the reality of globalization? There are several factors that indicate a shortage of talent required for businesses to go global such as the young generation's "inward-looking" perspective, decrease in number of students studying overseas and Japanese top management surprisingly unable to perform as well as expected when managing overseas.
I will be presenting on globalization of Japanese companies based on actual numbers.
Speaker Profile

Chief Director, NPO, Entrepreneurial Social Network
Mr. Tetsufumi Yamamoto

Mr. Tetsufumi Yamamoto was born in Yamaguchi prefecture in 1960. Upon graduating from the Faculty of Economics in Kwansei Gakuin, he pursued system development related work and also worked in the sales/sales management field in the finance industry. Later on, he became an independent management consultant.

In 2000, Mr. Yamamoto established a Network and Management Research Centre, Ltd. and became President.

He earned a license for small and medium enterprise management consultant in 1993, and worked on supporting business innovation through IT and strategy deployment. He then shifted his focus towards human resource development and provided directions for business innovation which were based on strengthening human resources. Mr. Yamamoto's main fields of expertise are formulating management/business strategies and marketing strategies; providing sales/business expansion support; creating IT utilization strategies; and training leaders, managers, successors and entrepreneurs for the future generation.

In April 2012 Mr. Yamamoto established NPO, Entrepreneurial Social Network and started the "Japan-wide grave cleaning network business" to support people with disabilities live independently. This program has been receiving a high evaluation. In March 2012 he has joined Mr. Nobuyuki Saito's General Incorporated Association, Institute of Global Leaders, working as Executive Director of business development.

Website:
http://www.hakasouji.jp/aboutus

Presentation Title
Social Business brought to you by a small and medium enterprise management consultant
Presentation Details
Do you know how much a person in Japan with intellectual disability earns in one day? There has been some "wage increase" movements in the welfare industry, but in reality, things aren't easily going in the desired direction. As a small and medium enterprise management consultant and with experience in welfare, I have decided to "start a new type of business in the welfare industry." I would like to talk about the 1st of these types of businesses – the "Japan-wide grave cleaning network business."
Date
Tuesday, 11th December
18:30 Reception open
19:00 Presentation starts
19:45 Networking
20:30 Close
Venue
Level 7 Wakamatsu Building
3-3-6 Nihonbashi-Honcho Chuo-Ku

Right across the street from Exit 6 of Shin-Nihonbashi Station on JR Sobu line
3 min walk from Exit A9 of Mitsukoshi-mae Station on Tokyo Metro Ginza Line and Hanzomon Line
5 min walk from South Exit of Kanda Station on JR Line
5 min walk from Exit 4 of Kodenmacho Station on Tokyo Metro Hibiya Line
We look forward to seeing you there! RSVP to Nihonbashi Wakamatsu Building team by Thursday, December 6th.

Telephone: 03-6202-7600
Email: wakamatsu@servcorp.co.jp
Website: www.servcorp.co.jp/en

Notes
No Participation fee.
The presentations will be delivered in Japanese.
Prior registration required to attend this event. Persons without prior registration will not be allowed entrance.
If we reach our capacity before the registration deadline, we may not accept any more participants.
Please bring your business card to the event.
Please be advised that photos and videos may be taken during this event for marketing/promotional purposes.
Depending on the number of attendees, the presentation may have to be viewed standing up.