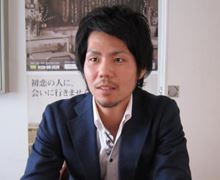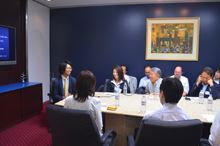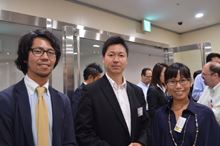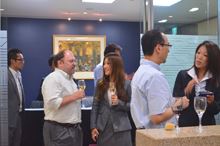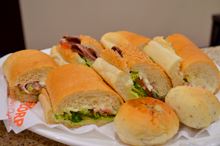 Afterword
We were pleased to have 22 participants from a wide variety of industries from IT, consulting to manufacturing attend our Business Shorts. Participants found the presentation very helpful, especially when the presenter explained how to attract customers to their websites and went through actual examples of effective marketing techniques. We were very pleased to have many people attend the event this time as well.
Upcoming: Servcorp Business Shorts at TOC Minato Mirai on Thursday, June 21st.
Servcorp Business Shorts is a monthly event in which we invite a guest speaker and professionals who are willing to share their experience with like-minded business professionals. This seminar also gives you the opportunity to see a Servcorp floor. If you know people who are interested in this event as well as serviced office/virtual office, please extend our invitation to them!
Presentation Title
How Start-Ups can make the Most Efficient Use of its Available Resources
- The White Ocean Strategy -
Presentation Details
It has only been 3 years since Mr. Makoto Yagi has established the reunion party planning company named Syoya Inc., and he already has a proven track record of hosting 300 reunion parties a year through his business, which is the highest number in the industry. He founded his company when he was 25 years old with another partner and in 2012 he has managed to expand his business to up to 15 company partnerships. In what was first an un-defined market, Mr. Yagi was able to generate revenue from his own business model, form partnerships with several companies and successfully expand his business. During the seminar, he will be presenting on how he successfully changed a business that generates revenue from labour into a business that generates stable revenue from available assets.
Speaker Profile
Mr. Yagi is a young entrepreneur of only 28 years of age who took on the challenge of attempting the one and only business model in Japan. He has shown great ability in several areas such as human resources, PR and management through his reunion party planning business named Syoya Inc. and also through running Japan's first made-to-order cereal online purchasing website. The reunion party planning business he created has a unique concept of having a sponsor for the reunion party. This has lead to forming a lot of partnerships through this business. On a personal basis, he has been planning and managing programming contests for students and has also been taking part in a wide variety of activities such as recruitment consulting and providing job search support regional universities.
Date
Thursday, June 21st
18:30 Reception open
19:00 Presentation starts
19:45 Networking
20:30 Close
Venue
Level 10 TOC Minato Mirai
1-1-7 Sakuragi-cho Naka-ku Yokohama Kanagawa
1 min walk from Sakuragicho Station on JR Line
7 min walk from Exit 5 of Minato Mirai Station on Minato Mirai Line
We look forward to seeing you there! RSVP to Servcorp TOC Minato Mirai team by Monday, June 18th.

Telephone: 045-228-5100
Email: minatomirai@servcorp.co.jp
Website: www.servcorp.co.jp/en
Notes
No Participation fee.
The presentations will be delivered in Japanese.
Prior registration required to attend this event. Persons without prior registration will not be allowed entrance.
If we reach our capacity before the registration deadline, we may not accept any more participants.
Please bring your business card to the event.
Please be advised that photos and videos may be taken during this event for marketing/promotional purposes.
Depending on the number of attendees, the presentation may have to be viewed standing up.