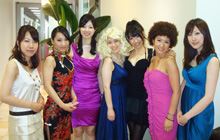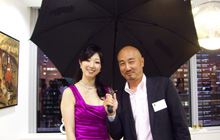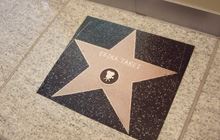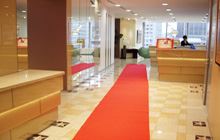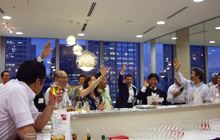 Servcorp Japan is a big supporter of the Shine On! Beads of Courage program by the Tyler Foundation – a non-profit organization dedicated to help children with cancer and the families of those children. To raise funds for the foundation, each Servcorp location hosts a charity event in which the Servcorp staff decorates the office and plans exciting, recreational acitivites for the clients. Through these fundraisers, we aim to provide entertainement for our clients and at the same time, support the Tyler Foundation.
On July 19th, the Marunouchi Trust Tower – Main location held a "Hollywood" themed charity event
The Servcorp staff at Marunouchi turned the whole office into Hollywood with the red carpet welcoming the guests entering the reception area and the Hollywood Walk of Fame, created by placing the famous star-shaped plates on the floor with each guests' names on the star plates. Guests were surprised to find their names displayed on the Walk of Fame.
To further embrace the Hollywood spirit, Servcorp staff dressed up as Hollywood celebrities and the clients wore dresses and tuxedos just like Hollywood stars.
During one of the games, guests were encouraged to get to know other guests, such as the guests' name, company, position, favorite words, etc. in order to play the "self-introduction game." Later on, specific questions regarding the guest were asked such as "Which company does Mr. Tanaka work for?" A lot of participants enjoyed the game, as it provided a great opportunity to interact with people whom they have met for the first time.
The music guessing game was a big hit, where guests had to guess the name of the song played from the Hollywood movie soundtracks. When the last song for the game was played, everyone raised their hand simultaneously, all engaged in the heated competition.
At the end of the event, we were able to receive some great feedback from the guests: "I was able to spend some meaningful time because I had the opportunity to speak with people from different industries."
"It was a great night with lots of fun and games."
"I had such a great time and was very impressed with the hospitality of the staff."
We were pleased to have been able to help our clients network effectively through this event.
A total of 168,500 yen was raised for the Tyler Foundation from the charity event at Marunouchi. We greatly appreciate everyone's cooperation!
Thank you for attending this event despite everyone's busy schedules.
Servcorp will continue to hold charity events like this at each location. If you are interested, please feel free to contact your dedicated Servcorp staff.
Level 20 Marunouchi Trust Tower - Main
1-8-3 Marunouchi Chiyoda-Ku
Tokyo 100-0005 Japan
T +81 3 6269 3000
Email: marunouchi@servcorp.co.jp