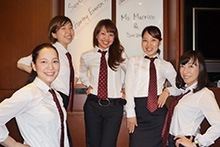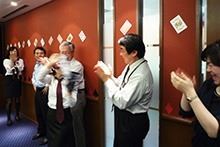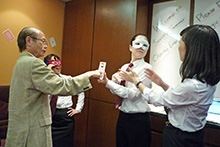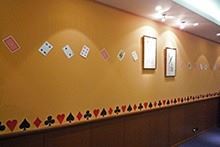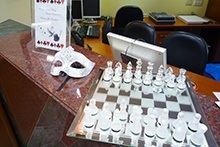 Servcorp Japan is a big supporter of the Shine On! Beads of Courage program by the Tyler Foundation – a non-profit organization dedicated to help children with cancer and the families of those children. To raise funds for the foundation, each Servcorp location hosts a charity event in which the Servcorp staff decorates the office and plans exciting, recreational activities for the clients. Through these fundraisers, we aim to provide entertainment for our clients and at the same time, support the Tyler Foundation.
On June 21st, the Otemachi Tokyo Sankei Building location held a charity event named "Sankei Magic Show!"
The Servcorp staff decorated the office with luxurious ornaments shaped as symbols on playing cards – hearts, spades, clovers and diamonds – to create the magic show atmosphere. Guests were fascinated with the special décor and said that they felt like they were in a casino. One also said, "What a luxurious atmosphere! What is going to happen tonight?!"
Furthermore, the Servcorp staff all dressed up as magicians in classic white shirts with red ties and welcomed the arriving guests.
There was actually more to the magician costume than just dressing up for the magic theme. The staff actually practiced magic tricks several days before the event to surprise the guests. Their efforts were paid off when they finally performed their magic:
In the middle of the event, two staff members jumped out of the crowd to the centre of the boardroom. One of them tore a sheet of black paper, and when she gave one puff to one of the torn sheets, the sheet suddenly became a silk hat!
Everyone applauded and was amazed by the staff's hidden talent, but this was not the end. The moment the staff placed the silk hat on a guest's head, the silk hat started shaking and a cute rabbit jumped out of the hat! Wave of laughter and a storm of applause echoed throughout the floor during the magic show.
The guests enjoyed not only the magic show, but also handmade sweets made by the staff, which were traditional Japanese red bean paste sandwiched between 2 pancakes (called "Dorayaki"), chocolate caramel muffins, fresh banana cake and rich cheese cake. They were all sold out instantly.
We would like to express our appreciation to all the guests who have participated in our charity event, and also to those who have donated even though they could not join the event. The funds raised have been donated to the Tyler Foundation.
Thank you for attending this event despite everyone's busy schedules.
Servcorp will continue to hold charity events like this at each location. If you are interested, please feel free to contact your dedicated Servcorp staff.
Level 27 Tokyo Sankei Building
1-7-2 Otemachi Chiyoda-ku,
Tokyo 100-0004 Japan
T +81 3 3242 6333
Email: sankei@servcorp.co.jp