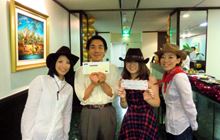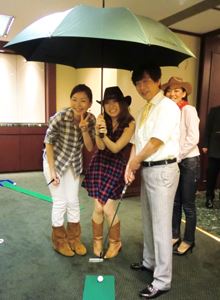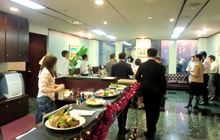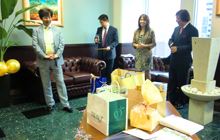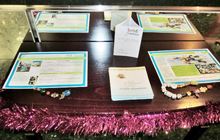 Servcorp Japan is a big supporter of the Shine On! Beads of Courage program by the Tyler Foundation – a non-profit organization dedicated to help children with cancer and the families of those children. To raise funds for the foundation, each Servcorp location hosts a charity event in which the Servcorp staff decorates the office and plans exciting, recreational activities for the clients. Through these fundraisers, we aim to provide entertainment for our clients and at the same time, support the Tyler Foundation.
On June 27th 2012, Shinjuku Nomura Building and Nittochi Nishi-Shinjuku Building held a joint "American Carnival" Charity function at Shinjuku Nomura Building.
To create an old-fashioned "American Carnival" atmosphere, both Nomura and Nittochi teams decorated the floor with carnival lights, red and gold balloons, as well as various Western style decorations. Furthermore, old American folk songs such as "Happy Trails" were played in the background.
Cowgirls were also in attendance, with all Servcorp team members and managers wearing cowgirl hats, Western plaid shirts, denim jeans and Western boots.
It wouldn't be a carnival without festive games, so the team prepared two types of games for the clients. One of attractions was a mini golf course in the boardroom with an easy level course and a more challenging uphill course. The other attraction was a mini darts game. Anyone who got a hole-in-one in the mini golf game or a bulls-eye in the mini darts game was awarded with one free drink ticket along with a "Congratulations!" photo with the team under the Servcorp umbrella. It was a great sight to see clients who were very skilled at the games teaching others and having a great time. Consolation prizes were also given out, so everyone had a chance to win.
Following the carnival games, a charity auction was held where clients can bid for gorgeous prizes such as an Yves Saint Lauren jewelry box and five star hotel dinner tickets for two. Each manager promoted the items and had all attendees make their bid to win the prize. The auction was extremely popular among the attendees, allowing participants to interact with each other and have a fun competition.
There was some great feedback after the event. All the clients had a fun time networking, and some particularly enjoyed meeting clients from other Servcorp locations. The games were one of the highlights of the night, and the clients said that they have had a lot of fun with the Servcorp team. Many were also able to further understand the purpose of Servcorp's annual charity events for the Tyler foundation and were excited to invite their own business partners and friends and family to the upcoming charity event next year.
Overall, with the support of Nomura and Nittochi clients, we were able to raise a total of 129,887 yen from the American Carnival charity event. This could not have been achieved without the generous contribution from the attendees.
On behalf of Shinjuku Nomura building and Nittochi Nishi-Shinjuku Building, we would like to thank your attendance and kind cooperation. Servcorp will continue to hold charity events like this at each location. If you are interested, please feel free to contact your dedicated Servcorp staff.
Servcorp Shinjuku Nomura Building
Level 32 Shinjuku Nomura Building
1-26-2 Nishi Shinjuku Shinjuku-ku
Tokyo 163-0532 Japan
T +81 3 5322 2900
Email: nomura@servcorp.co.jp

Servcorp Nittochi Nishi-Shinjuku Building
Level 8 Nittochi Nishi-Shinjuku Building
6-10-1 Nishi-Shinjuku Shinjuku-ku
Tokyo 160-0023 Japan
T +81 3 5325 3100
Email: nishishinjuku@servcorp.co.jp