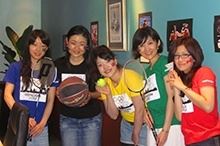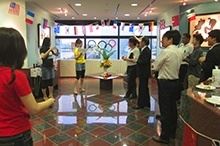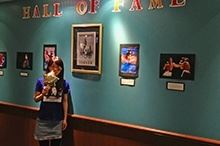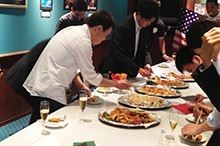 Servcorp Japan is a big supporter of the Shine On! Beads of Courage program by the Tyler Foundation – a non-profit organization dedicated to help children with cancer and the families of those children. To raise funds for the foundation, each Servcorp location hosts a charity event in which the Servcorp staff decorates the office and plans exciting, recreational activities for the clients. Through these fundraisers, we aim to provide entertainment for our clients and at the same time, support the Tyler Foundation.
On June 27th, the Ariake Frontier Building location held an "Olympics" themed summer charity event.
Their distinctive ocean view reception area was decorated with Olympics rings and flags of all nations, creating a welcoming and fun-filled atmosphere. The boardroom became the Hall of Fame of Olympic athletes, where pictures of famous Olympic medalists from the past were displayed with brief descriptions of their careers. Various sporting equipment such as basketballs and badminton rackets were also placed in the room to create the exciting atmosphere of the world's renowned sporting event.
The Servcorp staff wore Olympic theme coloured T-shirts and one of the team members face painted all the staff with country flags and original Servcorp symbols. Some clients joined by purchasing the face paint on the spot and putting it on their faces.
The most exciting part of the evening was the Olympic trivia game, where the clients paired up and competed over special dinner tickets at the luxurious Chinese restaurant and Italian restaurant located at the nearby hotel. Grouping the guests in pairs for the game worked as a great ice breaker. Even after the game was done, clients continued to enjoy one another's company and the whole event became a great networking opportunity.
We hope the guests have enjoyed the friendly and comfortable atmosphere created by the Servcorp staff throughout the event.
A total of 38,400 yen was raised for the Tyler Foundation from this charity event at Ariake. We greatly appreciate everyone's cooperation!
Thank you for attending this event despite everyone's busy schedules.
Servcorp will continue to hold charity events like this at each location. If you are interested, please feel free to contact your dedicated Servcorp staff.
Level 9 Ariake Frontier Building Tower B
3-7-26 Ariake Koto-ku
Tokyo 135-0063 Japan
T +81 3 5530 9100
Email: ariake@servcorp.co.jp