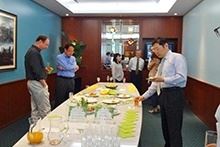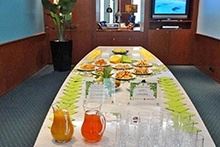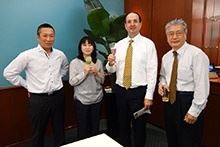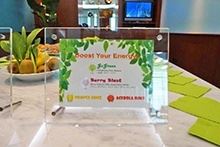 At Servcorp, we regularly host small events for our office clients.
On May 10th, the staff at Shiodome Shibarikyu Building held a "Boost Your Energy" Breakfast event in which they served freshly made smoothies to boost the clients' energy after returning from Golden Week and also in preparation for the summer season.
The event was held in the boardroom, and the clients were served with some light food and smoothies that were made on the spot.
Two types of smoothies were served that day: the Berry smoothies and Green smoothies.
The frozen fruits used in the Berry smoothie gave the drink a sorbet-like texture and clients said they enjoyed the refreshing taste.
The other Green smoothie generated some buzz as it was an odd colour for a smoothie. The clients were nervous at first, but when they tried it, they absolutely loved the great combination of the sweet bananas and kiwis in the smoothie.
To further add to the "energy" theme, the Shiodome staff decorated the boardroom with fruits and bright coloured napkins, along with a video of Tahiti beach showing on the TV screen. Some pop music was played in the background as well.
Other than smoothies, orange juice, acerola juice, petit croissants, pancakes, cupcakes, etc. were served, providing the clients with plenty of energy to start their day.
The event turned out to be very successful as almost all the office clients attended, and they have told the staff that they enjoyed the smoothies a lot.
Servcorp Shiodome Shibarikyu Building
Level 21 Shiodome Shibarikyu Building
1-2-3 Kaigan Minato-ku
Tokyo 105-0022 Japan
T 03 5403 6500
Email: shiodome@servcorp.co.jp