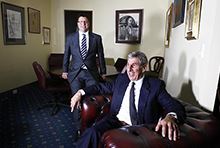 As the chief operating officer, former chief information officer and the likely next chief executive officer of Servcorp, Marcus Moufarrige has wound up exactly where he never planned to be.
"I always wanted to be a property developer and I never wanted to work in the family business," says Marcus, the younger son of company founder and current chief executive Alf Moufarrige. "We're a very competitive family and I wanted to go out and smash my own way in the world."
But when Marcus went off to Bond University in 1990, he was "enthralled" by all the shiny new technology deployed on campus and quickly became an enthusiastic amateur. When he graduated, his dad, seeing the need for someone with IT savvy and vision, talked him into coming on board.
Twenty years later, Servcorp is still best known as a commercial property company providing serviced offices. Certainly this is the bread and butter of the business – in the preliminary results released last week the company reported serviced office revenue of $144.19 million for the 12 months ended June 30, 2013, more than 70 per cent of the total.
What is more interesting though is the $56.37 million that Servcorp's virtual office business generated. Servcorp's release to the Australian Securities Exchange last week does not say much beyond the fact that "the company is satisfied with the performance of the virtual office business" and plans to grow it.
Marcus Moufarrige describes it as a major transition for Servcorp and points out that the virtual office services provide higher margins and tap into 21st century technology and workplace trends.
As well as being a commercial property company serving a small number of large clients, Servcorp is becoming a cloud-based technology company serving tens of thousands of small ones.
Workplace trend changes
Virtual office services basically allow entrepreneurs to fake having an office. They can set up a local number almost anywhere in the world and arrange for a local receptionist to take the call and direct or divert it according to instructions. For an additional fee, they can also have an address to handle mail and provide rooms for occasional meetings. "It's a marketing tool if you bring it down to brass tacks," admits Moufarrige. "Any business anywhere in the world can go online and establish a representative or sales office instantly, whether it's Saudi Arabia or Shanghai."
This side of the business is well positioned for 21st century trends around the future of work: the rise of people working from home or from co-working spaces, the mobile workforce, the proliferation of start-ups using online outsourcing and small businesses using cloud to push into Asia without a hefty outlay of cash.
The founder and chief executive of co-working space The Hub, Brad Krauskopf predicts that in the future, "your head office will need to have a kitchen, a lab and a classroom – and not much else".
It is an area that all commercial property companies are watching closely. For example, AMP Capital is talking to companies like The Hub to look at the possibility of providing co-working spaces within its buildings. The company has also designed its Young Street project at Circular Quay in Sydney to be more of a lifestyle precinct than a traditional office development.
AMP's office and industrial managing director Louise Mason says technology means people do not need to work in an office any more, so the office building needs to be more appealing in order to compete.
"AMP Capital has a large office portfolio and they're premium buildings, in great locations, in the major cities in Australia and we hold those assets for a long time, so it's really important for us to know the future of these buildings for the next 30 to 40 years," Mason says. "What's coming out of our research is that while people may work from different sites and home, they'll have a great desire to collaborate and connect back together again, so providing spaces for that within a tenancy or a precinct like the Circular Quay area, we see as highly important for the future."
Moufarrige and Mason both say any decline in the importance of the CBD will be gradual and their traditional office businesses are not under threat any time soon.
The original idea behind Servcorp's virtual office services came well before Marcus joined the business. His father's idea was to build infrastructure such as PABX telephone systems for the serviced offices and to sell the excess capacity as a virtual service supplement the real estate income. The view was that an additional 30 to 50 virtual clients per location would be ideal.
But after Marcus came on board the investment in technology over the past two decades made the system scalable enough that each physical location can now support thousands of additional virtual clients, though the actual average is lower.
"We're still recognised as a real estate business, but in actual fact in the last eight years we've made a huge effort to transform into a real estate and technology services business," Moufarrige says.
"With our investment in technology and building the platform the way we have, it's become a lot more important than that, it's a major component of our business. We've gone from having potential for 5000 virtual office clients to 35,000 and I think we've got potential to get to 100,000 virtual office clients within the next five years."
More leading edge than bleeding edge
Moufarrige worked his way up through the IT department and became CIO in 2000. He says Servcorp made some good technology decisions and also some dud ones, usually erring on the side of being too far ahead of the curve.
"We were too early on some things – we rolled out Microsoft Office as a service in 2002, which was a bit too early for cloud," Moufarrige says. "It had very low take-up and wasn't a successful deployment; we're only just about to launch another 12 years later. Sometimes you can go from leading edge to bleeding edge but mostly I think we've made good decisions."
The IT decisions that Moufarrige says Servcorp got right include switching the entire company to voice-over IP telephony in 2000, adopting cloud computing technology internally early on and keeping IT development in-house to grow expertise. "We didn't even use integrators to buy our equipment," Moufarrige recalls.
The company built an information management system 10 years ago that has been run from a centralised data centre in Japan since 2004. Every transaction for every client goes through that system and only now is the company looking to replace it, possibly with an off-the-shelf cloud software product. Moufarrige is particularly proud of the automated systems that allow someone to set up a phone number instantly and change call handling instructions instantly via the website or an iPhone app.
Cloud as enabler for SMEs in the Asian century
Servcorp is in 130 locations in 22 countries around the world, with a particularly strong presence in Asia and the Middle East. The company employs 140 people in Japan and claims to be the largest exporter of services to Japan outside the mining industry. It has sites in several cities in China, two in India, plus Hong Kong, Singapore and Manila.
As a result of direct experience, Moufarrige is passionate about the opportunities for Australian businesses in Asia. He sits on the national standing committee for cloud computing and is sometimes frustrated by the emphasis on trying to get the government to adopt cloud, which he flatly says he is "not interested" in. The real game, he says, is viewing cloud as a tool for small businesses to export their services.
"The huge population base to our north is where Australian companies should be pushing," he says. "The cloud breaks down geographic barriers."
Naturally this applies to Servcorp – their platform is cloud-based, which allows someone in France to order a telephone service in Singapore, which is billed by Servcorp in Japan and the profits are sent back to Australia.
But Moufarrige also makes the same point about other cloud providers, such as Xero accounting software, which has packages online for other jurisdictions, allowing an Australian accounting firm to serve a client in Singapore and bill them in local currency.
Moufarrige has mixed feelings about the national broadband network – he says anything that delivers better broadband is a good thing, but thinks it is a missed opportunity to invest in better undersea cables to the rest of the world, particularly Singapore, Japan and the US.
Succession planning
Alf Moufarrige founded Servcorp in 1978 and still owns over half the business. His older son Taine is a non-executive director and Marcus is being groomed to take over the business.
Marcus describes his father as "pretty bullet-proof" but also "reasonably pragmatic" about his age – he's 72 – and the need for succession planning.
"We're changing the business, not losing our entrepreneurial spirit but changing from being run by an entrepreneur to being run by a more highly skilled management team," Marcus says. "We're building a sales force and business intelligence infrastructure to handle the scale that we've built to and we're having a lot of success with that. We're doing that in Australia, south-east Asia and America, then I'll probably take over China and Alf would just be left with Japan and the Middle East. It would happen over the next three to five years and we'll take it one geography at a time."
He is doubtful the ownership would change as a result, "given he's still pretty excited about the business and thinks it's a good place for his money to be invested." As for Marcus, being CEO of Servcorp may not have been his goal 20 years ago, but he is happy with the prospect now.
"I probably had a view that I was the weakest one within that competitive family and I wanted to prove myself, but I've now reconciled that I can well and truly do that inside the business as opposed to having to go outside the business," he says.