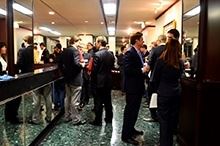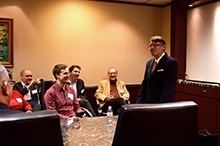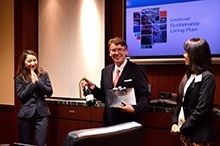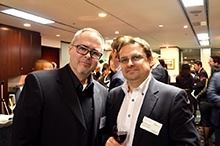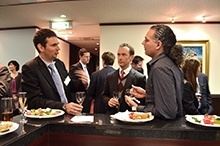 Servcorp regularly hosts Business Shorts where guest speakers from various fields are invited to share their latest business expertise. The 28th event was held as a joint event with Tokyo Executives on Thursday, February 28th, 2013, from 6:30pm to 8:30pm at Servcorp Shinjuku Nomura Building on Level 32. We were pleased to have 32 participants from a wide variety of industries attend this event.
Our guest speaker was Mr. Ray Bremner OBE, President of Unilever Japan K.K. Born and educated in Scotland, Mr. Bremner joined Unilever in the UK directly after graduating from Balliol College Oxford in 1979. After working for a number of years in the UK in a number of marketing and sales roles he then moved to the Middle East as Vice President for Marketing. In 1996 he was appointed Chairman of Unilever Israel and in 2001 became Chairman of Unilever in Egypt and Levant. In 2005 he was appointed Senior Vice President Marketing for Africa and Middle East based in South Africa. He was later appointed Senior Vice President Marketing for the enlarged region of Asia, Africa, Middle East and Eastern Europe and was based in Singapore. In 2010, he moved to Japan as President and CEO, Unilever Japan.
During the seminar, he reviewed how to create a sustainable business model from his experiences all over the world, taking some examples at Unilever.
Topic:
"Creating a Sustainable Business Model"
Guest Speaker:
Mr. Ray Bremner OBE, President of Unilever Japan K.K.
Unilever Japan Website:
http://www.unilever.co.jp/

Tokyo Executives website:
http://tokyoexecutives.com/

Servcorp will continue to regularly host business seminars and events. For more information on the events, or if you would like to join the event as a speaker, please feel free contact your location's manager.
Servcorp Shinjuku Nomura Building
Level 32 Shinjuku Nomura Building
1-26-2 Nishi Shinjuku Shinjuku-ku
Tokyo 163-0532 Japan
T +81 3 5322 2900
Email: nomura@servcorp.co.jp