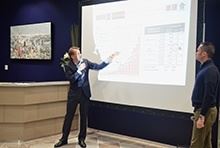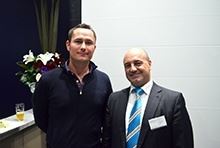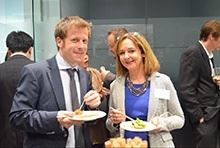 Servcorp regularly hosts Business Shorts where guest speakers from various fields are invited to share their latest business expertise. The event this time was held as a joint event with Tokyo Executives on Thursday, October 17th, 2013, from 6:30pm to 8:30pm at Servcorp Marunouchi Yusen Building on Level1. We were pleased to have 33 participants from a wide variety of industries attend this event.
Topic:
"What We Can Learn from UNIQLO"
Guest Speaker:
Mr. Jay Magee, CSR Manager, Fast Retailing - UNIQLO Mr. Oliver Ormrod, Corporate PR at Fast Retailing – UNIQLO
Tokyo Executives website:
http://tokyoexecutives.com

Servcorp will continue to regularly host business seminars and events. For more information on the events, or if you would like to join the event as a speaker, please feel free contact your location's manager.
Servcorp Marunouchi Yusen Buiding
Level 1 Yusen Building
2-3-2 Marunouchi, Chiyoda-ku
Tokyo 100-0005 Japan
T +81 3 5533 8600
Email: yusen@servcorp.co.jp