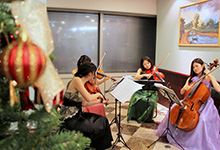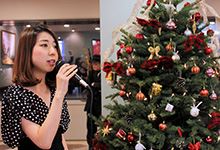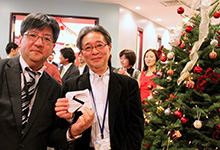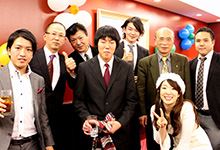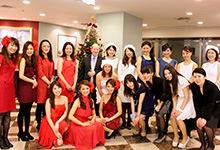 Each year, Servcorp hosts several Christmas parties held at different locations.
On December 10th, Servcorp teams from five different locations in Tokyo gathered for a joint Christmas Party held at Yebisu Garden Place Tower.
The teams came from the following Servcorp locations:
Yebisu Garden Place Tower
Ikebukuro Sunshine 60
Shinjuku Nomura Building
Shinjuku Oak City
Ariake Frontier Building Tower B
Each team was assigned a specific "Christmas" theme color as their dress code.
As the guests arrived, they walked on the red carpet to enter the party venue, and they loved how the red carpet created a different feel of the Servcorp floor.
The guests also enjoyed soothing live music performed by the Suma Music Orchestra throughout the night.
Midway through the party, our Servcorp staff, Haruka Mitsuhashi, sung John Lennon's "Happy Xmas" and Cindy Lauper's "True Colors" in front of the guests.
The highlight of the party was during the game which gave the guests a chance to win special prizes. At the beginning of the game, each guest received a card that was cut in half. They were then asked to find the person with the other half of their card. Upon finding the missing half, the guests had to pair up to answer the quiz on the back of their card.
The first three pairs to get the answers right received the top prizes. This game undoubtedly created lots of excitement among the contesters!
Overall, the guests enjoyed the opportunity to network during the party. Even the guests who attended the party for the first time said that they would like to "come back again next year". The Servcorp team members were pleased to have a very high attendance for this party compared to previous years. Furthermore, the card-matching game seemed to be a great success because it has brought the guests closer through solving questions together.
Thank you to all our guests who have attended the party, and we look forward to seeing you next year!