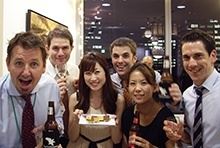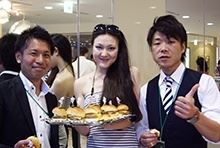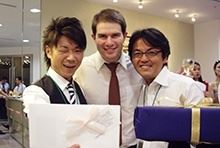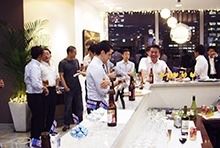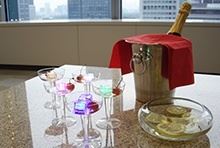 At Servcorp, we support Shine On! Kids, an NPO dedicated to help children with cancer and their families. Out of the many programs offered by the organization, we actively support Beads of Courage®, a program designed to improve patients' resilience and resistance systems.
This charity event is one of the several events held by Servcorp to raise funds for Beads of Courage ®.
At Marunouchi Trust Tower, the team held a summer charity event on August 8th. The theme of this event was "Miami Beach Party," and the team decorated the reception area with neon lights and martini glasses. The Servcorp staff also dressed up in summer cocktail dresses with bright beach colors. The fruits and chocolates served at the party were decorated with Miami flags on toothpicks. One of our clients also kindly offered us some black cherry tomatoes to share with everyone.
During the event, everyone was divided into five teams and they competed in a trivia quiz game based on Miami, Japanese Kanji characters, Servcorp, current events and other interesting topics. Team Orange won the Grand Prize, which was a ticket to "Holiday Brunch Buffet" at the luxurious Mandarin Oriental Hotel.
The clients seemed very relaxed and appeared to be having a great time at the party, just as if they were at Miami Beach! They also seemed to enjoy the Miami themed finger-foods and unlimited drinks. The night's featured drink was beer, so the team offered different types of beers from around the world.
Corona was no doubt the top favorite. As the party proceeded to the end, the team received many warm comments from the clients such as, "It was a good opportunity to get to know our office neighbors," and "It is impressive that Servcorp holds a party every year and I look forward to the next one!"
In this event, the total amount of donations collected was 78,000 JPY. Thank you very much for everyone's warm support and cooperation.
Servcorp Marunouchi Trust Tower - Main
Level 20 Marunouchi Trust Tower - Main
1-8-3 Marunouchi Chiyoda-Ku
Tokyo 100-0005 Japan
T +81 3 6269 3000
Email: marunouchi@servcorp.co.jp