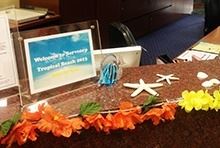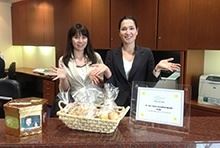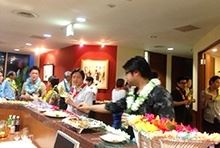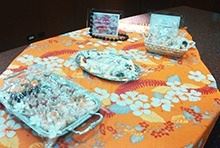 At Servcorp, we support Shine On! Kids, an NPO dedicated to help children with cancer and their families. Out of the many programs offered by the organization, we actively support Beads of Courage®, a program designed to improve patients' resilience and resistance systems.
This charity event is one of the several events held by Servcorp to raise funds for Beads of Courage ®.
At Otemachi Tokyo Sankei Building, the team held a charity event on August 8th.
The theme of the event was "Tropical Beach." The venue was decorated with colorful items with Hawaiian music in the background. All participants wore a lea around their neck to take part in the summer-like atmosphere.
For the entertainment, a team member sung Frank Sinatra's "Fly Me to the Moon" and Alyssa Franklin's "A Natural Woman" in front of the guests. The performance was very popular and received several feedback from the clients such as, "I cannot believe you sing just for a hobby!" and "I have to upload it to YouTube!" Thank you very much for your kind comments.
Twenty-nine guests were present at the event, and some have invited their business partners to join them, thus creating a great networking opportunity for the guests who get to meet people many different industries (such as IT, marketing, finance, trade, consulting, etc.) The relaxing atmosphere encouraged the customers to enjoy and mingle with others easily. We received a comment from a customer saying, "I was very happy to connect with other participants in this event because even though we are in the same building, we usually do not have the opportunity to talk with people from other companies."
In this event, we sold handmade sweets for charity including homemade eel crackers for those who do not like sweets. Many thanks to everyone for their generous support as we were able to raise 38,550 JPY, including the sales of the sweets. We greatly appreciate everyone's participation to this great cause.
Servcorp Otemachi Tokyo Sankei Building
Level 27 Tokyo Sankei Building
1-7-2 Otemachi Chiyoda-ku
Tokyo 100-0004 Japan
T +81 3 3242 6333
Email: sankei@servcorp.co.jp