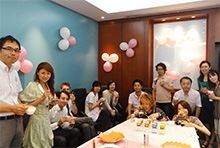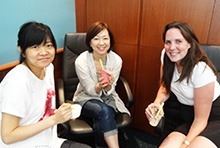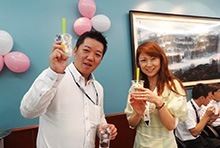 At Servcorp, we support Shine On! Kids, an NPO dedicated to help children with cancer and their families. Out of the many programs offered by the organization, we actively support Beads of Courage®, a program designed to improve patients' resilience and resistance systems.
This charity event is one of the several events held by Servcorp to raise funds for Beads of Courage ®.
At Shiodome Shibarikyu Building, the team held an ice cream charity event on July 19th.
From 3pm to 4pm on that day, clients were invited to the boardroom to enjoy some ice cream. The team prepared several ice cream flavours, all of which were made fresh from the ice cream machine! Clients were fascinated with the concept of fresh ice cream and enjoyed the homemade taste.
Everything was going well until the ice cream machine suddenly had some problems in the middle of the party - the machine could no longer produce nicely shaped ice cream. The team felt sorry for the poor presentation of the ice cream, but this incident created some fun memories of the team working hard to make the ice cream as the clients cheered and tried to help. One of the clients even said, "It's delicious even though it doesn't look perfect!"
Overall, the event turned out well with a lot of clients networking as they enjoyed their ice cream.
A total of 50 people attended this event, making the party very lively!
Thank you very much to everyone who attended. The event was a great success.
Servcorp Shiodome Shibarikyu Building
Level 21 Shiodome Shibarikyu Building
1-2-3 Kaigan Minato-ku
Tokyo 105-0022 Japan
T +81 3 5403 6500
Email: shiodome@servcorp.co.jp