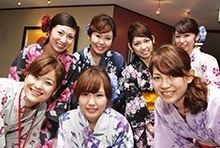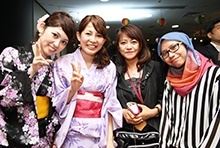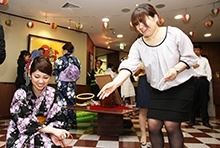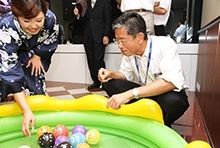 At Servcorp, we support Shine On! Kids, an NPO dedicated to help children with cancer and their families. Out of the many programs offered by the organization, we actively support Beads of Courage®, a program designed to improve patients' resilience and resistance systems.
This charity event is one of the several events held by Servcorp to raise funds for Beads of Courage ®.
At Nagoya Lucent Tower, teams from Nikko Shoken Building and Lucent held a charity event on August 22nd.
The event's theme was "Hannari Yukata Summer Festival". The team created an authentic Japanese summer atmosphere using Japanese festival decorations and lighting up some incense. All Servcorp team members dressed up in yukata, and the attendees took a lot of pictures with the team.
Later on during the event, the team prepared water balloons and ringtoss games, which were a huge success! The attendees were very engaged and were brought back to the fun times during their childhood.
A total of 55 people attended the event. A lot of them brought their friends, family and business partners. We were pleased to provide them with an opportunity to get to know several people. Overall, we received generous comments from the attendees, such as "we really had a fun time!" and "I'd like to join the next event too!"
We raised 145,750 JPY at this event. We appreciate everyone's generous contribution.
Servcorp Nagoya Lucent Tower
Level 40 Nagoya Lucent Tower
6-1 Ushijima-cho Nishi-ku
Nagoya 451-6040 Japan
T +81 52 569 1500
Email: lucent@servcorp.co.jp

Servcorp Nagoya Nikko Shoken
Level 4 Nikko Shoken Building
3-2-3 Sakae Naka-ku
Nagoya 460-0008 Japan
T +81 52 269 8200
Email: nikkoshoken@servcorp.co.jp