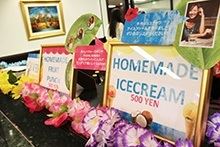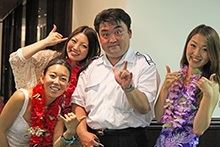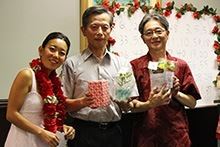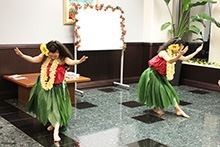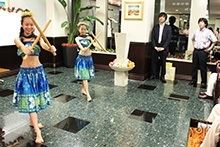 At Servcorp, we support Shine On! Kids, an NPO dedicated to help children with cancer and their families. Out of the many programs offered by the organization, we actively support Beads of Courage®, a program designed to improve patients' resilience and resistance systems.
This charity event is one of the several events held by Servcorp to raise funds for Beads of Courage ®.
In Shinjuku, Shinjuku Nomura Building and Shinjuku Oak City teams held a joint charity event on July 23rd.
The event was Hawaiian themed, and the team decorated the reception area with Hawaiian leis, creating a tropical atmosphere.
The team members also dressed up in Hawaiian dresses and leis to welcome the attendees.
As the event became more lively, the team started a bingo game. Everyone enjoyed the game and the winners were thrilled to receive some great prices.
We would like to say a big thank you to one of the attendees who contributed some prizes for the bingo game, along with gifts which were handed out to everyone at the event including the dancers and the Servcorp team.
For the grand finale of the event, a team of dancers performed some Hula dance. A lot of the attendees were looking forward to see this dance and were very satisfied with the performance.
Several attendees were exchanging their business cards and having a great time together. A client from Shinjuku Oak City even mentioned that "It was a great opportunity to visit Servcorp Shinjuku Nomura Building for the very first time and experience a different office environment."
The Servcorp team was able to raise a total of 50,350 JPY from this event. Thank you very much for everyone's generous contribution!
Servcorp Shinjuku Nomura Building
Level 32 Shinjuku Nomura Building
1-26-2 Nishi Shinjuku Shinjuku-ku
Tokyo 163-0532 Japan
T +81 3 5322 2900
Email: nomura@servcorp.co.jp

Servcorp Shinjuku Oak City
Level 8 Nittochi Nishi-Shinjuku Building
6-10-1 Nishi-Shinjuku Shinjuku-ku
Tokyo 160-0023 Japan
T +81 3 5325 3100
Email: nishishinjuku@servcorp.co.jp