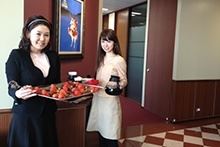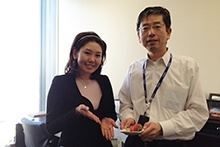 At Servcorp, the staff members use a little creativity to celebrate seasonal events with our clients.
At Nagoya's Lucent Tower, we delivered strawberries, chocolate flavored Baumkuchen and some drinks to each of our clients.
"What a great Valentine's day surprise! This kind of thoughtfulness motivates me a lot especially when I'm having a hard day at work."
"I did not expect that I could get something like this for Valentine's day this year. It's impressive!" were some of the responses we received from our clients.
On the following day, several clients have thanked us again for the sweet surprise the day before, and this made us feel even more grateful to have such cheerful and wonderful clients! It was indeed a heartwarming Valentine's Day.
Servcorp Nagoya Lucent Tower
Level 40 Nagoya Lucent Tower
6-1 Ushijima-cho Nishi-ku
Nagoya 451-6040 Japan
T 052 569 1500
Email: lucent@servcorp.co.jp