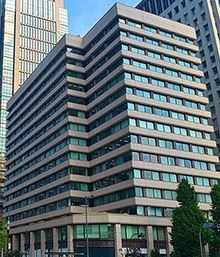 Servcorp's Brand New Location: Marunouchi Yusen Building – Opening September 2013
In September 2013, Servcorp will be opening a new location in Marunouchi Yusen Building.
With the beautiful Imperial Palace Gardens right across the street, Marunouchi Yusen Building is situated in Japan's most highly esteemed Marunouchi area, and it is only a 3-minute walk from the Marunouchi Entrance/Exit of the scenic Tokyo Station, which completed its renovation last year.
The Marunouchi area is well known as the prime finance and economic centre of Japan with Tokyo's top business districts, such as Otemachi, Yurakucho, Nihonmashi and Hibiya, all within walking distance from this location. Furthermore, due to recent redevelopments, the area has been receiving even more attention as a source of new trends, with the commercial, cultural and entertainment areas also gaining popularity.
Located on the ground floor of Marunouchi Yusen Building, the offices have high ceilings which offer a spacious atmosphere, and through the windows, you can enjoy the view of Gyoko-dori which connects Tokyo Station and the Imperial Palace. Overall, the area has a great sense of openness in which you can enjoy the best of both worlds – the spectacular views of the historical Imperial Palace on one side and the modern-day Tokyo skyline on the other.
Servcorp Marunouchi Yusen Building is opening soon. Stay tuned!