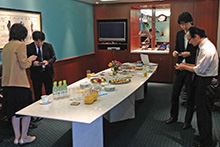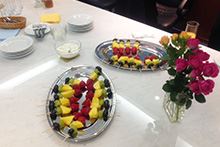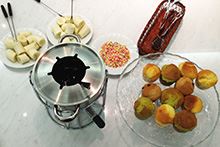 The team at Servcorp Ariake Frontier Building Tower B hosted a breakfast party with their clients in the executive boardroom on Tuesday, April 15th.
The party was organized to give the clients a relaxing time for breakfast in the midst of their busy schedules. It was also intended to warmly welcome new clients who had just started using Servcorp's services.
The boardroom was decorated with flowers on the tables, and had upbeat French music playing in the background to cheer up the clients early in the morning.
The menu consisted of banana chocolate fondues, healthy soy milk muffins, yogurt dips, and orange juice. The most popular dish at the event were "rainbow" fruit pinchos; they were gone very quickly.
During the event, clients mentioned to us, "You should organize this every month" and "This is a great opportunity to network with people."
For people who work in small offices, it must have been a refreshing experience to get to meet and network with other entrepreneurs. They really seemed to enjoy their time at the party.
At Ariake, we organize these types of events to engage our clients on a regular basis. Next up, we will be hosting a "Hinyari (cooling) Event" for our clients to get through the summer, so please stay tuned.
Servcorp Tokyo Big Site Ariake Frontier Building Tower B
Level 9 Ariake Frontier Building Tower B
3-7-26 Ariake Koto-ku
Tokyo 135-0063 Japan
T +81 3 5530 9100
Email: ariake@servcorp.co.jp