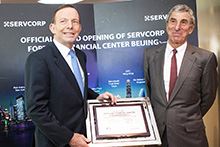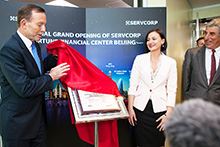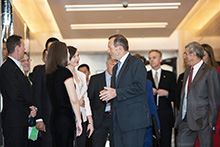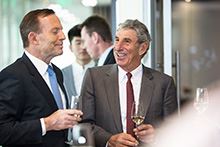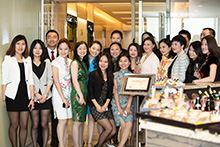 With a long tradition of providing the finest serviced and virtual office space in the industry, Servcorp has striven to offer professional and flexible office solutions to its growing base of clients worldwide. With this goal in mind, Servcorp is proud to announce the newest addition to its suite of premier office locations with the April 12th launch of its largest global flagship office in Beijing's Fortune Financial Center — the city's newest and tallest commercial building in the heart of the central business district.
To mark the occasion, the Honourable Tony Abbott MP, Prime Minister of Australia, attended opening ceremonies for the Fortune Financial Center during his trade delegation's visit to the city.
Servcorp, which first began serving Australia's office market in 1978, is a publicly listed company on Sydney's Australian Securities Exchange, and it was named the country's "Largest Service Exporter" in 2012. The Prime Minister's humbling visit is further testament to Servcorp's global achievements, and its successful provision of flexible premiere office solutions to companies operating in China. Servcorp is honored to receive such a distinguished visit from the Prime Minister to mark the memorable occasion, and proudly unveiled the Beijing office's new "Sydney Boardroom" during his visit, which commemorates the ties between Servcorp's Australian roots and the beloved city of Sydney.
Reflecting our core tenets of an unparalleled global IT network, professional team, and the most flexible lease terms in the industry, the Fortune Financial Center in Beijing is a prime example of the premium office solutions Servcorp strives to provide to our clients worldwide. Conveniently located in the heart of Beijing's central business district, the Fortune Finance Center was built to be both ecological and user-friendly, coming fully equipped with a state of the art air purification system. Boasting the largest commercial garden in Beijing, the building also offers a 360-degree view of the surrounding urban landscape, including the iconic CCTV building, Mandarin Oriental Beijing, Ritan Park, and is nestled amongst a mecca of famous luxury brands, 5 Star hotels, serviced apartments and Michelin starred restaurants. Businesses of all sizes will undoubtedly benefit from Servcorp's newest location and comprehensive suite of office services.
Thirty-six years after our CEO, Alf Moufarrige, first revolutionized the office industry by crowd sourcing his own office needs after becoming frustrated with the overwhelming overhead costs of traditional leases, Servcorp now offers clients access to more than 140 locations in 52 cities worldwide. Located in some of the most recognizable landmarks in the world, Servcorp's premier offices and virtual office solutions have enabled businesses of any size to access previously unaffordable prestigious office addresses, receptionist services, and a globally acclaimed team of professional support staff.
This year also marks Servcorp China's 15th anniversary since launching its first Chinese flagship office location in Shanghai in 1999. Servcorp's presence in the Middle Kingdom has grown to include over ten prestigious locations across Shanghai, Beijing, Hangzhou, Chengdu, Guangzhou and Hong Kong. We are incredibly proud to celebrate this milestone with Prime Minister Tony Abbott and his delegation for the grand opening of our Servcorp Fortune Financial Center Beijing location, marking the success of yet another great Australian brand in China.