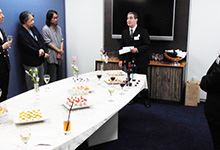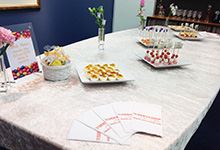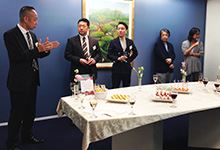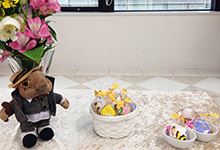 The Servcorp team at Fukuoka Tenjin Fukoku Seimei Building cohosted an Easter event with the Australian Consulate-General on Wednesday, April. 16th
The event was organized not only for guests to get to know Servcorp, but for them to get acquainted with the cultures of Australia by celebrating Easter together.
Mr. Tom Yates, the Consul General, also attended the event and was kind enough to talk about the origins and importance of Easter.
The Consulate-General offered Australian wine, while Servcorp prepared Australian cheese, Tasmanian Salmon, and pinchos using eggs to celebrate the occasion to go with the wine.
The reception area and boardroom were gorgeously decorated with Easter-themed cookies and pastel flowers. Many people attended the event, including new clients who started using Servcorp just the day before, allowing for everyone to mingle with each other very easily.
Clients who attended the event have told us, "I'm not used to these types of events, so this has been a great experience. I'd love to attend again next time," and "I always attend events organized by Servcorp. They are all differently themed and lovely – I can't get enough!"
The staff from the Consulate-General also told us, "We would like to thank Servcorp for giving us the opportunity to network with so many entrepreneurs, who we don't usually have connections with. Talking with your clients helped understand your business better. Most of the people we talked with said that they chose Servcorp because of its professional team of staff. We are impressed!"
In the summer, Servcorp Fukuoka Tenjin Fukoku Seimei Building will be hosting its annual Shine On! Kids charity event. We hope to have many attendees.
Fukuoka Tenjin Fukoku Seimei Building
Level 15 Fukuoka Tenjin Fukoku Seimei Building
1-9-17 Tenjin Chuo-ku
Fukuoka 810-0001 Japan
T +81 92 717 3400
Email: tenjin@servcorp.co.jp