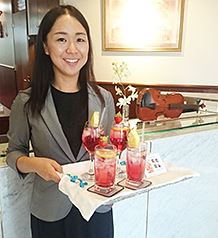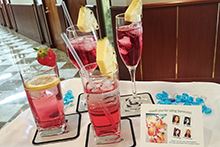 The Servcorp team at Hibiya Central Building hosted a muffin run on Thursday, May 29th.
The main purpose of the event was to introduce the team to our newest clients. At Servcorp, we truly enjoy hosting muffin runs as it is a great opportunity to engage and connect with our clients.
The team served virgin cocktails, where they mixed up soda with cranberry juice, and placed slices of lemons, strawberries, and pineapples on the side.
The clients seemed to enjoy the cocktails very much. They told us that they thought the cocktails were lovely, and had a nice tropical feel.
Up next at Hibiya Central Building, we will be hosting a Business Shorts on Wednesday, July 9th. We hope to see you at the event.
Hibiya Central Building
Level 14 Hibiya Central Building
1-2-9 Nishi Shimbashi, Minato-Ku
Tokyo 105-0003 Japan
T +81 3 5532 7300
Email: hibiya@servcorp.co.jp