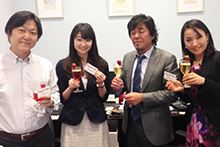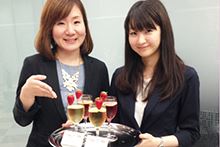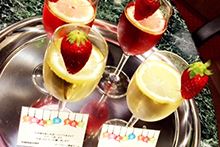 The Servcorp team at Marunouchi Yusen Building hosted a muffin run on Friday, May 16th.
The team served their original Virgin Vitamin C Cocktails, where they mixed up soda with cranberry and apple juices, and placed slices of lemon along with sweet strawberries on the side. The non-alcoholic drinks looked very much like sparkling wine, and contained high amounts of Vitamin C to prevent colds in this changeable weather.
The clients' reactions were priceless, as they thought that the drinks contained alcohol. They praised the drinks for how lovely and delicious they were, and some of them even requested "non-virgin" cocktails next time!
As the name suggests, we usually hand out snacks at muffin runs, but sharing these non-alcoholic cocktails turned out to be a fresh great way to connect with our clients. We hope to bring more surprises and excitement to Marunouchi Yusen Building, so please stay tuned!
Marunouchi Yusen Building
Level 1 Yusen Building
2-3-2 Marunouchi, Chiyoda-ku
Tokyo 100-0005 Japan
T +81 3 5533 8600
Email: yusen@servcorp.co.jp