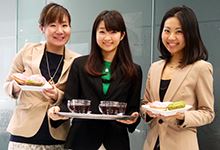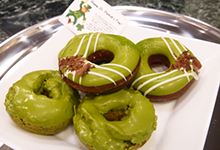 On March 17th, the Servcorp Yusen team organized a St. Patrick's Day-themed muffin run and celebrated the day with together with clients.
As many of you may know, St. Patrick's Day originates from Ireland. March 17th marks the death of patron saint of Ireland, Saint Patrick, and the arrival date of Christianity in Ireland. Celebrations involve parades and festivals, shamrocks, and wearing green attires.
It was a great opportunity to introduce St. Patrick's Day to some of our clients who were not aware of the holiday. When we told them about its traditions, they looked down at their attire to find green around them, and whoever had green seemed very excited. We spotted green on shirts, neckties, and shoes. Thanks to our clients for participating in this fun event!
Marunouchi Yusen Building
Level 1 Yusen Building
2-3-2 Marunouchi, Chiyoda-ku
Tokyo 100-0005 Japan
T +81 3 5533 8600
Email: yusen@servcorp.co.jp