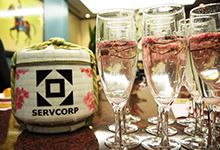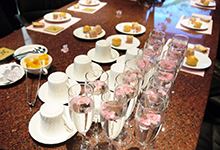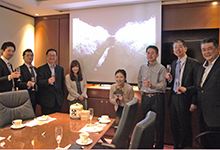 Thhe Servcorp Lucent Tower team organized a Cherry Blossom Event with their clients on Tuesday, April 8th.
Due to the popularity of last month's Breakfast Meeting, we invited virtual office clients as well as office clients to come together for a cherry blossom-themed event.
The team decorated the boardroom with cherry blossoms, prepared specially-made cherry blossom drinks in champagne glasses, and various sweets for the clients to enjoy. The team also took photos of cherry blossoms in the area and displayed it on the boardroom monitor, filling the entire room with the look of Spring.
At the start of the event, clients exchanged business cards, which some of our new clients expressed was a great opportunity for them. Afterwards, they mingled and chatted about their "ohanami" (cherry blossom viewing) episodes, while enjoying the drinks and sweets prepared by the team.
It was all smiles at the event and was a great way to start the day for everyone involved, including the Servcorp team. At Nagoya Lucent Tower, we will continue to express our gratitude to our wonderful clients through fun and engaging events.
Nagoya Lucent Tower
Level 40 Nagoya Lucent Tower
6-1 Ushijima-cho Nishi-ku
Nagoya 451-6040 Japan
T +81 52 569 1500
Email: lucent@servcorp.co.jp