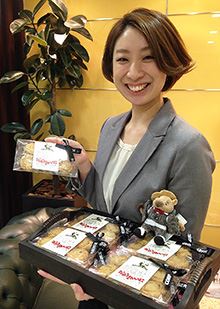 The Servcorp team at NOF Hakata Ekimae Building held a muffin run to commemorate ANZAC Day on Friday, April 25th.
ANZAC Day is a national holiday on April 25th that honors the members of the Australian and New Zealand Army Corps (ANZAC) who fought at Gallipoli in the Ottoman Empire during World War I, as well as all Australians and New Zealanders who served in all wars, conflicts, and peacekeeping operations. One of the symbols of ANZAC Day is red poppies.
Our secretary, Hiroko, who has studied abroad in Australia and New Zealand, came up with the idea to organize a muffin run on this national day of remembrance.
Biscuits filled with cranberries, blueberries, and chocolate were handed out to our clients. Placing them in cute little wrappings with ribbons and illustrations of red poppies, Hiroko secretly prepared for the event on the day before in the executive boardroom.
Clients, not being aware of the holiday, were very pleased and told us, "A great Australian event from a great Australian company!" Some of our new clients were surprised by the event but were utterly delighted. Servcorp is always happy to organize these events because it is a wonderful opportunity to bring our clients and our team closer together.
Next up, we are planning a charity event in June with the team at Fukuoka Tenjin Fukoku Seimei Building. Many clients look forward to this annual event, so we will work together to make the event successful. We hope to see you at the event.
NOF Hakata Ekimae Building
Level 2 NOF Hakata Ekimae Building
1-15-20 Hakata Ekimae Hakata-ku
Fukuoka 812-0011 Japan
T +81 92 419 2300
Email: hakata@servcorp.co.jp