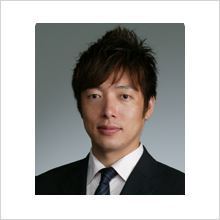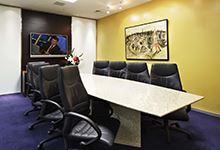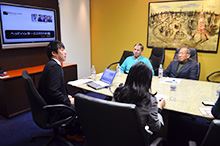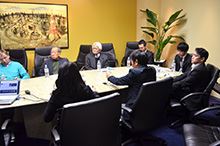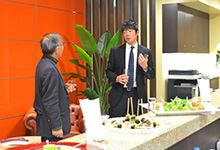 Afterword
We were pleased to have 9 participants from a wide variety of industries attend our Business Shorts. Participants have mentioned that they have enjoyed presentation and that they would like to attend our Business Shorts again. Once again, we were pleased to have several people attend our monthly event.
Upcoming: Servcorp Business Shorts at Shinjuku Oak City on Thursday, January 23rd.
Servcorp Business Shorts is a monthly event in which we invite a guest speaker and professionals who are willing to share their experience with like-minded business professionals. This seminar also gives you the opportunity to see a Servcorp floor. If you know people who are interested in this event as well as serviced office/virtual office, please extend our invitation to them!
Presentation Title
The Inside Story - from an experienced Head Hunter
Presentation Details
Mr. Kazuhiko Yamaguchi will share the inside story on current recruiting trends. What type of candidates are companies looking for today? Recruiters are the pipeline between candidates and key decision makers in the company such as Human Resources Directors and top management in various professions. From his experience as a recruiter, Mr. Yamaguchi will provide some valuable insights from the hirer's perspective.
Furthermore, Mr. Yamaguchi will also present several aspects that are important on the candidate's side by sharing best practices and lessons learned from past performances.
Speaker Profile
Mr. Kazuhiko Yamaguchi (Team Leader, Specialized Group K.K.)
In 2005, Mr. Kazuhiko Yamaguchi joined a foreign executive search company and worked as a consultant specializing in supporting career transitions for middle to top management level positions, mainly in the manufacturing industry.
He joined Specialized Group K.K. in 2009 and he is currently a Team Leader for head hunting and also part of the management group.

Website: http://www.specialized-group.com/en/

Date
Thursday, January 23rd
18:30 Reception open
19:00 Presentation starts
19:40 Networking
20:30 Close
Venue
Shinjuku Oak City, Level 8 Nittochi Nishi-Shinjuku Building
6-10-1 Nishi-Shinjuku Shinjuku-ku

3 min walk from exit 2 of Nishi-Shinjuku Station on Tokyo Metro Marunouchi Line
5 min walk from exit 2 of Tochomae station on Toei Oedo Line by underground passage
10 min walk from West Gate of Shinjuku Station
Telephone: 03 5325 3100
Email: nishishinjuku@servcorp.co.jp
Website: www.servcorp.co.jp/en

Notes
No Participation fee.
The presentations will be delivered in Japanese.
Prior registration required to attend this event. Persons without prior registration will not be allowed entrance.
If we reach our capacity before the registration deadline, we may not accept any more participants.
Please bring your business card to the event.
Please be advised that photos and videos may be taken during this event for marketing/promotional purposes.
Depending on the number of attendees, the presentation may have to be viewed standing up.
Please note that competitors cannot attend this event.