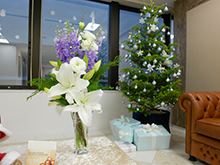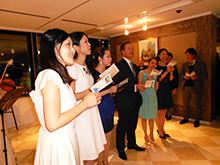 Each year, Servcorp hosts Christmas parties at multiple Servcorp locations.
Servcorp teams from two locations in Fukuoka gathered for a joint Christmas Party held at Fukuoka Tenjin Fukoku Seimei Building on Wednesday, December 3rd.
The theme of this year's party was "Frozen," so the floor was fully decorated in silver, blue, and white colours, for a snowy, frozen atmosphere. The dress code for the evening included attires in these colours as well, so both Servcorp staff members and attendees all dressed in matching colours.
The highlight of the night was a special live performance by a professional baritone singer. He sang classics including 'O sole mio and the Toreador Song, as well as the hit song of this year. The performance was a great success, with one attendee commenting, "I love music and going to operas, but I've never experienced a live performance in such close proximity! This has been a lovely experience."
One client who has attended this early event told the staff, "Each year you have a different theme and they're all great. I always look forward to this party!"
Another attendee commented, "The music, the food, and the decorations are all top-notch, just like everything else with Servcorp. I'm proud to be able to work with such professional staff!"
Overall, the Christmas party was very successful and the team was very thankful that so many clients joined in the party. Please stay tuned for next year's events!
Fukuoka Tenjin Fukoku Seimei Building
Level 15 Fukuoka Tenjin Fukoku Seimei Building
1-9-17 Tenjin Chuo-ku
Fukuoka 810-0001 Japan
T +81 92 717 3400
Email: tenjin@servcorp.co.jp
NOF Hakata Ekimae Building
Level 2 NOF Hakata Ekimae Building
1-15-20 Hakata Ekimae Hakata-ku
Fukuoka 812-0011 Japan
T +81 92 419 2300
Email: hakata@servcorp.co.jp