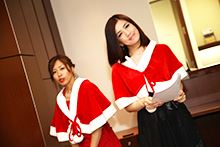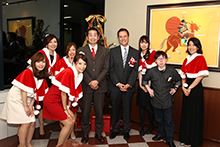 Servcorp teams from two locations in Nagoya gathered for a joint Christmas Party held at Nagoya Lucent Tower on Thursday, December 4th.
The theme of this year's party was "Santa Claus," so Servcorp team members welcomed their clients wearing Santa Claus' capes, and the floor was decorated with red and gold colours.
Live music was performed by the Kinshachi music group, a popular band in the Nagoya area. The rich sounds of their trombone and piano brought an elegant atomosphere to the floor.
The party started out with a speech by Mr. Warren Jones, who is the executive assistant of CEO at Servcorp.
One of the highlights of the night was a magic show by MR. MASAKI, a popular magician, who provided laughter and surprise with his various tricks. The attendees seemed to enjoy the show, one of them commenting, "His show was fantastic! I've never been this excited about magic tricks!" and another saying, "His magic was great, but so were his jokes! I haven't had this much fun in a long time."
After the magic show, the attendees played a bingo game. Unlike the traditional bingo game, players had to fill their sheets with the names of other attendees they talked to that night. It was a great opportunity for the attendees to mingle and exchange business cards with each other.
As for the prizes, thanks to numerous sponsors, the team was able to provide various gifts, including a free hotel stay, coffee gift set, and box of sweets. Furthermore, the best dressed client at the party won a potted poinsettia.
At the end of the party, the team and the attendees sang Christmas carols, which has become an annual tradition in Nagoya. Accompanied by a piano, everyone sang "Holy Night" and "We Wish You a Merry Christmas," ending the night in a festive mood.
Overall, the Christmas party was very successful and the team was very thankful that so many clients joined in the party. Please stay tuned for next year's events!
Nagoya Lucent Tower
Level 40 Nagoya Lucent Tower
6-1 Ushijima-cho Nishi-ku
Nagoya 451-6040 Japan
T +81 52 569 1500
Email: lucent@servcorp.co.jp
Nagoya Nikko Shoken Building
Level 4 Nikko Shoken Building
3-2-3 Sakae Naka-ku
Nagoya 460-0008 Japan
T +81 52 269 8200
Email: nikkoshoken@servcorp.co.jp