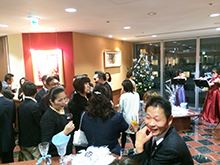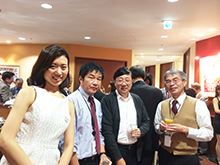 In Osaka, the teams from Umeda Hilton Plaza West Office Tower, Edobori Center Building and Cartier Building - Shinsaibashi Plaza gathered for a joint Christmas Party on Tuesday, December 9th.
The theme of this year's party was "Sparkles." The intention of the theme was to "spark" conversations among attendees and for the clients' business to shine. The floor was fully decorated with silver and blue colours for a sparkled look. The attendees seemed to enjoy the atmosphere; many of them taking pictures as soon as they walked in.
The highlight of the night was a game the attendees played, where they had to guess the occupations of other guests. Attendees would make guesses based on clues, and when they got it right, their faces lit up and sparkled!
The Osaka team was also happy to have staff from the headquarters in Australia, as well as staff from Tokyo join the party.
Thanks to the clients, there was a bigger turnout than last year, and the party was a huge success. We would like to thank each guest who joined the event and we hope to see everyone again next year.
Servcorp Osaka would like to wish you and your family a very Merry Christmas and a Happy New Year. We are looking forward to working with you next year!
Umeda Hilton Plaza West Office Tower
Level 19 Hilton Plaza West Office Tower
2-2-2 Umeda Kita-ku
Osaka 530-0001 Japan
T +81 6 6133 5700
Email: hiltonplazawest@servcorp.co.jp
Edobori Center Building
Level 9, Edobori Center Building
2-1-1 Edobori Nishi-ku
Osaka 550-0002 Japan
T +81 6 6225 1000
Email: edobori@servcorp.co.jp
Cartier Building - Shinsaibashi Plaza
Level 4 Shinsaibashi Plaza Building Shinkan
3-12-21 Minami-Senba Chuo-ku
Osaka 542-0081 Japan
T +81 6 6258 3700
Email: shinsaibashi@servcorp.co.jp