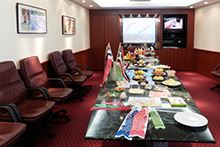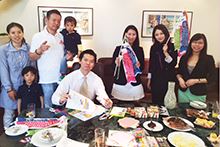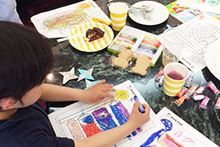 The Servcorp team at Shinagawa Intercity Tower A held a Kids Party to celebrate Children's Day on Friday, May 2nd.
Children's Day is a Japanese national holiday that celebrates children's wellbeing and their happiness. This was Servcorp's first attempt to invite children along with their parents who are our clients to one of our events.
Before the party, the staff bought toys, snacks, and "koinobori," which are carp-shaped wind socks that symbolize Children's day. Unbreakable cups and plates, as well as tiny spoons, and aprons were prepared for the children. Decaffeinated tea was also stocked up for breastfeeding mothers.
Food for the party included chocolate cake with a "kabuto" (Japanese military helmet that symbolizes a strong, healthy boy) decoration, donuts, chocolates, and snacks in little koinobori packages. Fruit punches filled with fresh fruits in two flavors, red grape and white grape, were a big hit with both the parents and children.
The boardroom, where the party took place, were decorated with koinobori as the koinobori song played in the background. The children participated in a coloring page contest, and since everyone colored them so well, little koinobori were given out as prizes to all.
One client mentioned, "I've never been to an event at Servcorp with my children. It is so much fun!" This was our first event to invite children and it was a huge success; we hope to do more in the future. Please stay tuned for our next event.
Shinagawa Intercity Tower A
Level 28 Shinagawa Intercity Tower A
2-15-1 Konan Minato-ku
Tokyo 108-6028 Japan
T +81 3 6717 4500
Email: shinagawa@servcorp.co.jp