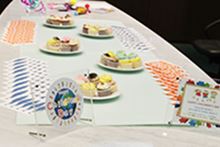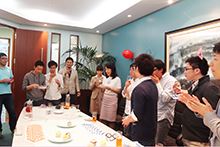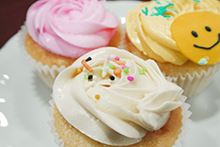 The Servcorp team at Hamamatsucho Shiodome Shibarikyu Building held a Kids Party to celebrate Children's Day on Wednesday, April 30th.
Children's Day is a Japanese national holiday that celebrates children's wellbeing and their happiness. This was Servcorp's first attempt to invite children along with their parents who are our clients to one of our events.
While no children attended the event, the toys and decorations prepared for the party were a big hit with the adult clients. Clients seemed to have a great time doing coloring pages, wearing party hats and funny glasses and taking photos and videos of each other.
We were especially proud to serve high quality English cupcakes that were specifically designed for this day. Our staff picked up the cupcakes from the shop right before the party so we could serve them fresh. Clients enjoyed the cupcakes, mentioning "I can eat a hundred of these!"
Clients asked us how often we hold these events, and what type of events we plan in the future.
They also came up to us the next day to tell us how much they enjoyed the event. It turned out to be a great conversation starter with many of our clients.
Shiodome Shibarikyu Building will be hosting a "Tanabata" event in July. We hope to see many clients there.
Hamamatsucho Shiodome Shibarikyu Building
Level 21 Shiodome Shibarikyu Building
1-2-3 Kaigan Minato-ku
Tokyo 105-0022 Japan
T +81 3 5403 6500
Email: shiodome@servcorp.co.jp