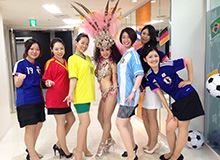 At Servcorp, we support Run For The Cure® Foundation, an NPO whose mission is to eradicate breast cancer in Japan as a life-threatening disease through education, timely screening, and treatment.
In Fukuoka, the teams from Fukuoka Tenjin Fukoku Seimei Building and NOF Hakata Ekimae Building held a joint charity event to raise funds for the Foundation on Monday, July 14th.
The theme of the event was the World Cup. The event happened to fall on the day of the World Cup Final, so it was a huge success with attendees still buzzing from the result of the game.
The teams also invited a professional Samba dancer to celebrate the Brazilian World Cup. Her performance was stunning and was very well received.
Thanks to everyone's generous contribution, the charity event was a great success. We appreciate everyone's participation in this important cause.
Fukuoka Tenjin Fukoku Seimei Building
Level 15 Fukuoka Tenjin Fukoku Seimei Building
1-9-17 Tenjin Chuo-ku
Fukuoka 810-0001 Japan
T +81 92 717 3400
Email: tenjin@servcorp.co.jp

NOF Hakata Ekimae Building
Level 2 NOF Hakata Ekimae Building
1-15-20 Hakata Ekimae Hakata-ku
Fukuoka 812-0011 Japan
T +81 92 419 2300
Email: hakata@servcorp.co.jp