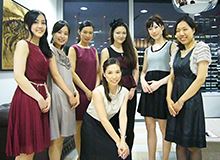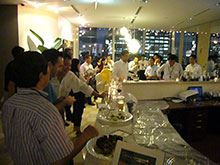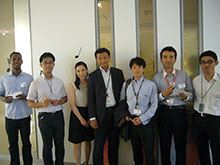 At Servcorp, we support Run For The Cure® Foundation, an NPO whose mission is to eradicate breast cancer in Japan as a life-threatening disease through education, timely screening, and treatment.
Servcorp Marunouchi Trust Tower - Main held a charity event to raise funds for the Foundation on Thursday, August 21st.
The theme of the event was "Jazz."
The team asked their clients what their favorite jazz music were in advance, and played them during the event. Some clients were even kind enough to lend the team their favorite CDs.
During the event, the teams held a game of bingo using business cards as a fun way for the attendees to network with everyone. Attendees would exchange business cards with each other and match them with the names written on the bingo card. Everyone seemed to have a great time meeting other attendees this way.
The team raised money for the donation by selling bingo cards and plants. Thanks to many attendees who purchased these items, the team was able to raise a significant amount during this event.
All in all, it turned out to be a successful and amazing event with everyone's cooperation and thoughtfulness. We truly appreciate everyone who participated and donated for this event.
Marunouchi Trust Tower - Main
Level 20 Marunouchi Trust Tower - Main
1-8-3 Marunouchi Chiyoda-Ku
Tokyo 100-0005 Japan
T +81 3 6269 3000
Email: marunouchi@servcorp.co.jp