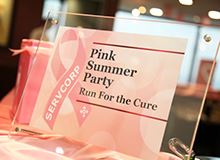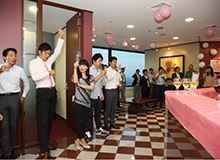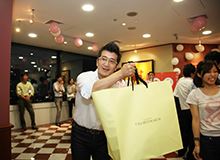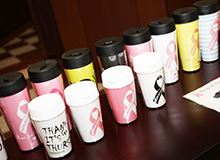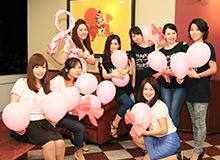 At Servcorp, we support Run For The Cure® Foundation, an NPO whose mission is to eradicate breast cancer in Japan as a life-threatening disease through education, timely screening, and treatment.
In Nagoya, the teams from Nagoya Lucent Tower and Nagoya Nikko Shoken Building held a joint charity event to raise funds for the Foundation on Thursday, July 17th.
The theme of the event was the color pink. The teams decorated areas including the reception and the boardroom with pink table clothes, balloons, and ribbons to match the theme. In addition, Servcorp staff members took off their usual suit jackets and dressed up in casual T-shirts designed specifically for this event.
During the event, the teams held a trivia contest where they asked 10 questions regarding this year's World Cup. The contestant with the most correct answers received flowers, a bottle of champagne, and a free lunch for two at a hotel. Runners-up also received gifts provided by sponsors of the event.
In order to raise money for the donation, the teams prepared tumblers and post cards that they designed themselves to match the theme of the event for the clients to purchase.
They also provided Mammography Cards, which clients could purchase for 3,000 JPY. The money and any messages written on the car would go directly to a patient who cannot afford a mammogram. One client kindly mentioned, "I hope that my donation will help detect breast cancer early for someone out there."
All in all, it turned out to be an amazing event. Servcorp team members were delighted to spend such a wonderful time with their clients.
We appreciate everyone who participated in this event, including all the sponsors who provided wonderful prizes.
Nagoya Lucent Tower
Level 40 Nagoya Lucent Tower
6-1 Ushijima-cho Nishi-ku
Nagoya 451-6040 Japan
T +81 52 569 1500
Email: lucent@servcorp.co.jp

Nagoya Nikko Shoken Building
Level 4 Nikko Shoken Building
3-2-3 Sakae Naka-ku
Nagoya 460-0008 Japan
T +81 52 269 8200
Email: nikkoshoken@servcorp.co.jp