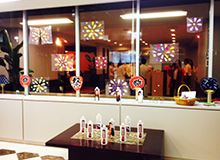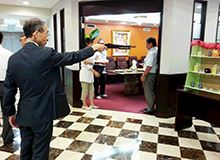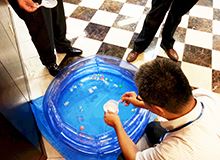 On Wednesday, August 20th, Servcorp Nihonbashi Wakamatsu Building held a charity event to raise funds for Shine On! Kids, a non-profit organization that supports children with cancer and their families in Japan.
The theme of the event was "Summer Festival."
The team members decorated the floor with firework stickers on windows, and paper fans with vibrant colours all over. They also provided bouncy ball scooping and shooting games, which are typical games you can play at summer festivals.
The attendees seemed to enjoy the event very much, mentioning, "This is a great opportunity to talk to people from different companies," and "This is amazing! I had so much fun."
All in all, it turned out to be a successful event with everyone's cooperation and thoughtfulness. We truly appreciate everyone who participated and donated for this event.
Nihonbashi Wakamatsu Building
Level 7 Wakamatsu Building
3-3-6 Nihonbashi-Honcho Chuo-Ku
Tokyo 103-0023 Japan
T +81 3 6202 7600
Email: wakamatsu@servcorp.co.jp