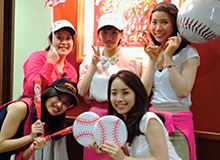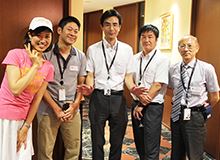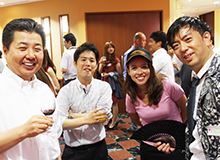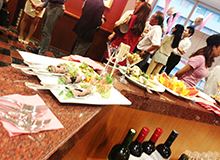 At Servcorp, we support Run For The Cure® Foundation, an NPO whose mission is to eradicate breast cancer in Japan as a life-threatening disease through education, timely screening, and treatment.
In Osaka, the teams from Umeda Hilton Plaza West Office Tower, Edobori Center Building and Cartier Building - Shinsaibashi Plaza held a joint charity event to raise funds for the Foundation on Tuesday, August 5th.
The theme of the event was "Baseball." Servcorp staff members dressed up in casual T-shirts and caps with the color pink, the signature color of the Foundation, specifically for this event.
At the beginning of the event, the teams showed a video that showed how an early detection of breast cancer can save one's life. The teams were happy to see attendees paying close attention to the video, and hoped that this knowledge and awareness will spread to every corner of the world.
During the event, the teams held a game of "Strikeout," where players throw a baseball at a board made up of 9 squares. The player who knocks out the most squares wins the game. Many attendees eagerly played the game, each donating 500 JPY to play, while the audiences cheered. Many attendees also donated Mammography Cards, which they could purchase for 3,000 JPY. The money and any messages written on the card would go directly to a patient who cannot afford a mammogram.
All in all, it turned out to be a successful and amazing event with everyone's cooperation and thoughtfulness. We truly appreciate everyone who participated and donated for this event.
Umeda Hilton Plaza West Office Tower
Level 19 Hilton Plaza West Office Tower
2-2-2 Umeda Kita-ku
Osaka 530-0001 Japan
T +81 6 6133 5700
Email: hiltonplazawest@servcorp.co.jp

Edobori Center Building
Level 9, Edobori Center Building
2-1-1 Edobori Nishi-ku
Osaka 550-0002 Japan
T +81 6 6225 1000
Email: edobori@servcorp.co.jp

Cartier Building - Shinsaibashi Plaza
Level 4 Shinsaibashi Plaza Building Shinkan
3-12-21 Minami-Senba Chuo-ku
Osaka 542-0081 Japan
T +81 6 6258 3700
Email: shinsaibashi@servcorp.co.jp