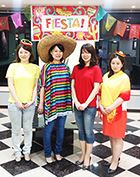 At Servcorp, we support Run For The Cure® Foundation, an NPO whose mission is to eradicate breast cancer in Japan as a life-threatening disease through education, timely screening, and treatment.
In Ikebukuro, Servcorp Ikebukuro Sunshine 60 held a charity event to raise funds for the Foundation on Friday, August 8th.
The theme of the event was "Mexican Fiesta."
During the event, the teams held a game of "Memory Bingo" where the clients' names and their company names are printed on 9x9 bingo sheets instead of numbers. 9 clients are asked about their hobbies, place of birth, their favorite food among others, and the players must memorize them and match their answers to their names on their sheets. Because it is important for business professionals to learn and memorize their clients' faces, their names and other details, the players demonstrated strong memory skills and played the game smoothly.
The game was created by the Sunshine team specifically for the party. The team struggled to set the rules for the game, and was nervous if it would be an success until the day of the event. The players seemed to enjoy the game and mentioned, "It was pretty tricky but fun!"
All in all, it turned out to be a successful and amazing event with everyone's cooperation and thoughtfulness. We truly appreciate everyone who participated and donated for this event.
Ikebukuro Sunshine 60
Level 45 Sunshine 60
3-1-1 Higashi Ikebukuro Toshima-ku
Tokyo 170-6045 Japan
T +81 3 5979 2100
Email: sunshinecity@servcorp.co.jp