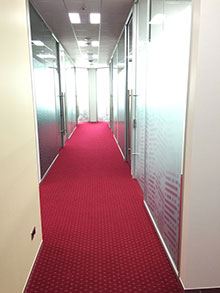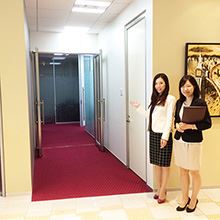 Marunouchi, the heart of Tokyo's business district and home to some of the most sought out addresses. And as it is home to so many large companies and corporations, an address in this area is a major boost to a company's reputation. Because of that, businesses generally find it easier to catch the interest of others they may be in negotiations with and there are numerous cases of deals being made and contracts being signed.
And so, being the popular area that it is, our Marunouchi Trust Tower location had always been a popular spot with no available vacancies. However, as the piles of inquiries for office space in Marunouchi Trust Tower kept growing, we knew we had to do something about it. So we've expanded the floor!
The front desk area looks exactly the same, except you might notice one thing. If you take one step to the right, you'll see that there is now a path where there used to be a wall. Take one step in and you'll see all the new offices, equipped with the same first-class furniture and IT infrastructure you can expect from any other Servcorp location.
And although this expansion does increase the number of offices we offer, the number of clients moving in is also increasing. If you have any interest in being part of this great area, contact us right away!
Marunouchi Trust Tower - Main
Level 20 Marunouchi Trust Tower - Main
1-8-3 Marunouchi Chiyoda-Ku
Tokyo 100-0005 Japan
T +81 3 6269 3000
Email: marunouchi@servcorp.co.jp