Do you want to have a business lunch nearby the Marunouchi Trust Tower-Main location and Tokyo Station? There are hundreds of restaurants to pick from and budgets that range from a few hundred yen to over nine thousand yen per person. Tokyo Station is a Walhalla of restaurants and shopping with some of Tokyo's best food on offer. "Dive" into Tokyo Stations' underground passage and you can easily find "Kitchen Street" that runs from the Yaesu exit to the Nihonbashi exit side of the Station – here fantastic Sushi, Tempura, and Noodle shops are lined up for your lunch pleasure!
To help you make a choice, Servcorp has approached its serviced office clients to find out what are their favourite lunch places to take clients out for a business lunch, to invite co-workers or overseas head office executives on business travel.
1."Nadaman", Shangri-La Hotel. Budget: ¥2,900-¥9,800 per person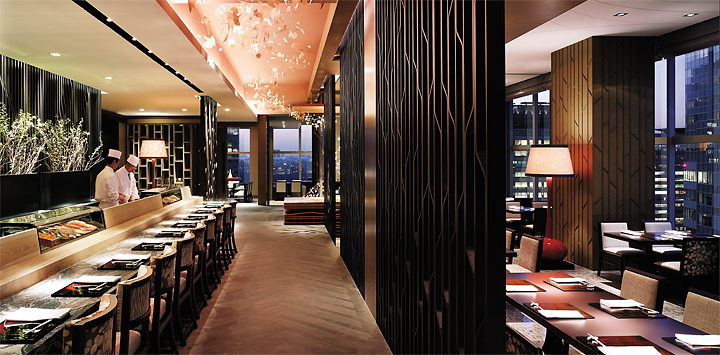 http://www.shangri-la.com/jp/tokyo/shangrila/dining/restaurants/nadaman/
This is an excellent restaurant to impress your clients, business partners or prospective customers. The Shangri-La hotel is in the same building as Servcorp Marunouchi Trust Tower-Main. The views from this 29th floor restaurant overlooks Tokyo Station and the Nihonbashi/Kanda area. This elegant venue serves Japanese food such as sushi, teppanyaki and kaiseki and renowned for its customer service with Japanese perfection. Private dining rooms with fabulous views are also available.
2. Teppanyaki "An" at XEX Tokyo. Budget: ¥1,800 – ¥8,800 per person
http://www.xexgroup.jp/tokyo/an
The Daimaru Shopping Mall, located right at and above Tokyo Station has its 2 top floors filled with great restaurants to eat at. One of our client's favourites is the Teppanyaki "An" restaurant at XEX Tokyo located on the 13th floor of the Daimaru Tokyo Station. Fresh seafood, beef and Japanese vegetables are cooked by professional teppan chefs in front of you. Great views, great access and a reasonable price for a great lunch!
3.Salt, Shin-Marunouchi Building. Budget: ¥3,000-¥5,000 per person
http://tabelog.com/
If time permits, take a stroll to the Marunouchi side of Tokyo Station and go to "Salt", located on the 6th floor of the Shin-Marunouchi Building. This building is in a top location and gets very busy at lunchtime. The restaurant is the Tokyo version of the legendary restaurant Salt, by Luke Mangan - a famous chef and popular TV star chef in Australia and a personal friend of the CEO of the serviced office operation Servcorp. Here you can eat fantastic seafood, fresh from the seafood tank or delightfully prepared dishes with an Australian flavour. Reservations are essential! Please ask your Servcorp Secretary to book you the best table.
4.Tempura Keyaki Tokyo Station restaurant in Kitchen Street, 1F. Budget: ¥980 -¥1,500 per person
Entrepreneurs and start-up businesses may not yet have the budget to take clients on expensive business lunches. With Keyaki Tempura you will have a great lunch with great value for money. Fast service and freshly prepared mouth-watering tempura, a 5 minute walk from your Servcorp office!
5.Sushi from Suzutomi Daimaru at Daimaru Tokyo Station, B1 floor. Budget: ¥840-¥2,100 per bento.
http://tabelog.com/
Suzutomi Daimaru isn't a restaurant as such, but a shop that sells sushi. The fish is super fresh as it is the directly managed store of the Suzutomi tuna wholesaler in Tsukiji, the famous fish market. Why not having a sushi lunch in your Servcorp Marunouchi Office or even enjoy the sushi in the Narita Express on your last day in Japan?
Did you know?
Servcorp secretaries can organize your lunch reservation for you. The Servcorp team knows the best restaurants around your office or can organize lunch to be served in the board room for a more private setting.
Below are the web links to our top 5 favourite lunch restaurants: