Every summer, Servcorp hosts charity events.
The goal of these events is provide networking opportunities for clients who don't get a chance to meet very often and also to raise money for the Run for the Cure Foundation (*from here on as 'RFTC'), an organization that eradicates breast cancer through education, timely screening and treatment.
The event is held at all Servcorp locations, and each location puts a special spin on their event by planning the event with a special theme.
(This page will continue to be updated as news come in from other locations, so please check back for updates!)
Nihonbashi Wakamatsu Building
The Nihonbashi Wakamatsu Building team invited professional jazz musicians Mr. Toru Takiguchi and Mr. Yujirou Yoshimine and held a Wakamatsu Jazz night!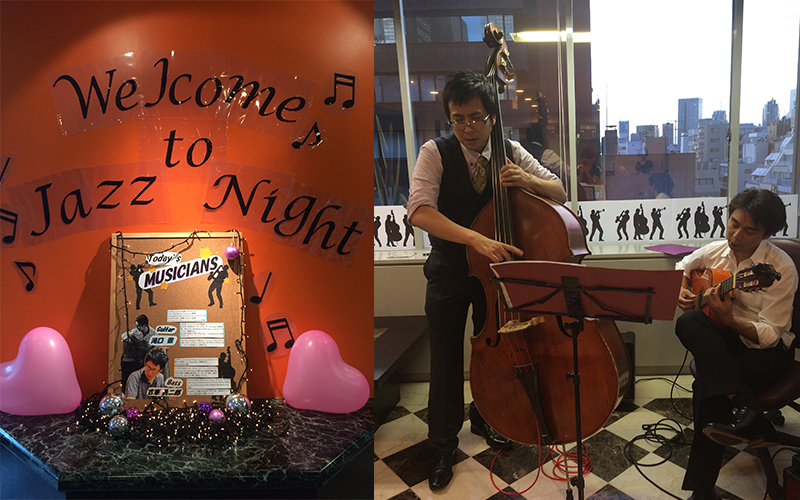 For the occassion, the staff dressed up in jazzy black clothing and various pink accessories in honor of the RFTC.
In addition, the staff as well as the performers donned handmade pink ribbons to show their full support of the RFTC.
As the musicians created a relaxing atmosphere through jazz, the clients who attended appeared to unwind, talk with other professionals and network.
During the jazz night, a bingo tournament with fabulous prizes was held, and it became a heated battle to the very end!

Many clients expressed how much fun they had with the bingo game saying things such as, "this is the first time I've ever got first place in my life!" and "I'm so happy that I was able to win a prize for the first time at this event". We were also excited for our clients!
Through entry-tickets, drinks, and breast-examination tickets, the event was able to raise a total of 53,858 yen, all of which will be donated to the RFTC.
Thank you to everybody who came and participated in the Wakamatsu Jazz Night. And from our hearts, we sincerely thank everybody for their cooperation and donations to the RFTC!
Nihonbashi Wakamatsu Building
Level 7 Wakamatsu Building
3-3-6 Nihonbashi-Honcho Chuo-Ku
Tokyo 103-0023 Japan
T +81 3 6202 7600
Email: wakamatsu@servcorp.co.jp
Otemachi Tokyo Sankei Building
In connection to Servcorp's One World Trade Center 85th floor location, newly opened this April in New York City, Otemachi Tokyo Sankei Building chose to do a "New York Jazz Night" theme.
And this May marked the 10-year anniversary of Servcorp in Otemachi Tokyo Sankei Building, so we also took this opportunity to celebrate this milestone as well.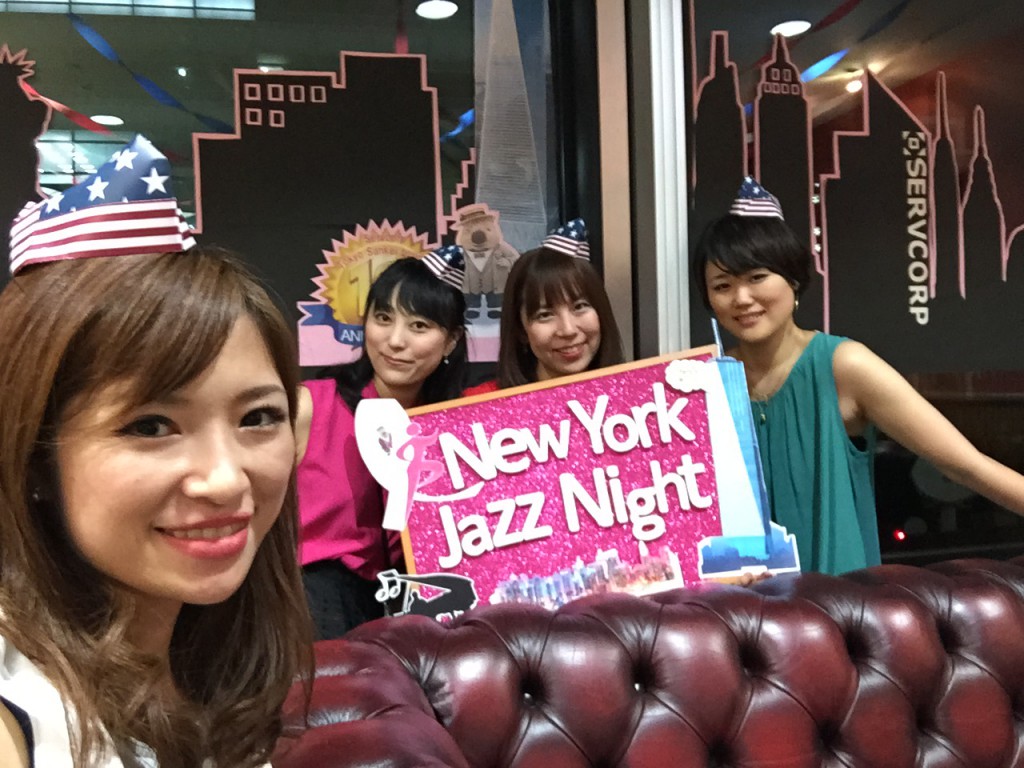 In tandem with the charity event's theme, there was a live performance of a jazz piano and bass two-piece band.
While musicians Alan Benzie and MITSURU performed, clients were able to listen to Jazz while enjoying some snacks, cool drinks, and light conversation.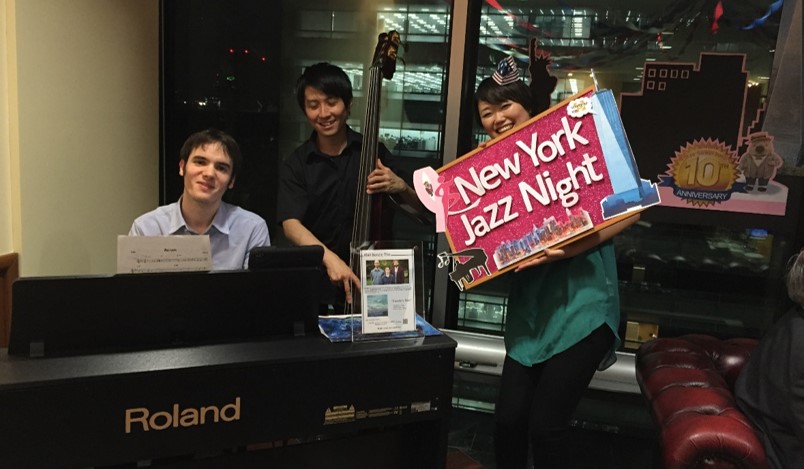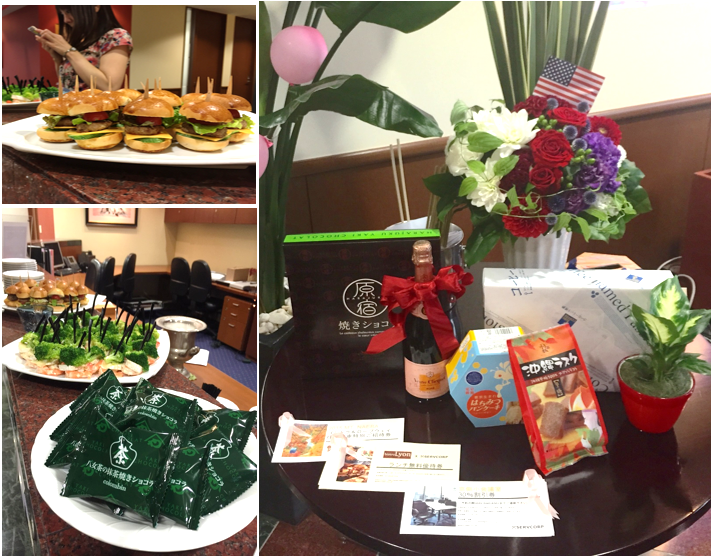 Near the middle of the event, the staff at Otemachi Tokyo Sankei Building held a bingo tournament.
Clients had fun with the bingo cards, which all had different items on them related to New York, RFTC, or Otemachi Tokyo Sankei Building.
The prizes ranged from a bottle of Veuve Clicquot Rosé wine, to a gift certificate to the French Restaurant located in Otemachi Tokyo Sankei Building.
Also, with the cooperation of other Servcorp clients, we were also able to prepare other fabulous prizes like baked Chocolat, which has won best chocolate for three consecutive years in Belgium, and honey pancakes, a popular souvenir in Tokyo.

This year, we were so lucky to be able to spend such a great time with so many of our wonderful clients.
Overheard were clients saying, "I wish these events were held every month" and "I want to come next time, too". Another cheerful client who was on business from abroad said "I'm so glad I came!"

We would like to express our deep gratitude to all those who participated. Thank you!
The fact that we were able to celebrate our 10th anniversary here at Otemachi Tokyo Sankei Building is all thanks to the support from our wonderful clients. We will continue to work hard for our clients and hope for their continued patronage and support!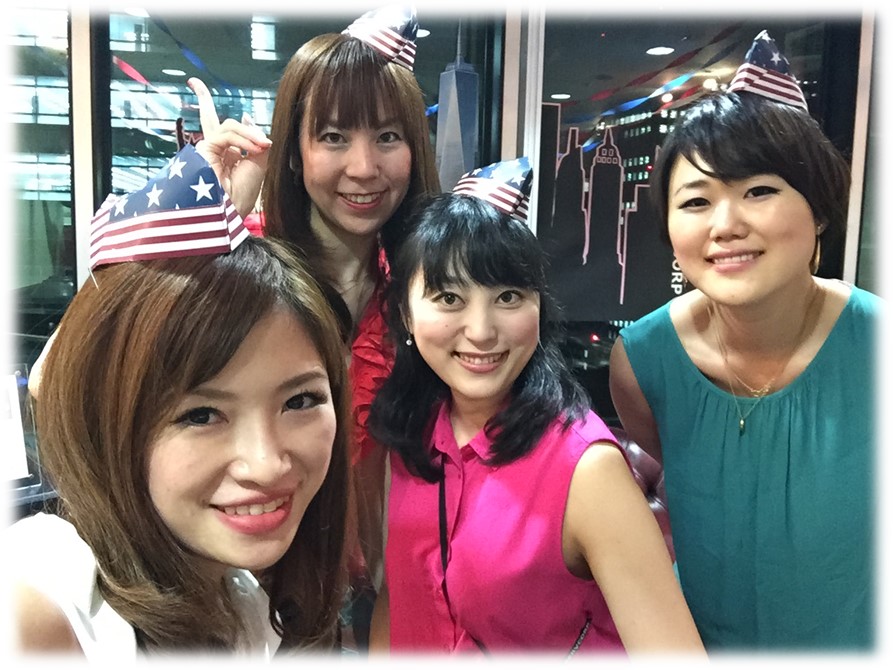 Otemachi Tokyo Sankei Building
Level 27 Tokyo Sankei Building
1-7-2 Otemachi Chiyoda-ku
Tokyo 100-0004 Japan
T +81 3 3242 6333
Email: sankei@servcorp.co.jp
Ikebukuro Sunshine 60
Ikebukuro Sunshine 60 also held a New York style jazz event and invited pro jazz pianist Alan Benzie and MITSURU to perform. In keeping with the event's Jazz theme and charity activities for RFTC, the staff at Ikebukuro Sunshine 60 wore black uniforms reticent of a New York jazz bar and pink ascots which represented RFTC. Also, the staff decorated the venue with hand-made jazzy decorations.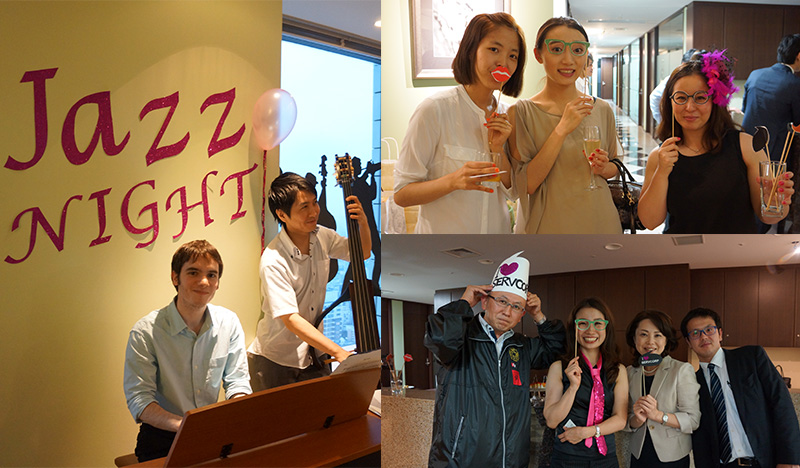 This year, to add to the American atmosphere, the staff made mini hamburgers together. Everybody said things like, "They taste like they were made in a restaurant," and "They're so tasty!"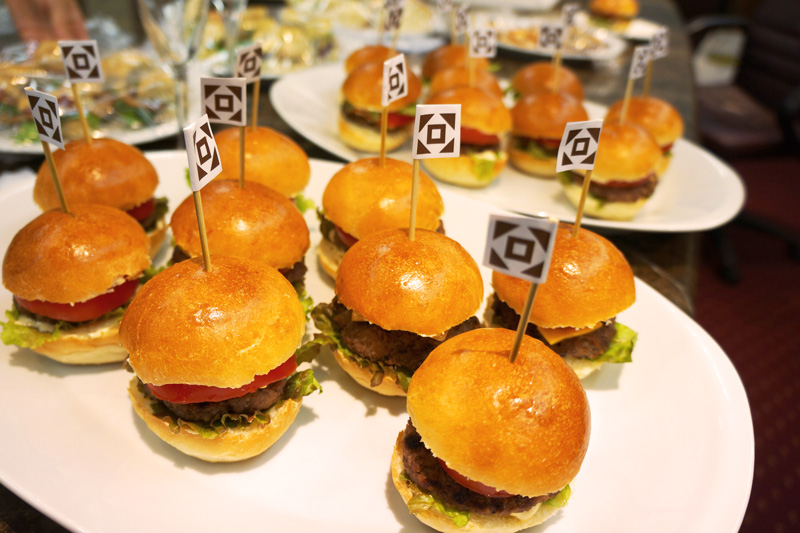 While clients mingled with each other, the background was filled with elegant jazzy sounds from the two-piece. Also, the staff held photo props (the cute handmade items in the photos) and posed for pictures.
During the festivities, a raffle was held where entrants could *purchase a mammogram screening tickets and use it as a raffle ticket. And almost everyone who came purchased one! What an excellent result!
*All proceeds went to RFTC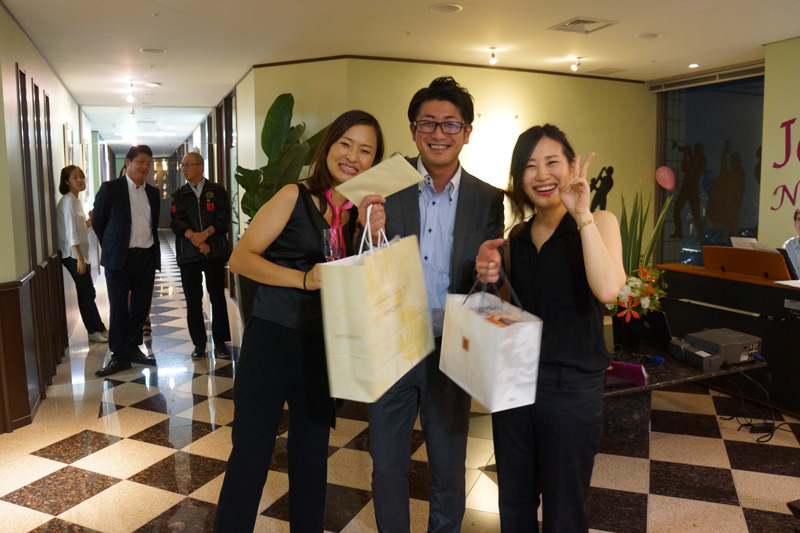 We are extremely grateful to everyone who participated or supported us at the event. Thank you!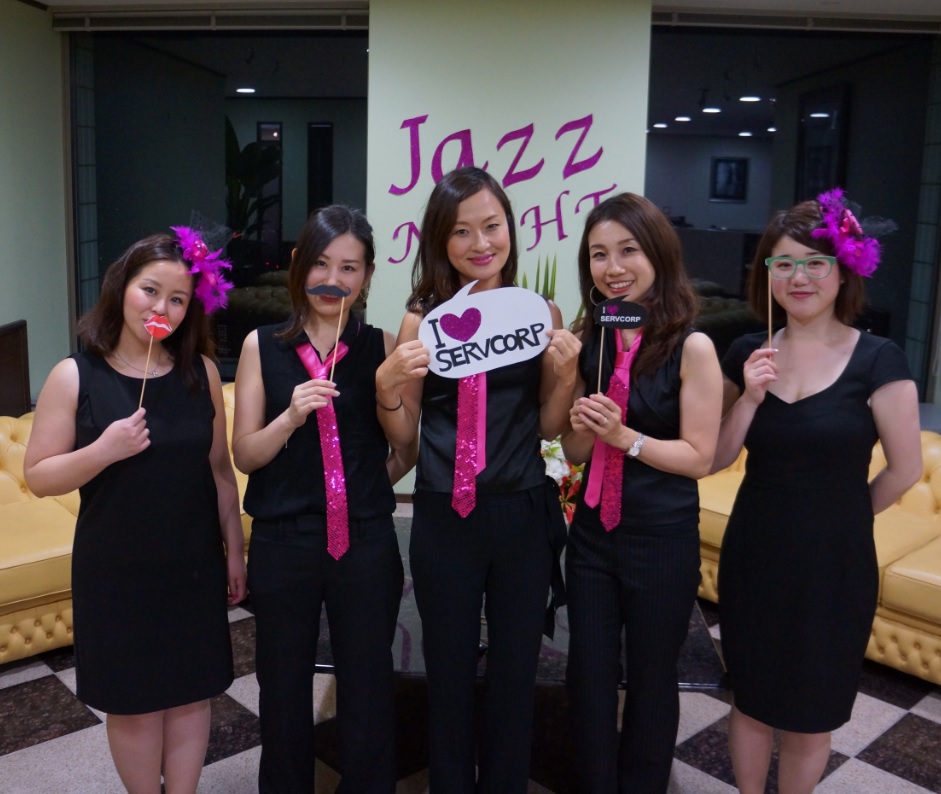 Ikebukuro Sunshine 60
Level 45 Sunshine 60
3-1-1 Higashi Ikebukuro Toshima-ku
Tokyo 170-6045 Japan
T +81 3 5979 2100
Email: sunshinecity@servcorp.co.jp
Nagoya
Every year the two Nagoya Servcorp locations (Nagoya Lucent Tower, Nagoya Nikko Shoken Building) hold an event together. This year, the theme was "Tanabata Casino" (Tanabata is a traditional Japanese celebration in July).
In keeping with the theme, the reception area had Milky Way themed decorations and the staff greeted participants in elegant Japanese Yukata (traditional Japanese clothing worn during the summer). Even Servcorp's mascot, Sydney, was dressed in a Yukata for the festivities!

Much different from its usual appearance, the Servcorp boardroom was changed into a chic-looking casino. The long boardroom table was turned into baccarat table by laying out hand-made felt squares where over 30 people were able to take part in a baccarat game!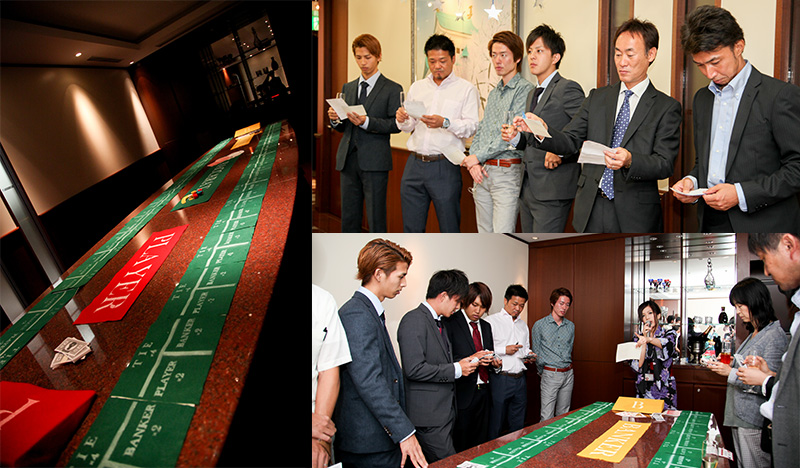 Although handmade, the boardroom-turned-casino was a big hit! It surprised our clients, who were perhaps used to the sight of the boardroom. Even the baccarat game itself became a heated battle, which many clients described as "extremely fun"!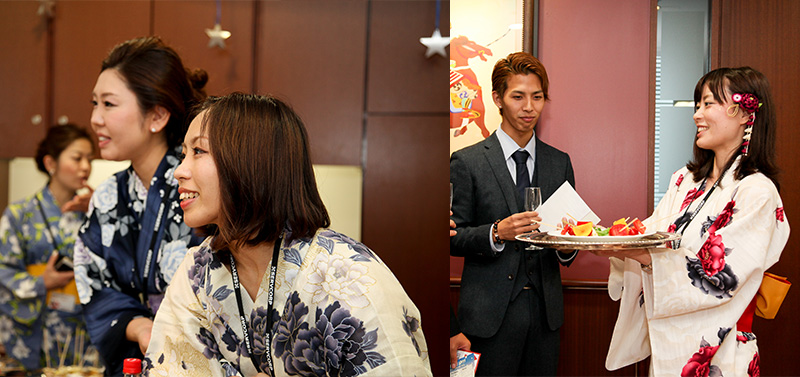 Though it was unfortunate that the celebration took place while the typhoon was passing through, we must express our utmost gratitude to everyone that came and cooperated with us under such difficult conditions. Thank you!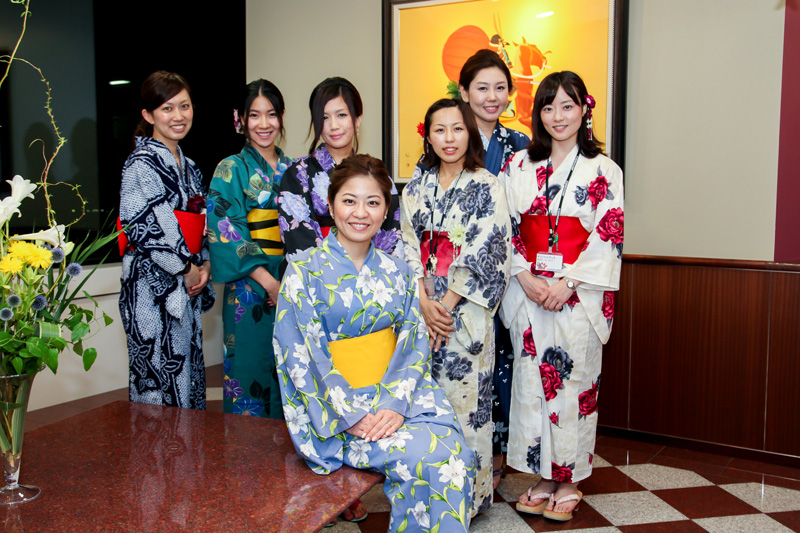 Nagoya Lucent Tower
Level 40 Nagoya Lucent Tower
6-1 Ushijima-cho Nishi-ku
Nagoya 451-6040 Japan
T +81 52 569 1500
Email: lucent@servcorp.co.jp
Nagoya Nikko Shoken Building
Level 4 Nikko Shoken Building
3-2-3 Sakae Naka-ku
Nagoya 460-0008 Japan
T +81 52 269 8200
Email: nikkoshoken@servcorp.co.jp
Hibiya Central Building
This year, Hibiya central building held a jazz themed charity event.
At the event, there was a great live performance from a Jazz band hosted by T-Slim - harmonica champion of Japan! In addition, one of the clients on the floor was gracious enough to give everybody a magic show!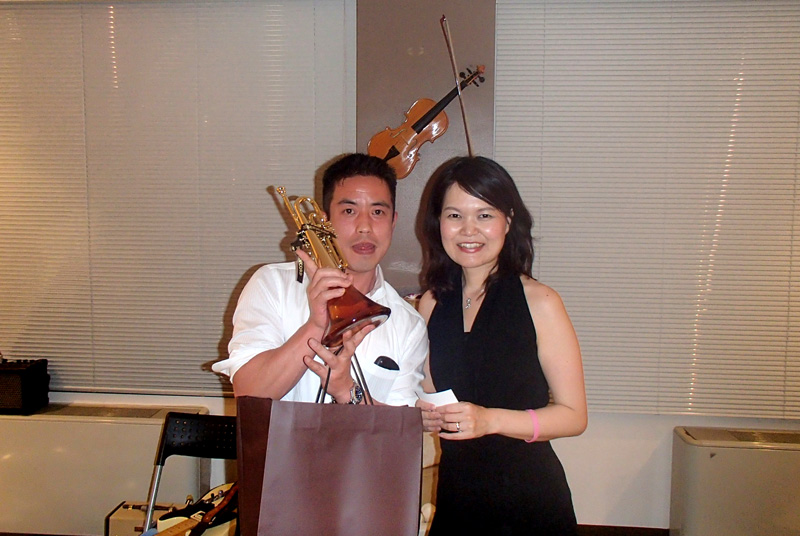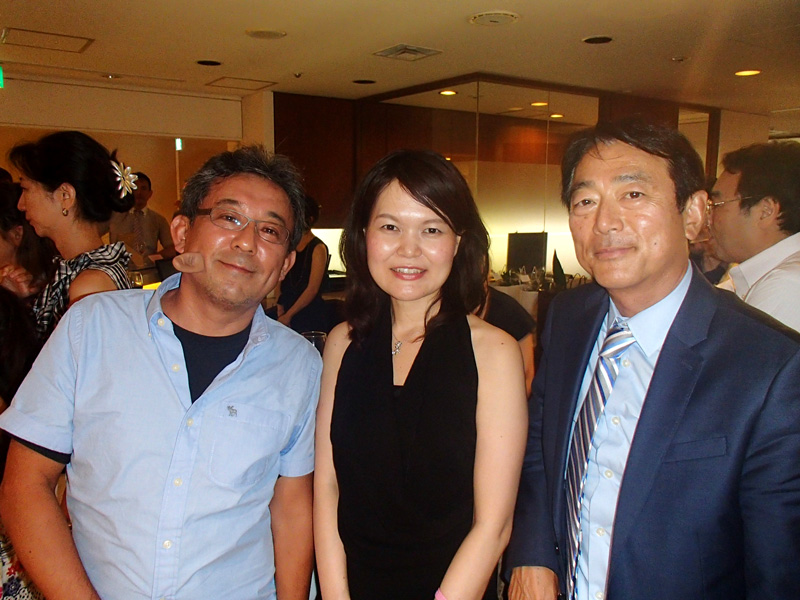 With everyone's kind support and participation, the entry fees and purchase of mammogram screening tickets generated 113,165 yen which Servcorp Hibiya Central Building will donate to RFTC!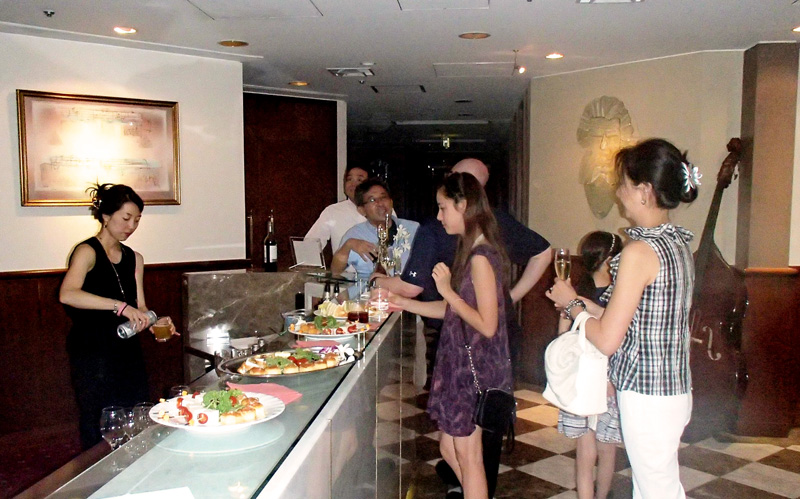 And because 8 mammogram screen tickets were bought, 8 women will be able to receive a breast examination! The celebration happily reminded us that through everybody's cooperation, we can help people women prevent breast cancer in Japan through early detection.
We thank you so much for taking part in the Jazz Night.
And even for those who were not able to attend, we want to express our gratitude to anyone who supported us or donated to RFTC.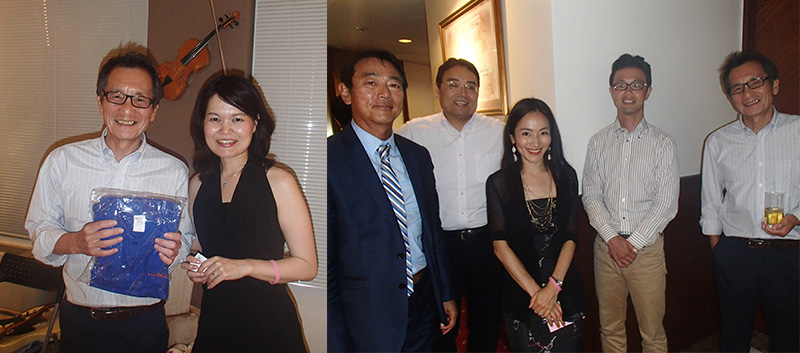 Hibiya Central Building
Level 14 Hibiya Central Building
1-2-9 Nishi Shimbashi, Minato-Ku
Tokyo 105-0003 Japan
T +81 3 5532 7300
Email: hibiya@servcorp.co.jp
Shinjuku
In the Shinjuku area, Shinjuku Nomura Building and Shinjuku Oak City Nittochi Nishi-Shinjuku Building teamed up and hosted a Latin-themed summer charity event!
On the day of the event, in order to create a Latin atmosphere, the staff wore colorful clothing and served Latin food and beer.
Also, the staff made cookies in the shape of the Run For the Cure ribbon and handed them out to clients in hopes of raising money for RFTC.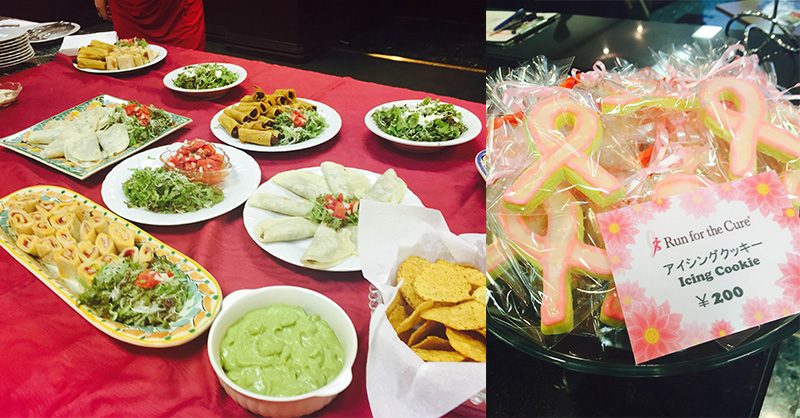 With everybody's help, a total of 56,000 yen and 4 mammography examination tickets were donated to the RFTC foundation.
And other than enjoying Latin food and drinks, everybody also had fun playing a quiz game.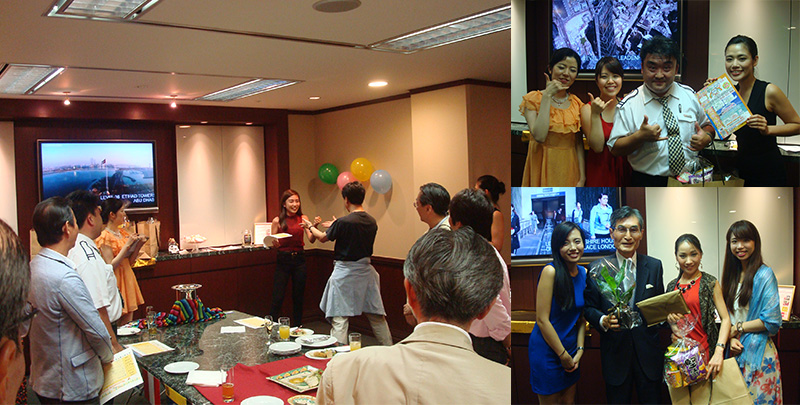 It was a game where the "host" (the person standing in front of everyone) would pick out people from the participants and, in order, one-by-one would ask the crowd questions about the person (e.g. "Which company does he/she work at?"). Through this game, people were able to find out about each other's businesses, and overall it was a good chance for our clients to tell others about their business.
We're glad we were able to show our clients a good time. Here are some comments from clients who enjoyed the event:
"I'm so glad I got to tell everybody about my products. It was fun to be able to converse with everybody in Shinjuku Nomura Building and Shinjuku Oak City!"
"I've been with Servcorp for a long time but, the summer charity events are always a wonderful time."
We are truly thankful for everybody's participation and the donations to the RFTC!
Thank you!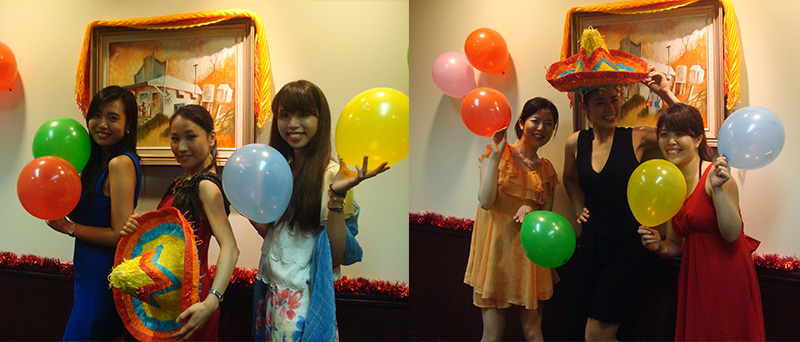 Shinjuku Nomura Building
Level 32 Shinjuku Nomura Building
1-26-2 Nishi Shinjuku Shinjuku-ku
Tokyo 163-0532 Japan
T +81 3 5322 2900
Email: nomura@servcorp.co.jp
Shinjuku Oak City
Shinjuku Oak City - Level 8 Nittochi Nishi-Shinjuku Building
6-10-1 Nishi-Shinjuku Shinjuku-ku
Tokyo 160-0023 Japan
T +81 3 5325 3100
Email: nishishinjuku@servcorp.co.jp
Yebisu Garden Place Tower
At Yebisu Garden Place Tower, a "Japanese summer festival" themed event was held. The reception area was decorated with all kinds of summer festival related items, and the staff welcomed everybody wearing Japanese yukata (traditional Japanese summer clothing).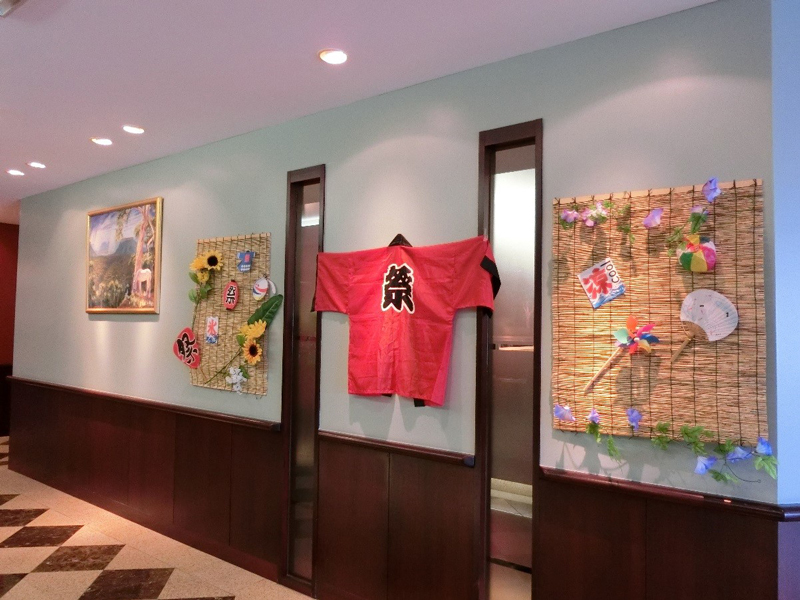 At the event, in order to gather donations for RFTC, tumblers that were hand made by the staff and glass wind-chimes made by designer Gaku Igarashi, a friend of the staff, were sold for 1000 yen each.

Also, to keep with the summer festival atmosphere, the staff prepared various finger foods as well as making Tacoyaki (small pancake balls with octopus inside) on the spot! The freshly made tacoyaki was a big hit with all of the clients.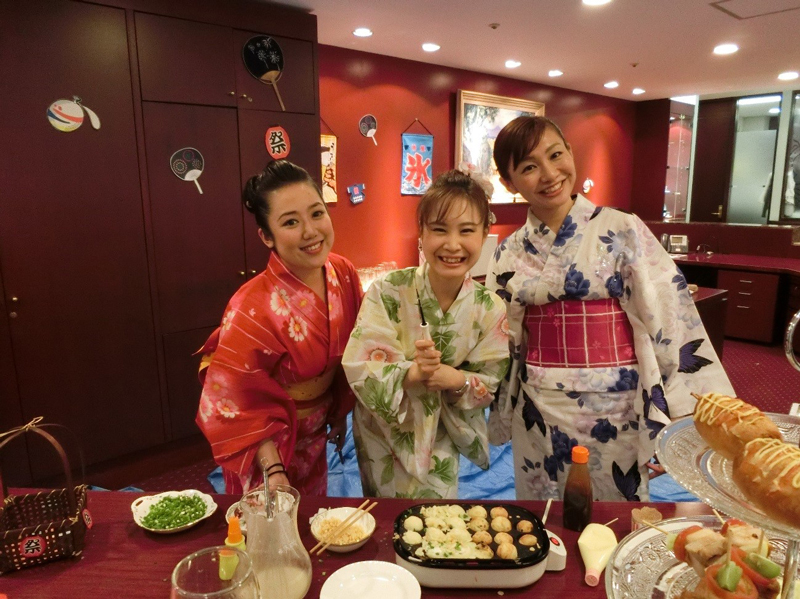 Not only were a lot of clients able to come, but we were fortunate to have some clients attend wearing Yukatas as well.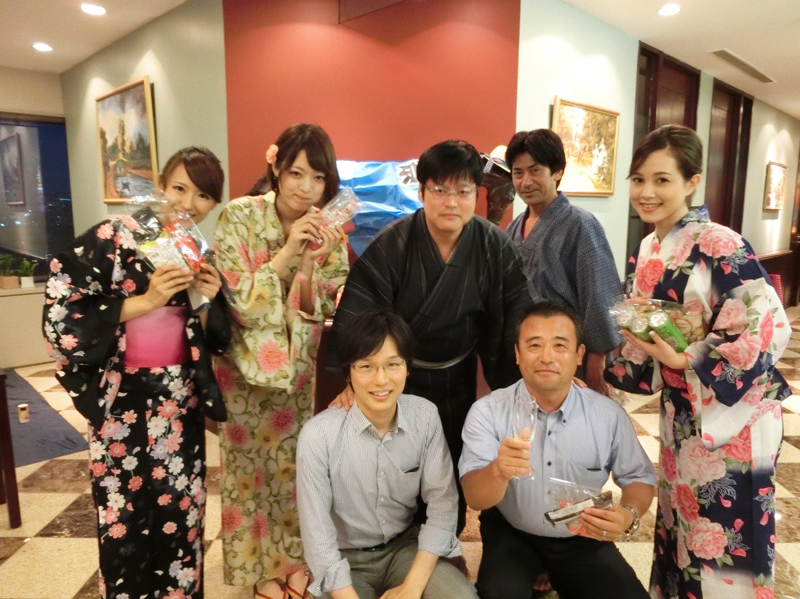 Near the middle of the festivities, the staff opened up the ring toss and shooting game booths where the clients had a chance to win prizes. For those who won there were great prizes, but even for those who slightly missed the mark, the staff prepared candies and Japanese-style fans.
The fans had "Servcorp" written on the back and were actually written by a calligrapher who is a friend of the staff.
During the games, we were glad to see the inner-child shine through on the participants faces!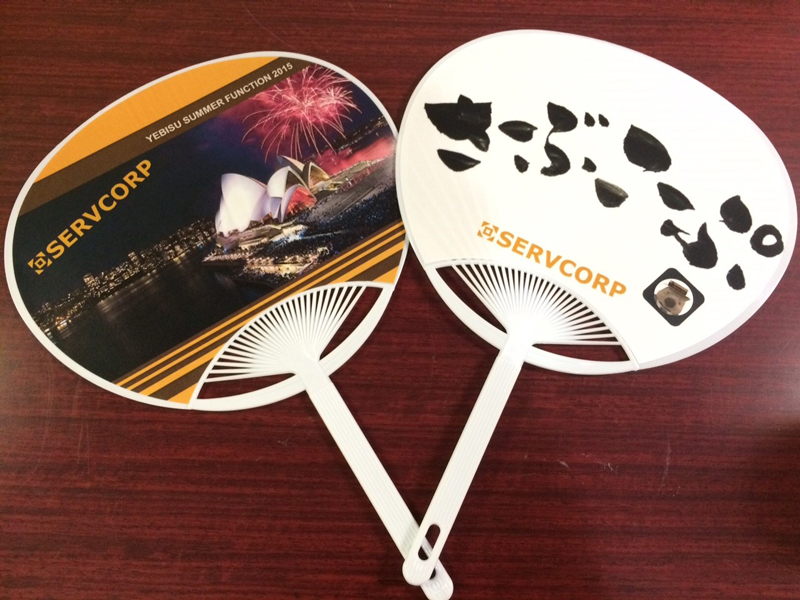 And also, during this event everyone was really excited for the raffle, which had extravagant gifts which included beer, wine, as well as a pair of lunch and dinner tickets!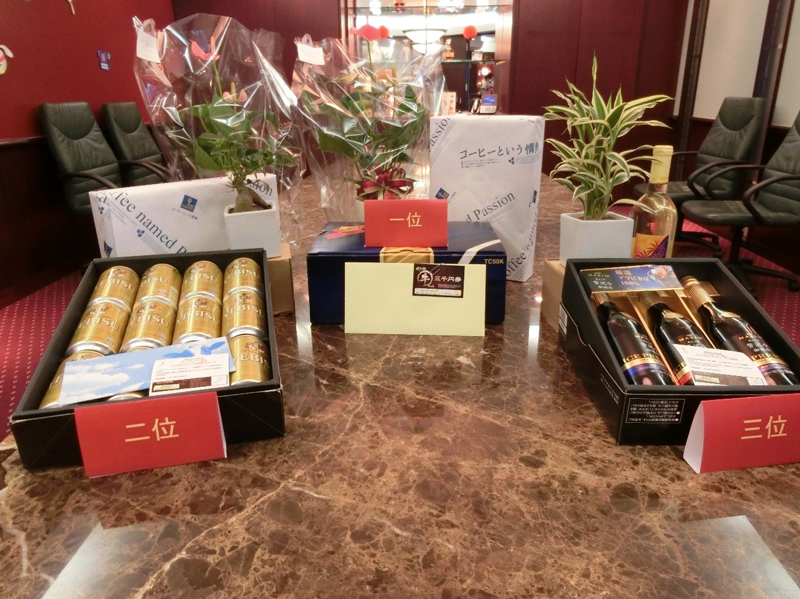 With everybody's heartfelt cooperation, including the admission fees and breast examination ticket donations put together, Servcorp Yebisu Garden Place Tower was able to donate a total of 101,500 yen to the RFTC!
We would like to express our gratitude from the bottom of our hearts to all those that participated and helped make this possible!
Thank you!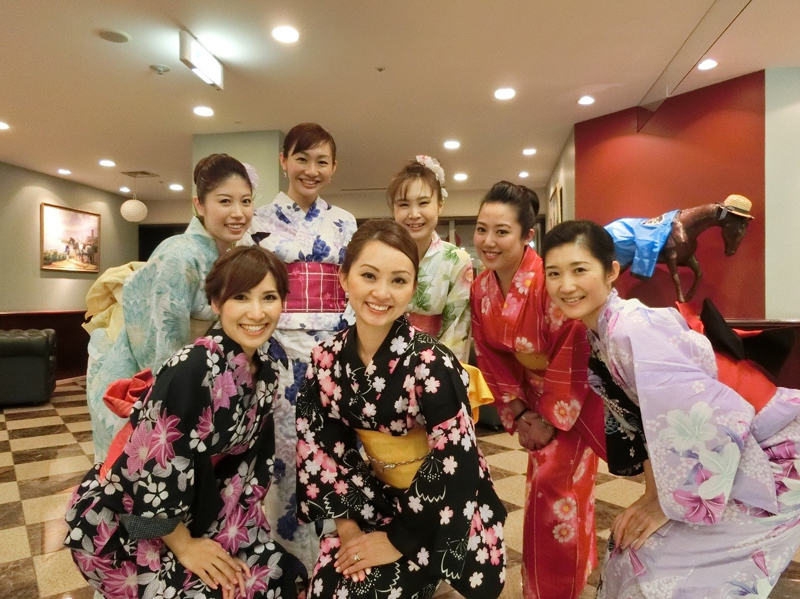 Yebisu Garden Place Tower
Level 18 Yebisu Garden Place Tower
4-20-3 Ebisu Shibuya-ku
Tokyo 150-6018 Japan
T +81 3 5789 5700
Email: yebisu@servcorp.co.jp
Fukuoka
In Fukuoka, NOF Hakata Ekimae Building and Fukuoka Tenjin Fukoku Seimei Building teamed up and made a "PINK" themed event, in honor of the RFTC.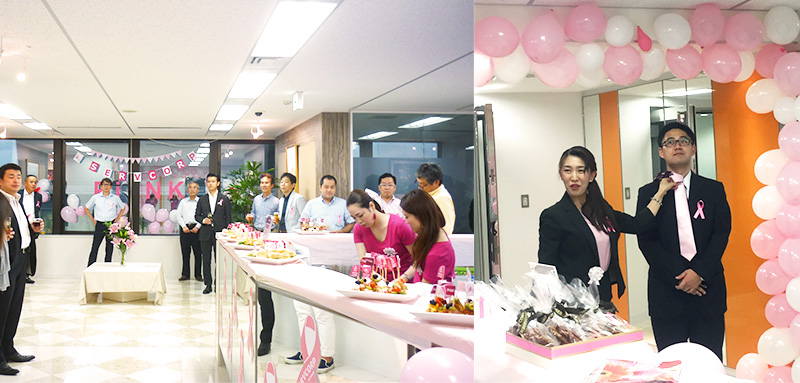 On the day of the event, the entire floor was decorated with pink including the Servcorp staff members who all wore pink uniforms!
One of the participants was kind enough to give a demonstration to the participants on color coordination and about how certain colors can give certain impressions.
During the event, even clients who usually don't get a chance to network with others and people who were networking for the first time were able to engage in light conversation while enjoying hamburgers and pinchos that were made by the staff.
Also, during this event there was a big raffle which the clients thoroughly had fun with!
In addition, in order to collect donations, the Fukuoka Tenjin Fukoku Building team made handmade chocolate covered pretzels and the NOF Hakata Ekimae Building team brought handmade rosettes to sell.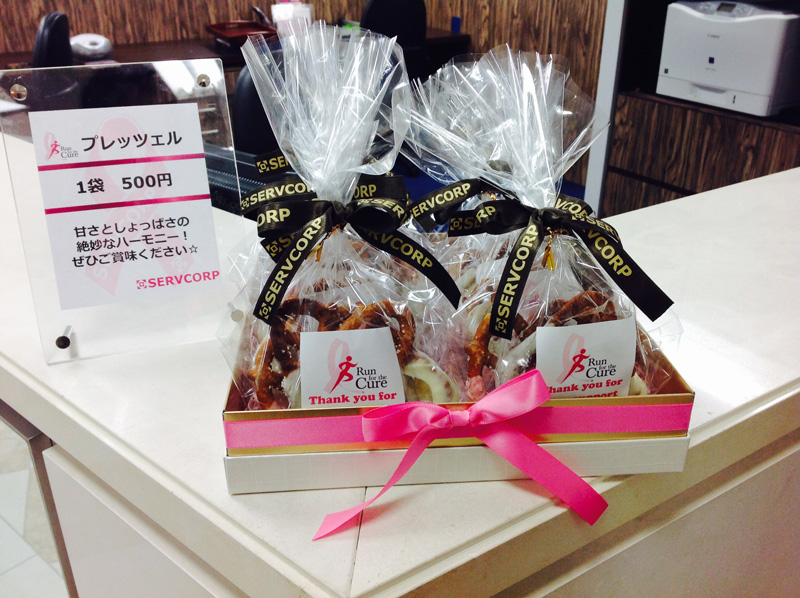 Many who came could be overheard asking, "when's the next event?" in anticipation of the next yearly summer charity event
We are thankful to all the participants for attending and donating to RFTC.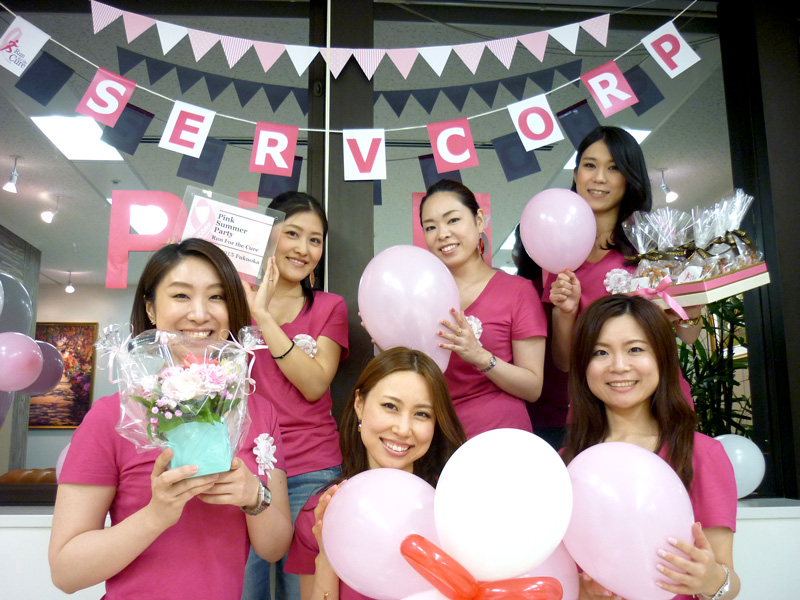 Fukuoka Tenjin Fukoku Seimei Building
Level 15 Fukuoka Tenjin Fukoku Seimei Building
1-9-17 Tenjin Chuo-ku
Fukuoka 810-0001 Japan
T +81 92 717 3400
Email: tenjin@servcorp.co.jp
NOF Hakata Ekimae Building
Level 2 NOF Hakata Ekimae Building
1-15-20 Hakata Ekimae Hakata-ku
Fukuoka 812-0011 Japan
T +81 92 419 2300
Email: hakata@servcorp.co.jp
Shinagawa Intercity Tower A
In dedication to the newly opened Servcorp's Level 85 One World Trade Center location in New York, the Shinagawa Intercity Tower A team held a New York themed event.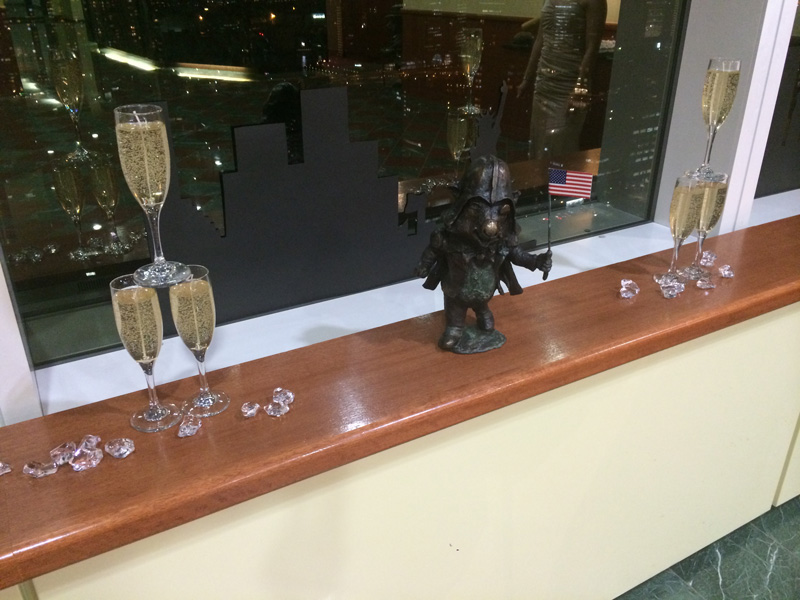 That day, there was an atmosphere which can only be described as gorgeous. The staff wore lovely long dresses and Swarovski jewelry. And to top of the gorgeous New York feeling, the staff performed a dance to a Broadway song. A staff member with 12 years of dancing experience did everything from choreographing to picking a song, and although the rest of the staff had no dance experience, they trained hard and performed to the famous Broadway Dream Girls song. Servcorp clients were thoroughly impressed having not seen this side of the staff before!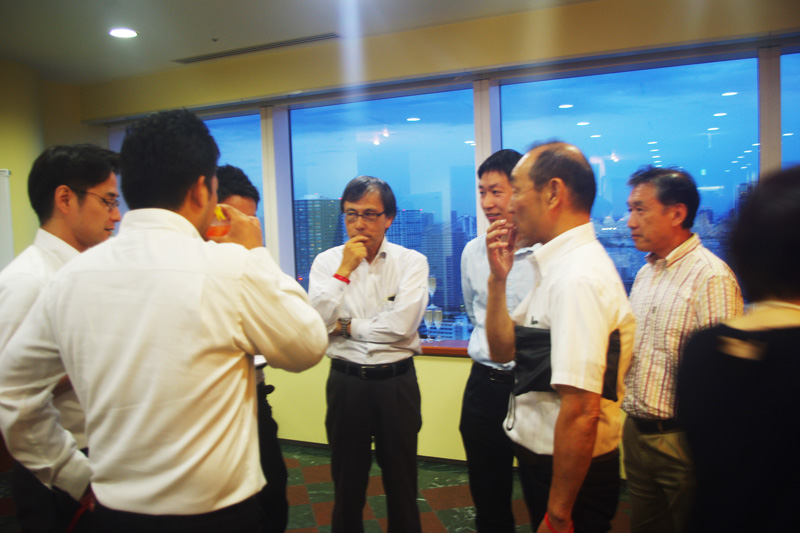 Also, there was a game where everybody was split into 3 teams. Games included quizzes where the teams would have to find things they had in common and a game where a team representative would have to draw things based on a subject a staff member would dictate and the quickest team to answer received points.

Even though the majority of people were meeting for the first time, every team was able to pull together and compete as one, making this game an intensely close battle! Everybody who participated was given fabulous gifts such as Australian wine.
The dance show was so popular that demands for an encore had started to bubble up amongst the clients. Some even wished that these events could be held every month!
We would like to show our sincere gratitude to everybody that participated. Thank you!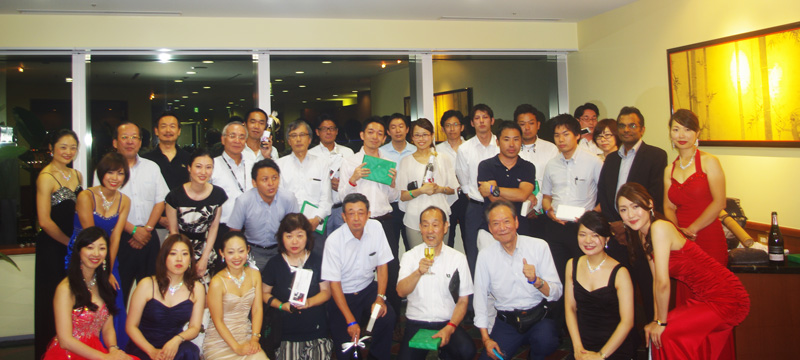 Shinagawa Intercity Tower A
Level 28 Shinagawa Intercity Tower A
2-15-1 Konan Minato-ku
Tokyo 108-6028 Japan
T +81 3 6717 4500
Email: shinagawaintercity@servcorp.co.jp