Of all the areas in Tokyo undergoing reconstruction for the upcoming Olympic Games, Shinagawa is expected to change the most.
According to the Urban Development Guideline 2014 for the Shinagawa/Tamachi station District, a new station between Shinagawa station and Tamachi station will be pre-opened in 2020 to meet the deadline for the Tokyo Olympics. In and around this area, tower buildings which include a commercial complex, offices and apartments will be built to accommodate the influx of visitors from abroad.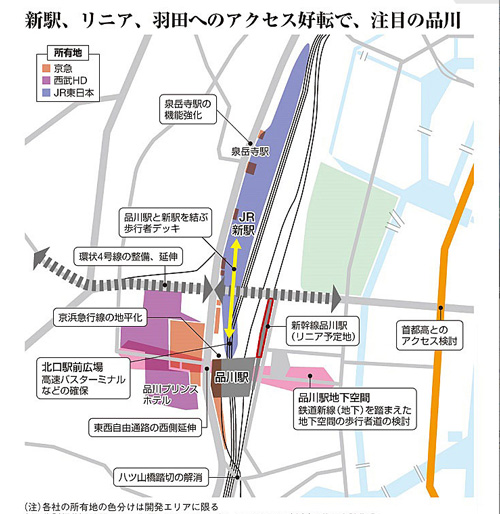 By 2027, the Linear Chuo Shinkansen high-speed maglev train line will be opened and passengers will be able to ride from Shinagawa station to Nagoya station in about 40 minutes! The station for the Linear Chuo Shinkansen high-speed maglev train line will be built underground of Konan exit of Shinagawa station.
The overall potential of the Shinagawa area is growing due to the recent redevelopment, further increases of regular international flights to and from Haneda Airport, and further development of the commercial area. There is even an idea to connect Shinagawa station to Shirogane-Takanawa area through the Metro in the future.
Shinagawa Intercity Building has been one of the most popular locations because of the Sky Walk, a covered walkway which directly connects the building to Shinagawa station, making this building one of the best business addresses in Minato-Ku.
The Tokyo Olympics and the recent expansion of Haneda Airport ensures that Shinagawa is becoming an area with international appeal, but the Maglev line and additions to the metro line also give Shinagawa a domestic connectivity that can't be beat! Come be part of the Shinagawa business expansion by contacting our associates at Shinagawa Intercity Building!

Shinagawa Intercity Tower A
Level 28 Shinagawa Intercity Tower A
2-15-1 Konan Minato-ku
Tokyo 108-6028 Japan
+81 3 6717 4500
shinagawaintercity@servcorp.co.jp