Although we're still technically in the middle of the rainy season, there is little rain in Tokyo and the scorching hot weather continues. Even though the beaches are still not officially opened for public access (we call it UMIBIRAKI in Japanese), you'll see beer gardens operating everywhere in Otemachi! I would like to introduce some excellent spots for your after-hours enjoyment with your coworkers and clients.
1. THE PERFECT Black Label BEER GARDEN 2016 Otemachi TOKYO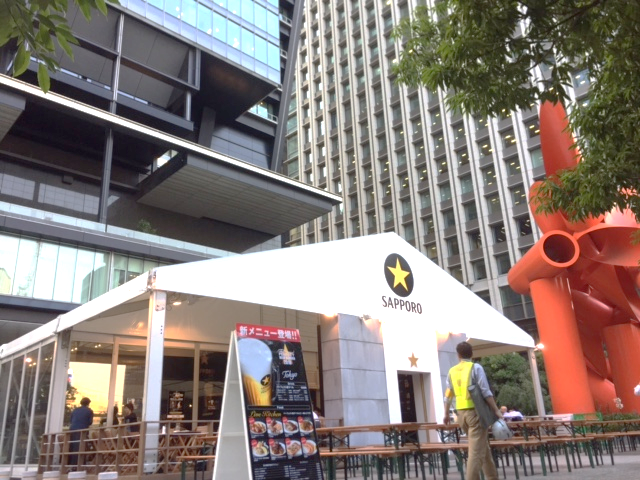 The Perfect Black Label Beer opens annually at the end of April on the 1st floor plaza of Otemachi Tokyo Sankei Building which SERVCORP has a floor at Level 27. (This could be the one of the earliest beer gardens in the Tokyo business area!) Each year, this spot is getting more and more sophisticated with various new innovations. From this year, they have built a roof so that customers can enjoy beer outside even on rainy and typhoon days! There is also an increase of VIP seats and couch seats – available on reservation.
Truthfully portraying this year's concept - "Beer Garden for the sophisticated adult", The Perfect Black Label successfully created a sophisticated yet chic space bearing in mind the keywords of 'RELAX', 'LIVE' and 'TALK'. Above all, going above and beyond to ensure the best quality beer is served, with its uncompromising stance of providing fine draft beer. Makes one want to go for a quick one after work or even when there is a minute to spare during work. Reservations for seats can also be made, so why not utilize this facility and impress your clients after a long serious meeting? It's also a great way to build a friendly relationship with your clients! This is a little tip for a successful and smart business.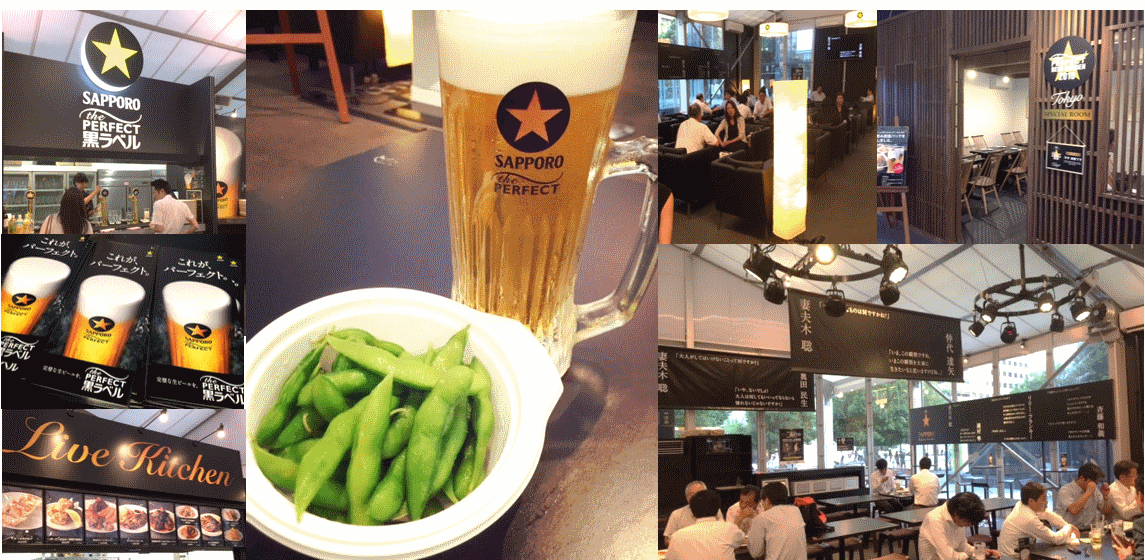 Website: http://www.sapporobeer.jp/beer/perfect/garden.html
2.Tenku no Beer Garden "Terrasse"
Terrasse is also another popular beer garden spot in the Otemachi area set up every summer. It is located on the terrace of the 4th floor of Tokyo Sankei Building. Although the view from the 4th floor terrace is not super high, you can still oversee the streets of Otemachi towards Tokyo station. Relax and enjoy the comfortable summer breeze after long hours of hard work. Teressa is not easy to get a reservation on week nights since it is loved by all the tenants here at Sankei Building and often used for casual company dinner gatherings. The theme of this year is "Feminine & Spice", they serve food healthy food for the health conscientious individuals who wants to enjoy a nice and delicious meal in open space in the middle of the central business district.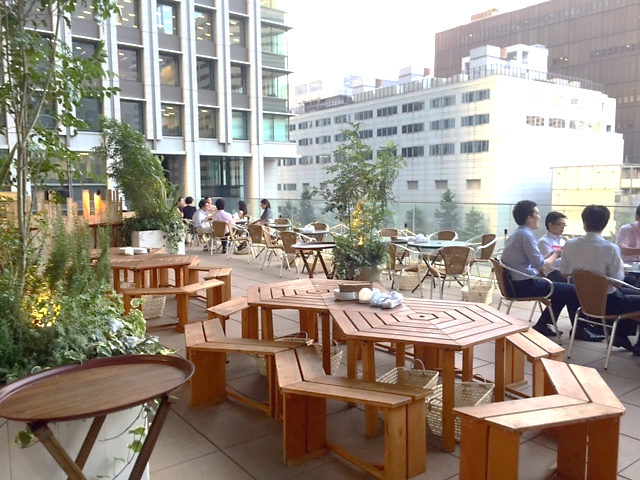 The main target group of this beer garden is young professional working women, however men who work in the Otemachi area also find it hard to resists it charms. Usually one would imagine the food served at beer gardens to be sinfully good but greasy junk food. Here at Terasse, you can expect high quality and healthy food servings such as big portions of salad with 2 kinds of tasty vegetable dressings, chicken skewers and grilled spare ribs. 2 hours on an all-you-can-drink plan which comes with pre-fixed food for only 4,800yen per person! You will be satisfied by the variety of drinks as well. Check out more details on their official website and book a table!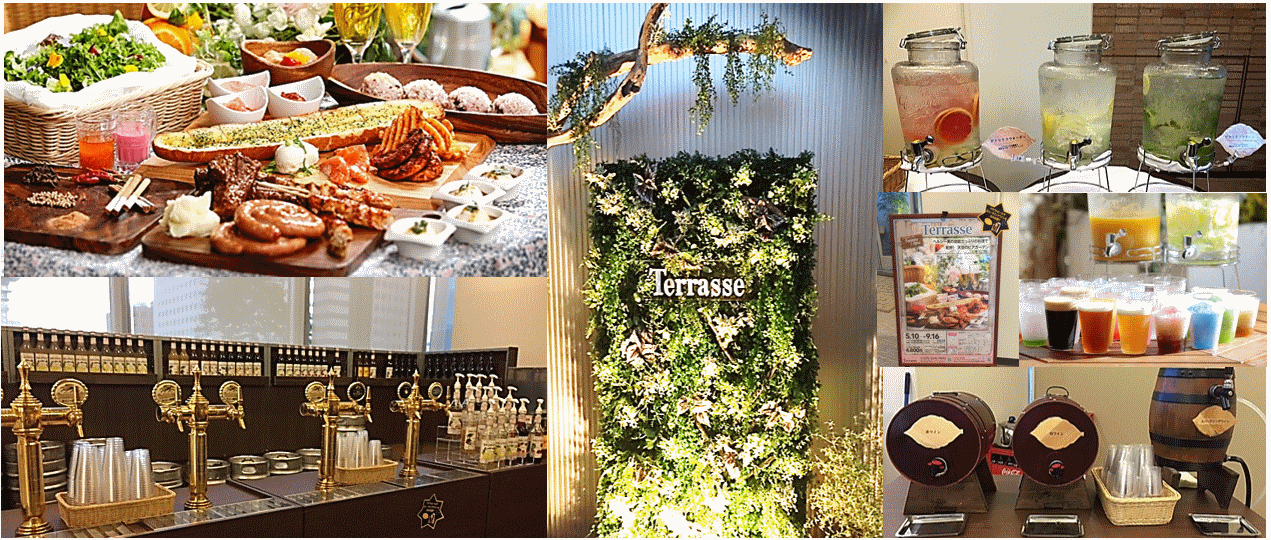 Website: http://sankeikaikan.co.jp/news/2055/
Facebook: https://www.facebook.com/tenkugarden
3.Craft Beer Market Otemachi
Craft Beer Market Otemachi is a craft beer bar and restaurant located on the 1st floor of Otemachi Financial City Gran Cube which just opened on 9th of May this year. Craft Beer Market Otemachi is not a beer garden but have a big terrace area facing Otemachi Nakadori (outside on the restaurant street towards river side). Enjoy the light breeze coming up from river while you take a sip of the quality craft beer. After business hours, the bar is packed by the foreigners and local workers who work around the Otemachi area having a good time around the terrace standing tables.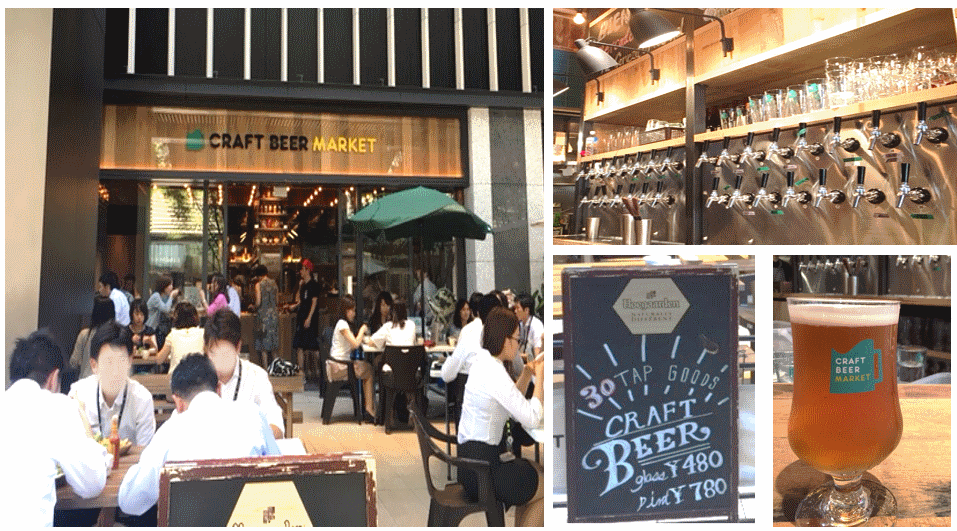 This bar is gaining much popularity from its rapid business growth. The market price of craft beer is still slightly on the higher end, however Craft Beer Market offers great competitive prices to customers with beers at 480yen per glass and 780yen per pint. They offer over 30 kinds of craft beers from within and outside of Japan at every bar outlet and provide American style Mexican food – Sourcing an abundance of fresh vegetables directly from contracted farmers. A new and edgy style of Mexican cuisine in Japan! With the healthy food and affordable craft beer, surely this earns a place on everyone's to restaurant to visit list. Best part of it all is it is just right downstairs from your office and you can ask your clients to join you during the bar's happy hour and talk about your favorite beers from you country. A fail-proof way to build a good rapport with your clients more.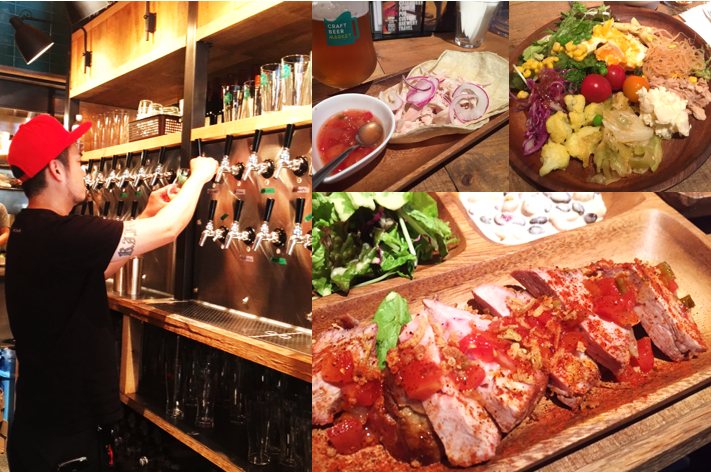 Website: http://www.craftbeermarket.jp/store_otemachi.html
There are always new and exciting spots popping up in the Otemachi area. For your own personal enjoyment and even just as tools to help promote your business.
Don't miss out on your chance to get an office here at Otemachi.
Servcorp offers the world's finest serviced office at Level 27, Otemachi Tokyo Sankei Building.
Otemachi Sankei Building
Level 27 Tokyo Sankei Building
1-7-2 Otemachi Chiyoda-ku
Tokyo 100-0004 Japan
+81 3 3242 6333
Otemachi Sankei Building
Level 27 Tokyo Sankei Building
1-7-2 Otemachi Chiyoda-ku
Tokyo 100-0004 Japan
+81 3 3242 6333