JP Tower Nagoya, the newest building opened on 17th of June, 2016, has with great access to Nagoya station and Servcorp Nagoya Lucent Tower. The commercial facility "KITTE Nagoya" is located from the B1F to 3F within the building complex "JP Tower Nagoya. The main point of KITTE Nagoya is food. There are 11 restaurants in the restaurant area called, "BIMI yokocho" at B1 floor. In total from B1 to the 3rd floor, including BIMI yokocho, there are 21 restaurants and stores related to foods. This time, we would like to introduce four highly recommended restaurants from BIMI yokocho!
1. Spaghetti House Yokoi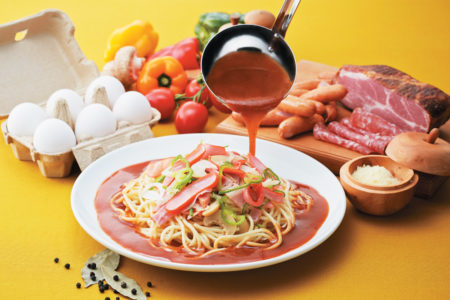 This restaurant is famous for its original ankake spaghetti which is Nagoya-meshi. Ankake Spaghetti is Spaghetti with Spicy and Sticky Sauce. Yokoi started their business about 50 years ago. There are restaurants in two locations in Nishiki and Sumiyoshi. Please enjoy the thick 2.2mm noodles covered in a unique rich and spicy sauce with black pepper, which is unlike any other normal spaghetti. If you come to Yokoi first time, it would be strongly recommended to order "Mirakan" which is synonymous with Yokoi!!

2. TORIDASHIODEN SAMON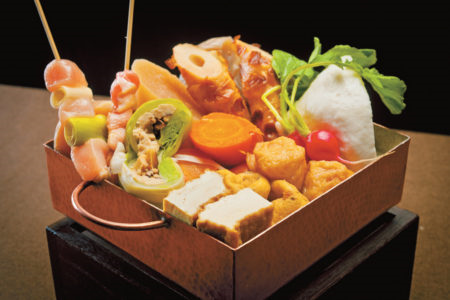 (http://r.gnavi.co.jp/rjtpev2p0000/)
This store is run by a popular Yakitori company in Nisshin city next to Nagoya city. In addition to normal Oden, Shabu-shabu Nabe based on Oden soup is getting popular. The rich chicken based dashi oden is made by boiling select chicken bones and several kinds of vegetables for long time. In Nagoya, it is popular to eat oden with miso (the sweet miso is a distinct flavor of Nagoya).

3. CONANA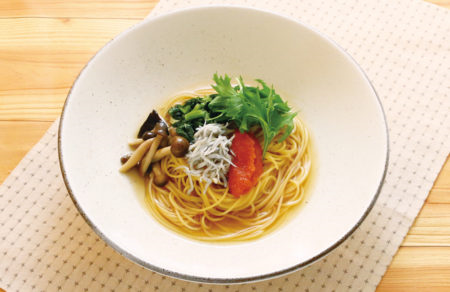 This is every popular pasta restaurant in Kansai and Kanto. It is the first time to have a store in Nagoya, Tokai area! Wa-pasta is Japanese style pasta. The collaboration of Japanese and Western is irresistible! Our personal recommendation is the Aigamo and white green onion with sweet soy sauce, or the steamed chicken and green soybeans with white miso cream sauce. There are three different variations of each item depending if you want a miso sauce, a soy sauce or soy milk sauce base. Some flavors are unique to Conana.

4. ERICK SOUTH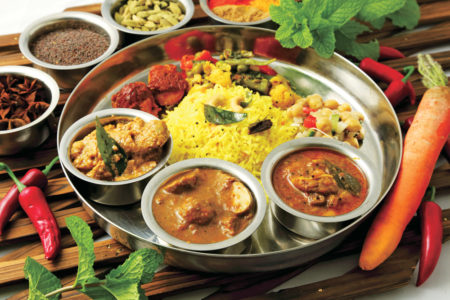 (http://enso.ne.jp/shop/441.html)
Erick South is new in the Tokai area! This is a restaurant specializing in South Indian curry and traditional South Indian food, which is currently the latest food trend in Tokyo.
The low fat curry with lots of beans and vegetables will grab women's attention. Please try "Erick Meals" which is the most popular south Indian set of meals.
Due to free refills for the rice and some other dishes, even men who have a big appetite will be satisfied with them. There are no preservatives, no artificial coloring, and no chemical condiments. Only authentic Indian curry with spices. Once you've tried it, you'll get hooked!

There are some restaurants in KITTE Nagoya which already have a long queue outside the restaurant since TV programs and other media have focused on those restaurants. On top of that, there are lots of restaurants which have opened their first location in Nagoya here. Each restaurant offers wonderful customer service and great value. Clients in Nagoya using our coworking lounges, meeting rooms, and boardrooms at Servcorp Nagoya Lucent Tower will have the benefit of eating the tasty foods listed above. We are looking forward to hearing your comments on Nagoya-meshi (dishes specific to Nagoya).
Nagoya Lucent Tower
Level 40 Nagoya Lucent Tower
6-1 Ushijima-cho Nishi-ku
Nagoya 451-6040 Japan
+81 52 569 1500