Roppongi has the lot. Bustling with commerce, entertainment, fashion and that distinct international flavor that makes it stand out from other districts across the metropolis. Apple, Google, a plethora of Global IT companies and financial institutions all call Roppongi home and the trend continues with more and more companies setting up shop.
Why is it that these multinationals have found Roppongi so attractive? We interviewed Roppongi based Shoji Ko, CEO of Japan Properties KK who has seen the area evolve from red-light district to vibrant epicenter in the space of a few decades.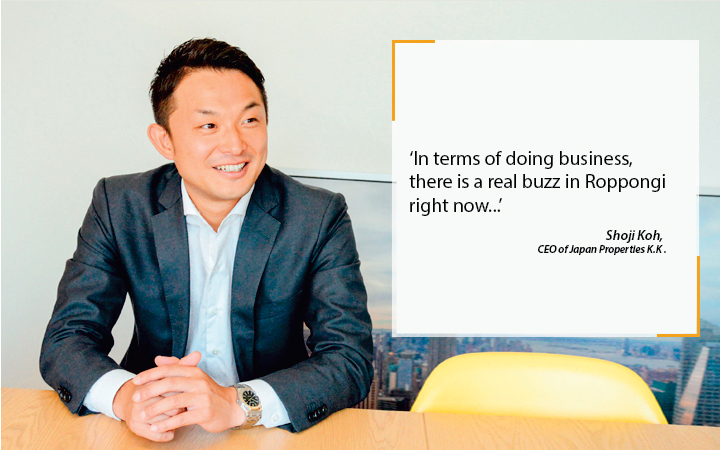 - What is the reasoning behind the change?
Since Roppongi Hills was completed in 2003 and following on from that Tokyo Midtown in 2007, Roppongi has changed dramatically. I would say these two massive developments changed the fabric of the area and were the catalysts in making Roppongi what it is today. The concept of Roppongi Hills was to make Roppongi an international cultural precinct and it was marketed to attract global investment in the local area. It wasn't long before Goldman Sachs and other big players had moved in. Also, by including residential and commercial facilities these two satellite cities created opportunities where people could have everything on their doorstep – a place to work, play and shop. Roppongi Hills even has a 9 screen cinema complex.
- As a place to work, what is great about the area?
Roppongi has become a magnet for people, retailers, business, and money. Obviously by working here, you become part of this vibrant world and that is why I think the area is attractive.
- And for dining over business?
Roppongi Hills 51st floor has the very exclusive 'Roppongi Hills Club' where there are no shortage of Japanese and Western style restaurants to enjoy executive style dining. I guess you could say it was Roppongi Hills that set the bar high for the standard that followed.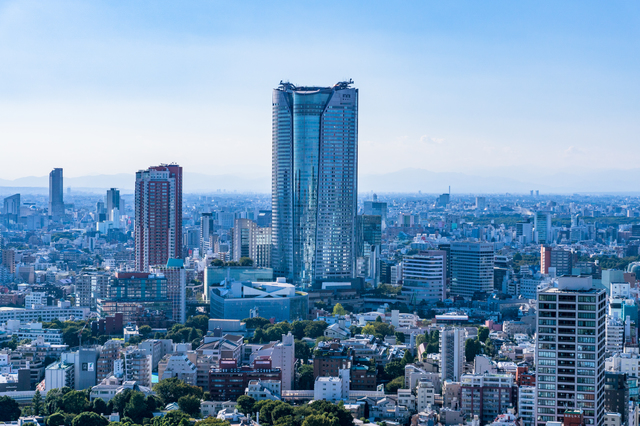 (Roppongi Hills, also known as the Mori Building)
- How do business people connect in Roppongi?
Office warming parties are quite common here in Roppongi. Unlike other parts of Tokyo, when a new tenant moves in to a premises they often invite the neighbors. While the business area of Roppongi Minato-Ku is in fact very large, the opportunities to encounter like-minded professionals are so many, that in fact it's not uncommon to feel part of a real and tangible business community.
- What about famous bars where executives and the like gather?
I dare not say the name of the bar, but yes, I know of at least one place where the who's who in business likes to gather. Executives, presidents of multinationals, entrepreneurs, you name it. There are drinking holes to cater for any clientele and any budget in Roppongi.
A large number of angel investors (affluent individuals who provide capital to start-ups) also live in the area, so it is not unusual to become acquainted with those types.
- What about getting in and around Roppongi?
Roppongi is connected by no less than three subway lines. There is also a reliable bus network and as for taxis, you can get to Shinjuku for 2,000 yen and to neighboring Shibuya for less than 1,500.
- And Roppongi as an environment?
Since Roppongi is a global city, there is a real diversity of people living here. It is a place where ideas come to life with vigor and that in itself is exciting.
- Why do you think movers and shakers aim straight for Roppongi?
As for Roppongi Hills, it is entirely powered by gas and thus has zero possibility of a power failure which must provide huge peace of mind to its tenants. When Apple and Google moved into Hills, they would have been thinking about this in a city that is prone to strong quakes. On another front, I feel it was these companies which led the way for Roppongi's growth and subsequently attracted many IT companies into the area as well.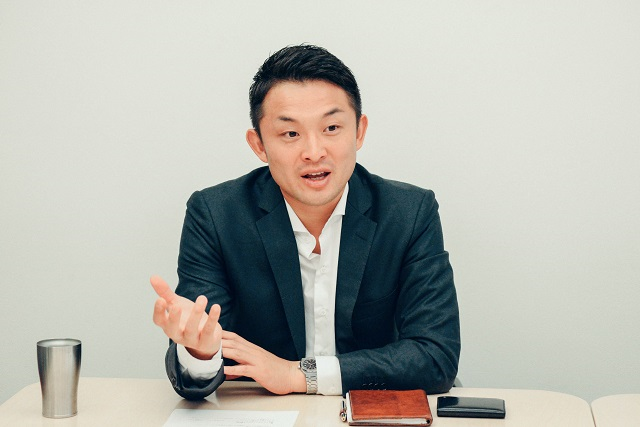 - What sets Roppongi apart from other commercial districts like Shinjuku, Shibuya or Ikebukuro?
First of all, the people that live in those districts and the companies that are situated there are completely different to Roppongi. Shinjuku and Ikebukuro attract businesses catering toward the individual, Shibuya, which has Japanese IT companies such as GMO and other cyber agents tend to attract the startup types.
- What do you mean by 'the people are different'?
I think that can be understood when actually working in Roppongi. Roppongi is truly international. It has its fair share of foreign tourists, but more than this, you will see many non-Japanese business people. If a company has a view to expanding into Japan, I would totally recommend Roppongi to get a solid foothold into the country.
- For venture companies and start-up companies, where do you think the benefits lie in choosing Roppongi?
Again, it all comes down to being able to network. Your ability and talent to network is one thing, but in Roppongi, the opportunities are endless so I think that is important. In addition, Roppongi Hills is right there towering over you and in some kind of way motivates you to want to rise to the top.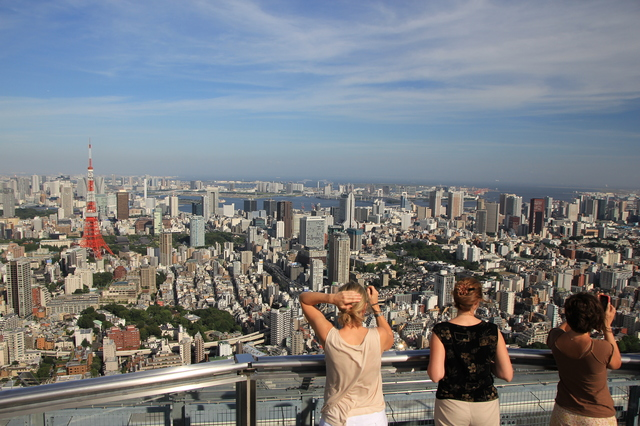 (View from Roppongi Hills roof toward Tokyo Bay)
- What are the advantages and disadvantages that you yourself feel by being situated in Roppongi?
Well, the number one benefit is that I am able to make horizontal connections easily. Especially for work, because I am seen as a Roppongi expert. As for disadvantages, I don't really feel any. When it comes down to it, even at night I love the way it's so lively.
- I would like to ask about renting office space in Roppongi. How much does a standard office go for?
It depends on the building. In a mid-size ordinary building, it is perhaps around 20,000JPY to 25,000JPY per tsubo. And in a place like Roppongi Hills or Midtown, you are looking at around 35,000 JPY to 40,000 JPY per tsubo. There is however almost 100 percent occupancy rate at Roppongi Hills. It hardly ever goes on the market.
- Is that expensive compared to other business districts?
It's cheaper than Shibuya. It's about the same though as Akasaka, Aoyama and Ebisu.
- There is a belief that for small companies just starting up, setting up an office in Roppongi is really challenging. Would you agree?
I would. Roppongi is very international and has a large proportion of foreign companies with money to invest. To get set up as a small Japanese realtor in the area was really challenging. Everyone asks for 10-12 month deposits! That's where serviced offices come in. They usually require much shorter deposit timeframes, and really reduce the cost and effort of establishing an office from scratch.
- In terms of the time it takes for approval, that is where a serviced office can be a great option too, right?
If you really want to make an impact in the short-term, I think a serviced office is a great option. You don't need to consider all those hidden costs, furniture is provided and you can start immediately. A really good method is to start with a serviced office, and then after two years after you get really established, you can transition to your own space. The benefits of a serviced office can be seen in the initial upfront costs. Very short-term contractual arrangements are available and you can start business on the day you sign the contract. Renting your own office will tie you up for two years – and you have to pay a huge upfront deposit. You may like the idea of having furniture that matches your taste, but you have to pay for it, and also set it up yourself. Then there is the IT and employing staff. In order to create an environment where employees can work takes time and money. After that, even if you do manage the enormous upfront costs, you may not even pass the tenant screening.
- What does the future hold for Roppongi?
Global blue chip companies are still swarming to Roppongi and there is good reason for it. There are a variety of development plans slated for the area in the near future. The 2nd Roppongi Hills plan, the rebuilding of the Hotel Ibis and other hotels, the development around the crossing are just a few of the projects in development. The current trend is set to continue as an ever increasing conglomerate of multinationals choose Roppongi as their address.
Servcorp Tri-Seven Roppongi Now Open!
In late July Servcorp opened an entire floor of serviced offices in the newly completed "Tri-Seven Roppongi" across from the Tokyo Midtown and 3min walk from Roppongi Station. The location is unbeatable in that it is right in the center of the triangle of Roppongi Hills, Tokyo Midtown the National Art Gallery. Within the new architectural gem lies gourmet coffee chain Blue Bottle as well as Barneys New York. As the new face of Roppongi, it is likely to be extremely popular. Establish your office in Roppongi today.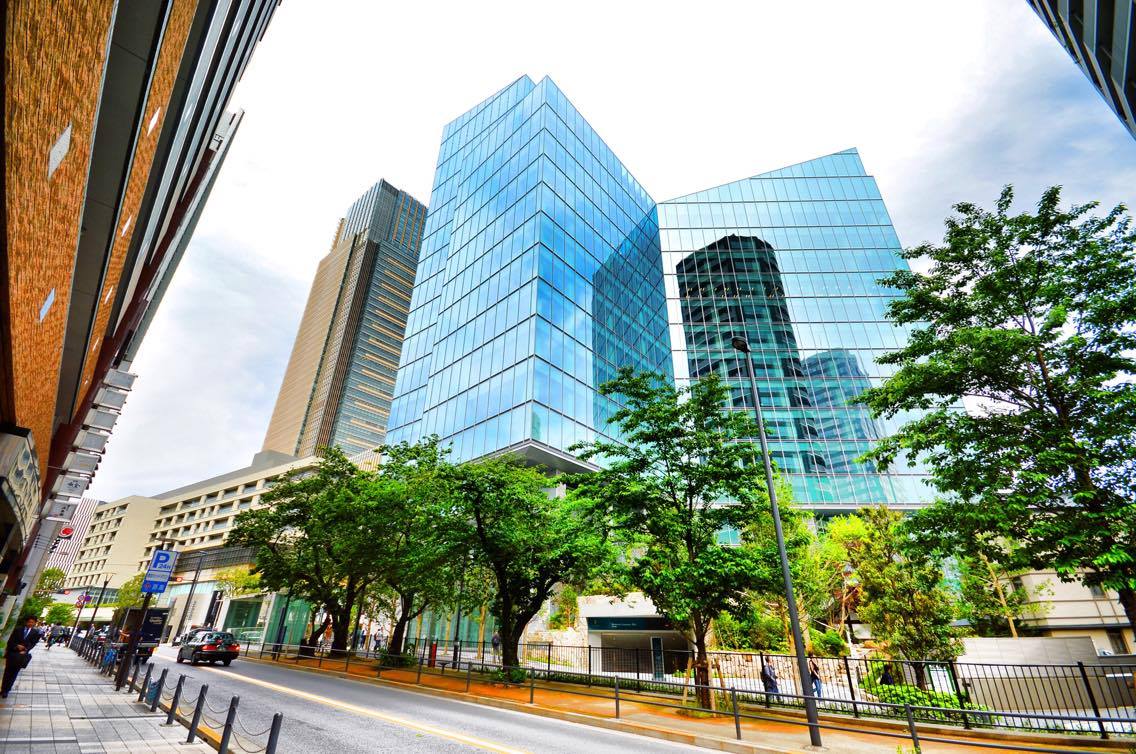 ---
Japan Properties K.K.
CEO Shoji Ko
Shoji Koh has 8 years of experience in the real estate industry. In 2006, he joined Savills Japan, a leading global real estate service provider listed on the London Stock Exchange. Despite being the youngest employee in the company world-wide, Koh succeeded in creating an excellent foundation for the Japan base and assisted many global companies and venture companies in establishing their roots in Roppongi and greater Tokyo. He established Japan Properties in 2012.