I found my ideal office 10 years ago at Servcorp Sunshine 60, Ikebukuro. I was born and raised in this area of Tokyo, so it was an easy choice…
Servcorp has 24 locations across Japan, all of which are located in prime buildings close to transport hubs. In addition to the unbeatable access, Servcorp has been extremely successful in creating environments for its clients to comfortably and productively do business in – a characteristic not always guaranteed in the serviced office industry.
Ms. Misako Hoshi of Stage KK has been a coworking client at Ikebukuro Sunshine 60 for an impressive 10 years. She attributes the reason for this longevity to what she calls immaculate customer service.
Please tell us about your business.
I plan and implement corporate training while also providing consulting for human resource development. I get requests from a vast array of firms such as manufacturers, banks, securities companies, insurance companies, and sales to help them with their training. Most of my training programs are catered towards leaders.
What made you start your own business?
It was around 10 years ago when I first started the company, but I actually began working as a lecturer in the field of human resource development around 16 years ago. Prior to starting my own business, I worked in sales where communication, manners and teamwork played a major role in my day-to-day activities. Eventually I realized that for effective teamwork to occur, excellent human resources was critical, and thus in order to become an effective well-rounded lecturer, I took a training instructor course. After completing the course I felt inspired to start a business in the field of training and human resource development.
If you can think back all those years ago, why did you end up choosing Servcorp?
I wanted to make an impact with my new business and thought a landmark building such as Ikebukuro Sunshine 60 would be perfect. After learning Servcorp was located there, I came in for a look and decided promptly that this was what I wanted. I was born and raised in this neighborhood so Ikebukuro is a part of me. If I say I am located in Sunshine 60 there is no confusion. When I hand out my business cards and this address is on there, I can build an immediate sense of trust in my clients.
Apart from location and the fact that Sunshine 60 is a landmark, were there any other factors?
As I get many clients and visitors, I was particularly concerned about how they would be greeted upon arrival. With Servcorp, I knew I didn't have to worry.
What do you like the most about Servcorp?
The accommodations I utilize are spacious, private and safe, and I know the secretaries and receptionists are really flexible in assisting me. In the event I need to make a sale via telephone, they can help with scripting, practicing, and arranging. Whatever I need, they are always available and ready to assist me. Other than that, the people in Ikebukuro Sunshine 60 are really friendly. Fellow clients greet each other and it seems most people feel at home here.
Honestly, I wouldn't look any further than Servcorp for office solutions…
Do you interact with other clients on the floor as well?
Yes! Not just at Ikebukuro, but all Servcorp floors hold many events throughout the year such as Summer Parties and Christmas Parties. I have exchanged business cards at various events and have also secured training opportunities from other clients I have met there.
Do you use the Day Office?
When I want to concentrate on office work or when my clients come in, I use this space. Other than that, I use the coworking lounge. It is really useful when I have simple administrative work to do or am in between appointments.
Do you have any advice for anyone having trouble finding the right office?
Honestly, I wouldn't look any further than Servcorp for office solutions. I can concentrate on my core business while entrusting other components of my business to the Servcorp staff with absolute peace of mind. I do my work with little time wastage because Servcorp is there to help. This was especially helpful when I was starting up. Also, the luxurious atmosphere of the office and the wonderful service I get from the staff serve to enhance my company brand. I get to interact with other clients on the floor as well and form long lasting relationships with other like-minded entrepreneurs. I have always felt renting the space is only just the tip of what is offered.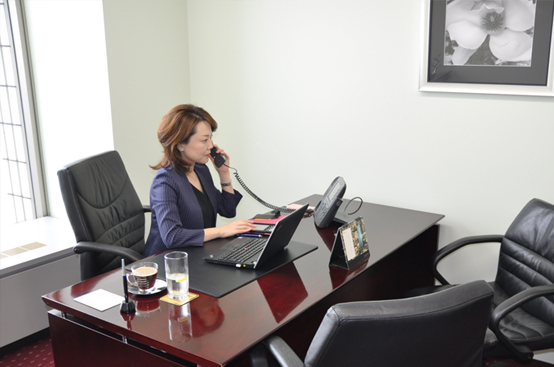 ---
Notes from Ms. Hoshi's Receptionist, Hikari-san
Ms. Hoshi is a long-standing client with us here at Ikebukuro Sunshine 60. Ever since I started working at Servcorp, I've admired her greatly as a role model for women like me. I admire the way she can switch between work and everyday conversation and am very thankful for her guidance on matters relating to business. She always has a smile which brings an air of elegance about her that is rarely seen in people. If I can match or even exceed her expectations in terms of client service (given her background in human resources training) then I know I will have set a new high standard for myself at Servcorp.
Major secretarial services
I undertake a range of services for Ms. Hoshi, including accounting work, scheduling, invoicing, quotations and ordering.
Characteristics of Ikebukuro
Ikebukuro has often been labeled as a city for the young, but recently the number of foreign tourists visiting the area is increasing and the area is gaining a more international flavor. Department stores are dotted around the massive transport hub that is Ikebukuro station, making the location one the most convenient in Tokyo. Sunshine 60 itself has also undergone recent renovations on the observation deck and aquarium, and has evolved into providing facilities that can be enjoyed not only by young people but by everyone.