The location, the fact that we don't have to do office management, the global billing, and just the convenience and comfort. We can concentrate on our core business without worrying about anything else.
Mozilla is a household name around the world, well-known largely because of their web browser Firefox - Mozilla's flagship software product. Rather than calling themselves a company however, the group refer to themselves as a 'global community of technologists, thinkers and builders' with the noble cause of trying to find and shape new technologies, and to keep the Internet open and accessible.
Brian Birtles is the Engineering Manager based in Tokyo who, together with his team, has made Servcorp's location within the Sankei Building at Otemachi his base.
---
Tell us about the work you are doing for Mozilla?
Here in Tokyo we work on a number of core components of the Firefox web browser, particularly the underlying animation and graphics technology. We also work on some features that are of particular concern to Japanese users like Japanese text input.
When and how did you hear about Servcorp for the first time?
We were previously based in Roppongi and watched as the Tri-Seven office building nearby was being erected. At the time we were looking for a dedicated space for engineering work. We often joked that we should just move into Tri-Seven! Shortly after the building opened one of my colleagues made an inquiry and spoke to Servcorp, a brand new tenant in the building. We ended up choosing this Servcorp location here at Otemachi, however, based on convenience for our current team and also for the people who come to visit us. Before then, we hadn't really considered a serviced office as an option.
Tell us more about your previous office. Were there any challenges with using that space?
We were based over in Roppongi for nearly four years. It was a three story building. We had the first floor and some space on the third floor. However, it wasn't suitable for engineering work. It was very open and was great for inviting guests and running events, but not good for concentrating on engineering work. There was noise and the distraction of visitors walking through the office. For engineering work you really need to be able to concentrate for an extended period.
So in terms of being able to solve those issues, having a closed space where you can shut the door and work quietly is something that Servcorp could offer you?
Definitely that's one of the things, but perhaps more significant for us was the ability to take out a contract or lease. We had trouble finding an office that was prepared to sign a contract solely with a foreign entity. Furthermore, we didn't want the overhead of managing an office ourselves—all the maintenance, the administration, the utilities—and it wasn't practical to hire a dedicated office manager or set up a local entity just for this. The thing that was so good about Servcorp for us was that we could offload all the office management work so that we can just focus on engineering, and Servcorp could bill everything to a foreign entity directly so that we didn't have to deal with the accounting either.
Were there any other reasons?
The location is really good for us. We have two remote engineers in Tochigi and Osaka who often come to visit, so being near Tokyo station is very convenient. We also have a lot of people who come from overseas to collaborate on different projects and attend conferences, so being able to get to the office easily from the airports is great. Every month we have one or two people who do that.
Mozilla occupy one of our larger offices here on this floor, along with your very own meeting room. How often do you use that?
Some days we don't use the meeting room at all and some days we use it nearly all day. We don't use telephones a lot in our industry but instead we do a lot of video conferences. We need to have a space where at a moment's notice we can jump into a video conference so we use the meeting room for these ad-hoc video conferences, for regular internal video conferences, and to receive external customers.
How else do you use Servcorp in terms of any services we offer like phone answering or secretarial services?
We use the reception service for ordering office supplies, booking restaurants, and greeting customers and guests. And plant services as well. We are renting a plant. (laughter) And of course the coffee service as well.
Everything has been very professional. The staff are efficient and very friendly. Since we have a lot of foreign visitors, we really appreciate the bilingual receptionists.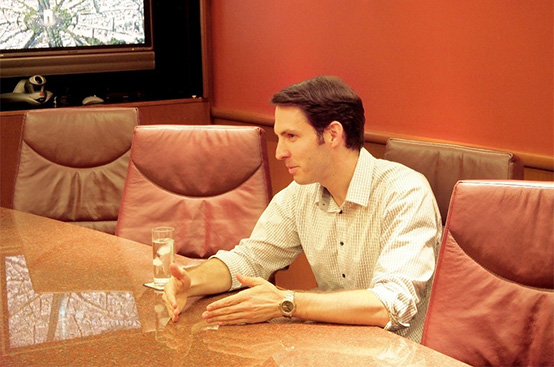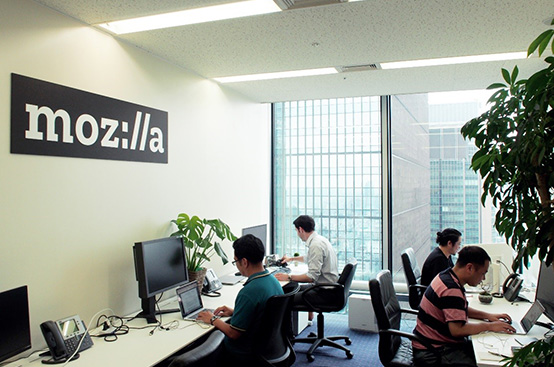 ---
Notes from Brian's Receptionist, Miho-san
I have been working with the Mozilla team for about a year now. My main duties for them include serving drinks when they have guests, booking restaurants, ordering office supplies, and arranging deliveries for their packages.
Things we pay particular attention to for Brian;
I usually use their product (Mozilla Firefox) at work, so it is an honor to work with their team and be able to support such a great group of people. Since they are all engineers, whenever they are in the office they are usually busy focusing on their work. So I have to be careful with my timing and make sure I don't interrupt them.
Thoughts on having Brian as a client;
Brian and the Mozilla team actually gave me a surprise party on my birthday and even prepared sushi, my favorite food. I was so surprised, I'll never forget how happy I felt. They are such a hardworking, harmonious team and regularly attend Servcorp events. Not only are they focused on their personal work responsibilities, but they are always thinking of others, even the Servcorp team. It's truly a pleasure helping to support such a thoughtful, hardworking client.
At Servcorp, we offer Serviced Offices with bilingual secretarial services ideal for companies that need a bureaucratic free set up. Please do not hesitate to contact us. Click here for details!