Working at Disney I learned that 'good work starts with a top-quality office.' Servcorp makes this a reality.
Depending on the industry or a person's work style, many people these days simply don't need to spend so much time occupying a physical office space. However, a lot of the time these people still need a base with a trustworthy address, access to meeting rooms for hosting clients or meeting with business partners, and other such facilities to build trust with their business contacts. This is where having a Virtual Office can really help you thrive, by catering to your individual needs.
We sat down with Mr. Nobuhide Suzuki, Representative Director of the Society for the Communication Skill Development. His organization conducts a variety of training programs aimed at improving communication skills. Since this line of work requires him to travel a great deal, Mr. Suzuki has found Servcorp's Virtual Office to be the perfect solution to his needs, and has based himself at our Ariake location since founding his organization in 2013. Mr. Suzuki reveals how he uses his Virtual Office and the great facilities that come with it.
Please tell us about your business.
At the Society for the Communication Skill Development we mainly provide training to help professionals improve their communication skills. I used to work at Disney, so by using the knowledge I acquired over the years there I focus on conveying the importance of communication. I offer several kinds of training programs relating to HR development, employee performance development, improving customer satisfaction and employee satisfaction, among other topics.
What kind of work did you do at Disney?
After graduating from University I got a job at The Oriental Land Company (the parent company of Tokyo Disney Resort). I started as a Location Supervisor where I was in charge of overseeing a specific area in the resort. After that I was moved to the training department and served as an instructor at "Disney University", a program designed to train new full-time and part-time Disney employees. Now that I have created the Society for the Communication Skill Development, I can implement the methods and skills I picked up at Disney to provide a training experience different from anywhere else.
How is your training different?
The key difference is my emphasis on participation. I don't just stand there and speak at the audience, instead I make it a priority to get everyone involved. I'm always careful not say things that might sound like I'm talking down to the participants, and I focus the training around group exercises and activities that make the training fun. I believe this is the main reason companies continue to come to me for training.
Also, possibly do to the fact that my training is centered around "fun", I receive a lot of training requests from arcades and other amusement related companies as well as customer-facing jobs such as hotels and other companies in the service industry.
What's your most popular training program?
Recently there has been a lot of coverage in the media about Anger Management Training, so more and more companies are becoming interested in it and requesting this type of training.
How did you find Servcorp?
It was almost 10 years ago, but one of my friends who is from overseas used a Servcorp Serviced Office when he started his own company. He always talked about how amazing it was, so I knew the name. When the time came that I decided to start my own business I remembered Servcorp and came in to see what kind of options they had. Eventually I decided that it was the best fit for me and my business. I've been with Servcorp since I started my business in 2013, so it's been about 5 years.
Why did you choose a Virtual Office instead of a Serviced Office?
Conducting training is the bulk of my work, so I'm always going to my client's offices. Since I'm out of the office most of the time, I knew from the beginning that having a full-time physical space wasn't really for me. However, I also knew that I needed a business address you can trust and someone that can answer my calls when I'm out of the office or busy with training. On occasion I also need space for meetings with my clients, so I concluded that Servcorp's Virtual Office was the perfect solution.
On top of that, with Servcorp's Virtual Office you get access to office space, so at times I use the office space almost every day and other times I don't use it for 1-2 weeks. When I really want to focus on my work I use the coworking lounge.
With staff who really listen to your every request and can take care of all the small jobs that come with a business, I don't think you can find this level of support anywhere else.
What was the deciding factor when you first viewed our facilities?
The first thing I looked for was cleanliness and a sense of luxury. My focus on these aspects stemmed from my experience at Disney where I was often told about "the importance of the facilities.". Furthermore, I engage directly in client training, so having staff that can provide a high level of service is very important. I would not settle on these three points (cleanliness, prestige, and staff service quality). After talking over the phone and visiting with several other companies Servcorp's Ariake Frontier Building B Tower location was the only one that fulfilled all of my needs.
Ariake is also close to my house, has a great atmosphere, and is easy to get around, so it's one of my favorite areas. A lot of my business partners also work around that area, so I have a lot of meetings there.
What Servcorp services do you usually take advantage of?
I often use the bilingual receptionist service, phone handling, meeting rooms, and the day office. Sometimes I also take advantage of the secretarial services which are quite extensive. They help me with such things as creating documents, updating my company's Facebook, blog and other social media accounts, and making reservations at restaurants and other locations when I meet with clients. Every now and then I also ask them to help make appointments over the phone.
Projects that require the most assistance would be presentations to prospective clients explaining my type of training. For these projects I often ask my Servcorp Secretary to help prepare the PowerPoint and documents used for the training.
Because my Servcorp Secretary does such an amazing job handling my requests and supporting my business, I can focus on my work and use my time much more efficiently.
How do you usually go about requesting these tasks?
It's easier to explain things in detail and avoid miscommunication when speaking with someone in person, so whenever I make these requests I usually do it either in person or over the phone. Sometimes when I'm busy and don't have much time I make the requests over email, but I try to avoid it where possible. Depending on the month I sometimes request their assistance several times a week and other times maybe 2 or 3 times a month.
As for updating my blog or social media, there are times when I leave the content completely up to my Servcorp Secretary and other times when I guide her. No matter the task she always does an exceptional job, so I have total confidence whenever I make a request. I know the results are going to be good.
After using Servcorp for so long what advantages have you noticed?
Because my Servcorp Secretary does such an amazing job handling my requests and supporting my business, I can focus on my work and use my time much more efficiently. On top of that, since the building and facilities are top quality and the staff provides unparalleled support and professionalism, I quickly gain more trust and a better rapport with my clients.
If I had one request it would be for Servcorp to open locations in Northern Japan, like Hokkaido or Sendai. I do a lot of traveling for work, so I usually take advantage of local Servcorp facilities when I travel. The more locations Servcorp has the smoother and more comfortably I can work wherever I go.
Are there any kinds of companies you would recommend Servcorp to?
I would definitely recommend Servcorp to any company or person who, like me, is starting their own business and wants to cut down on the startup costs or costs of hiring more personnel.
Especially those who are currently considering their options, I highly recommend at least visiting a Servcorp Floor and seeing it for yourself. Seeing the facilities and the amazing, quality staff for yourself; it could be the deciding factor. With staff who really listen to your every request and can take care of all the small jobs that come with a business, I don't think you can find this level of support anywhere else.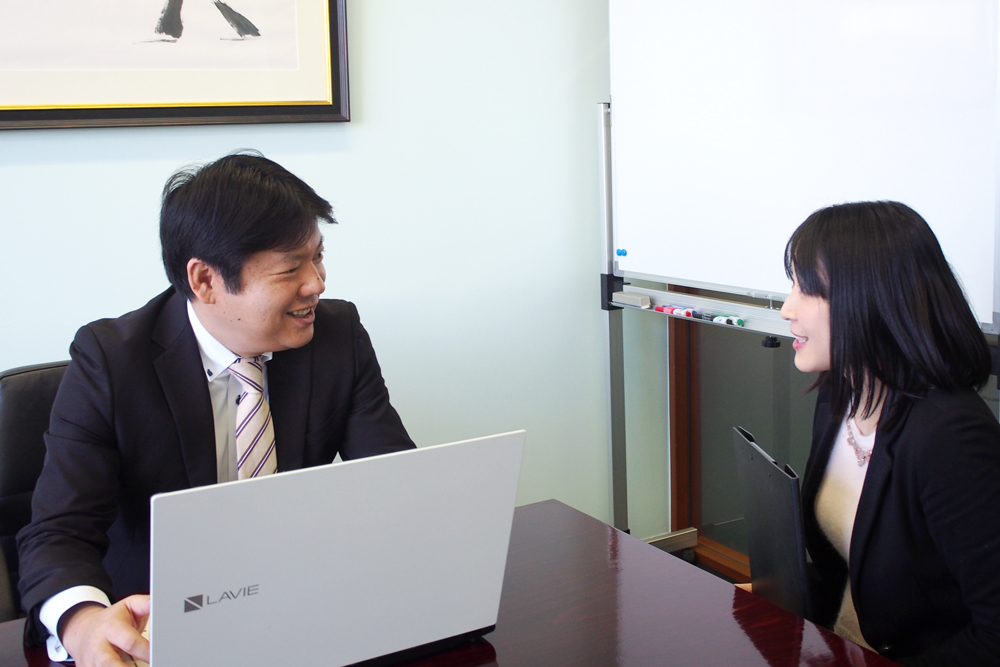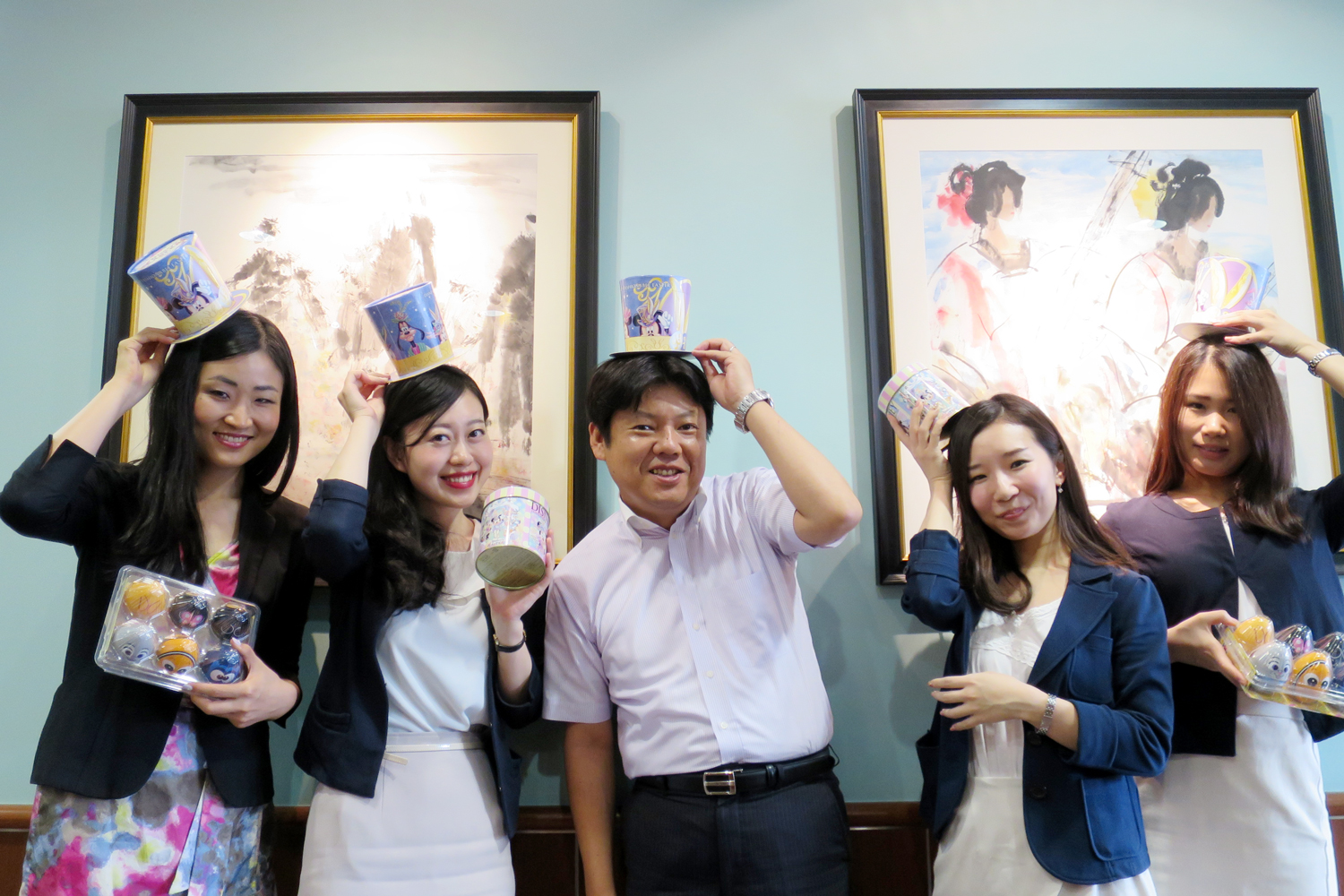 Introducing Mr. Suzuki's Servcorp Secretary, Aya-san
What's it been like working with Mr. Suzuki?
Mr. Suzuki's business requires some really fast-paced work. A lot of the time he requests documents to be created for a training program later that day, so I have to prepare the documents by the appointed time and make sure they are of satisfactory quality. I already know the content, however, I have to decide the format and design, and quickly get started on creating the documents. If I can deliver the documents on time and at a quality that warrants Mr. Suzuki's praise, then I can happily consider it a job well done.
What is one of your memories working with Mr. Suzuki?
Actually, the other day I received a request from Mr. Suzuki to make a reservation at a restaurant and prepare some gifts for him and his clients, so I found a popular restaurant that had private rooms and bought some high-end Japanese sweets. I spoke with him after dinner and he told me, "The view at night was amazing! We all took a bunch of photos and talked about how we're going to post them to Instagram!" It made me so happy to hear that he and his guests enjoyed the restaurant that I picked out.
At Servcorp, we offer Virtual Offices with bilingual secretarial services ideal for companies that want to cut down on start-up costs. Please do not hesitate to contact us. Click here for details!