Corporate Establishment in Japan Event
Learn how to utilize Secretarial Service to help your business!
Servcorp is best known as a serviced office and virtual office provider, but one of its biggest selling points is the bilingual secretarial staff offering support services at each location.
When one thinks of "secretarial services" ordinary services like document creation, handling clients, helping with meetings, and recording "meeting minutes" and office proceedings come to mind. At Servcorp you get these all these services, but in comparison to other services, Servcorp's biggest merit is that you pay only for what you need, when you need it. And depending on the task, Servcorp employees can even help you outside of the office as well as in the office. Here we would like to introduce how a client from the Italian market utilized these services during an event commemorating it's establishment has a legal corporation in Japan.
Case Study: Yojitech - Corporate Establishment in Japan Event
This event had two essential functions, to serve as a seminar for managers, and as a standing buffet party. The venue was the ANA Intercontinental Hotel in Tokyo. It was quite a large event with over 100 people in attendance, so the staff from Servcorp's Shinagawa Intercity Tower A staff, as well as some other Servcorp members came to assist. In all, about 10 people worked as support staff for the party. Here were some of the duties of the Servcorp.
1. Event Planning and Management

Participant list creation and management, various preparation of the hotel venue, and working the actual event itself.
2. Receiving Event Guests and Guiding Guests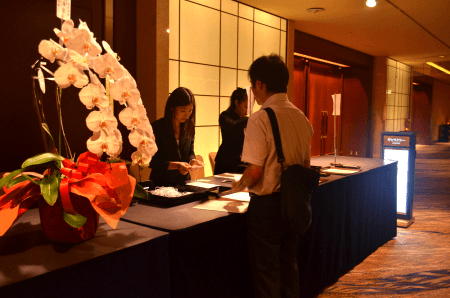 Receiving guests and keeping track of who was attending. The Servcorp staff was very professional so the hosts were able to focus on the how the event was progressing.
3. Presentation Support

One Servcorp staff member was in charge of changing the slides for the speakers during the presentation.
4. Working as a dinner party staff

In the party venue, Servcorp staff members dressed in formal attire and provided food and drink to customers. In addition, Servcorp employees talked with guests and made them feel welcome.
5. Photography

Part of the Servcorp staff members were also tasked with taking pictures of the event from beginning to end. When the party was done, the Servcorp staff was able to send a letter of thanks to the participants. Also on the day of the event, the photographs were sorted and given to the client, which helped the client with PR operations.
"We are very impressed with the professionalism and quality of customer service that Servcorp provides," says Toshiaki Torigoe, the company's representative director for Japan. "And they don't just wait around for us to give instructions, but are always actively proposing ways to help make our lives easier."
Besides shouldering tedious administrative tasks, Torigoe adds, Servcorp coordinated a company event at a hotel, with over 100 clients and partners to celebrate the opening of the Japan office. "Servcorp's serviced offices are not just an office solution, but part of an important business decision," he says.
The merit of Servcorp secretarial services
Even a company with a small number of people is able to host a large-scale event professionally through Servcorp's secretarial services, and only pay for the help that they need. Servcorp staff members are more than just temporary workers, they really care about their clients and are well versed in business matters, ensuring that you will get great help whenever you need it. And all Servcorp staff members are bilingual, so even if your event has foreign staff members are foreign guests, they are not only able but willing to help you.